Found October 03, 2012 on Kramerica Sports:
PLAYERS:
Tom Brady
,
Drew Brees
,
Aaron Rodgers
,
Stevan Ridley
,
Brandon Bolden
,
Jackie Battle
,
Michael Turner
,
Marshawn Lynch
,
Roddy White
,
Andre Roberts
,
Marques Colston
,
Scott Chandler
,
Jason Witten
,
Owen Daniels
,
Mark Sanchez
,
Santonio Holmes
,
Michael Vick
,
Julio Jones
,
Greg Zuerlein
,
Domenik Hixon
,
Tony Romo
,
Robert Griffin III
TEAMS:
New England Patriots
,
New Orleans Saints
,
Green Bay Packers
,
San Diego Chargers
,
Atlanta Falcons
,
Seattle Seahawks
,
Arizona Cardinals
,
Buffalo Bills
,
Dallas Cowboys
,
Houston Texans
,
New York Jets
,
Philadelphia Eagles
,
St. Louis Rams
,
New York Giants
,
Washington Redskins
With four weeks in the books and a fourth of the season now complete, I thought it would be fitting to provide my first quarter awards for top performers and biggest busts.
Rookie of the year to be Robert Griffin III is the early season MVP award winner. In addition to passing for 1070 yards and four touchdowns, RG3 is tied with Arian Foster and Alfred Morris for the league lead in rushing touchdowns with four.
Although he has been dominant, I am a little worried that he will not be able to play a full season if he continues to take hits while rushing the ball.
The early season breakout award goes to fellow Redskin tailback Alfred Morris. The butler emerged as the latest in a long line of Mike Shananhan late round picks to become a fantasy stud. Morris is on pace for 1200 and 12 touchdowns this season, and is clearly the steal of the draft so far.
The oft-injured Ryan Mathews is my fantasy bust of the first quarter after missing the first few games due to a broken clavical. Mathews fumbled the ball in the red zone against the Falcons in his first game action of the season, prompting GM AJ Smith to intimate that Mathews could be benched or traded if his fumbling issues continue.
Week 4 Top Performers
Quarterback: Tom Brady
340 Yards, 3 TD, 0 INT, 4 Rushing Yards 1 Rushing TD
Brady earned his top performer award after erasing a 21-7 deficit on the road against the Bills. In addition to throwing for 340 and three touchdowns, Brady added a rushing TD to give him the most fantasy points in week 4.
Honorable Mention: Drew Brees, Cam Newton and Aaron Rodgers
 Running Back: Stevan Ridley
106 Rushing Yards, 2 Rushing TD
It is somewhat of a rarity for a quarterback and running back on the same team to win top performers on the same week. The potent Patriots offense allowed Ridley to complete the feat against a Buffalo team that was gashed for 52 points on Sunday. Perhaps even more impressive is the fact that Brandon Bolden also ran for 100 yards on Sunday, giving New England two 100 yard rushers and a 340 yard quarterback.
 Honorable Mention: Jackie Battle, Michael Turner and Marshawn Lynch
 Wide Receiver: Brian Hartline
12 Catches, 253 Receiving Yards, 1 Receiving TDs 
Brian Hartline has emerged as Ryan Tannehill's number one target with a second consecutive solid performance. Hartline caught 12 balls for 253 yards and a touchdown against one of the stingiest defenses in the league.
Honorable Mention: Roddy White, Andre Roberts and Marques Colston
Tight End: Scott Chandler
4 Catches, 62 Receiving Yards, 2 Receiving TDs 
Chandler continued to provide fantasy owners with excellent tight end production as the Bills lost a shootout against the Patriots on Sunday. Chandler's two-touchdowns just beat out Jason Witten for top tight end honors.
Honorable Mention: Jason Witten, Greg Olsen and Owen Daniels
Defense/Special Teams: San Francisco
0 Points Allowed, 3 Sacks, 3 Fumbles, 1 TD, 1 INT, 1 blocked kick 
The 49ers took out their frustrations on the Jets on Sunday, limiting Mark Sanchez to just 103 yards on 29 attempts. San Francisco added three sacks, a blocked kick, and a defensive touchdown to make them the top defense in week 4.
 Honorable Mention: Chicago, Houston and Minnesota
Infirmary Report 
Santonio Holmes is likely done for the season after sustaining a Lisfranc foot injury against the 49ers. Holmes sustained the injury in a non-contact play while trying to turn up field after making a catch.
Other Notable Injuries
1)    Mike Vick – Knee (day-to-day)
2)    Hakeem Nicks – Knee(day to day)
3)    Julio Jones – Hand (day to day)
Working the Wire 
Brian Hartline's career day against the Cardinals makes him the top fantasy waiver wire target for week 5.
Other Players to Target
1)    Greg Zuerlein – K STL
2)    Jackie Battle – RB SD
3)    Domenik HIxon – WR NYG
4)    Brandon Bolder – RB NE
Plug & Play Defense: Week 5 
The following defenses are above average plays this week for owners who opted to utilize a matchup-based strategy.
1)    Rams at home against Cardinals
Start of the Week: Aaron Rodgers vs. Colts
 Aaron Rodgers returned to form last week against the Saints and should continue his solid play as the Packers head to play the Colts.
The Colts have managed only one interception, while giving up two touchdown passes to Christian Ponder in week 2.
Fantasy Dud: Darren McFadden
34 rushing yards, 0 TD, 1 Catch, 4 receiving yards
Darren McFadden has the physical tools to be the most explosive fantasy player on the planet. Unfortunately, he plays on a team with a weak supporting cast and he is very streaky. Fantasy owners that started him against the Broncos on Sunday were burned by DMAC to the tune of just two fantasy points.
Honorable Mention: Tony Romo, Julio Jones and Christian Ponder
Original Story:
http://www.kramericasports.com/this-w...
THE BACKYARD
BEST OF MAXIM
RELATED ARTICLES
The Redskins had some issues to overcome on their game-winning drive on Sunday against the Bengals, and those issues even surpassed having to rely on Billy Cundiff to kick a game-winning field goal. The Skins were also battling a communication issue, as quarterback Robert Griffin III's headset picked the worst time to stop working correctly. According to NFL.com, Griffin was...
Remember a few weeks ago when the Redskins won their first game. Robert Griffin III was all the rage. Everyone in fantasy football land was climbing over their own kids trying to move up the waiver wire to claim him.Four weeks was such a long time ago.The Redskins now sit at 2-2. Yes, we're only four weeks into the season, so a 2-2 record isn't really that bad. It's simply...
Robert Griffin III led the Redskins to a 24-22 victory at Tampa Bay on Sunday and, making matters more impressive, he did it all despite not having proper communication with his coaches because of a headset malfunction on the final drive.Griffin could be seen pointing to his helmet with both index fingers during the final drive as it to say, "I can't hear anything." He confirmed...
Just four games into his NFL career, Robert Griffin III is already carrying the Washington Redskins on his back - instead of the other way around. The rookie from Baylor gives the Redskins hope in a way they haven't experienced in a long time. They might not win many games - or they might surprise and make a playoff push - but at least with Griffin they always feel they have...
Griffining has not caught on as much as we expected it to after it was introduced following Robert Griffin III's stellar debut against the Saints this season. However, it appears RG3 himself is a fan of it, as evidenced by the photo above that D.C. Sports Bog shared with us.The woman with Griffin is Olympic track star Kellie Wells, who won a bronze medal in the 100-meter hurdles...
Washington Redskins players are impressed with rookie quarterback Robert Griffin III after their 24-22 comeback victory over the Tampa Bay Buccaneers Sunday. Griffin completed 26-of-35 passes for 323 yards and ran the ball seven times for 43 yards and a touchdown.   Griffin's most impressive performance Sunday happened in the final minute and 42 seconds left in the game.  He...
  Patrick McDermott/Getty Images Follow @Dan Vasta Outside of Philadelphia-Pittsburgh, this is your game of the week with all of the explosive playmakers littered all over the field in this electric matchup. Robert Griffin III has proven to be a star through four games, but he has a long ways to go if he expects to challenge for a playoff spot. The Redskins have yet to play a divisional...
We've seen the fourth-quarter comeback. We've seen the Barney socks. We've heard about the studiousness and the leadership. We've heard the disarming jokes. Where does one stop and the other start? For Robert Griffin III, it's a well-defined line. ''Can't be `on' all the time,'' the rookie quarterback said with a smile and a shrug as...
Why must there always be controversy or a sacrificial pig, even in a clean victory?Robert Griffin III was delivered something to complain about this week, but it wasn't botched penalties or Greg Schiano's patented kneel-down bull rush.He and Billy Cundiff didn't leave any time for that hogwash.Down 22-21 to the Tampa Bay Buccaneers (1-3) with one timeout and 1:42 remaining...
When the Washington Redskins gave up a lot to move up to select Robert Griffin III with the No. 2 overall pick in the 2012 NFL Draft, many were skeptical. But through the first quarter of the 2012 NFL season, Griffin III has eased the minds of the Redskins after helping them get off to a 2-2 start. Simply put, Griffin III has been the most impressive player through the first four...
So you are a rookie quarterback down by one with less than two minutes left at an away game and your headset in your helmet goes out, what do you do?You drive your team down the field for the game-winning field goal flawlessly like Redskins quarterback Robert Griffin III did in the win over the Tampa Bay Buccaneers.Hero of the Game: Hands down it would be Griffin. Griffin completed...
In 2011, the NCAA Football world was talking about a quarterback from the Pac 12 conference, a running back from Oregon and a player who does not tie his shoelaces. None of them won the Heisman Trophy. Entering 2012, the pundits were once again talking about a top quarterback from the Pac 12, a running back from Oregon and a quarterback who does not tie his shoelaces. And once again...
All Sports News

Delivered to your inbox

You'll also receive Yardbarker's daily Top 10, featuring the best sports stories from around the web. Customize your newsletter to get articles on your favorite sports and teams. And the best part? It's free!
THE HOT 10: Who's Trending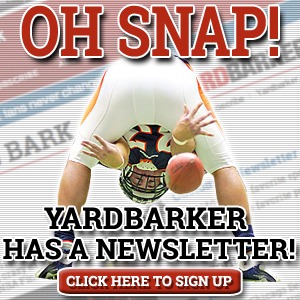 Latest Rumors
The Backyard

Today's Best Stuff

For Bloggers

Join the Yardbarker Network for more promotion, traffic, and money.

Company Info

Help

What is Yardbarker?

Yardbarker is the largest network of sports blogs and pro athlete blogs on the web. This site is the hub of the Yardbarker Network, where our editors and algorithms curate the best sports content from our network and beyond.