Found April 14, 2013 on Fox Sports:
Diego Maradona deviously punched the ball into the net in the 1986 World Cup and then had the gall to credit the winning goal to "the hand of God." Yet despite the fact that he's a cheat who rubbed our noses in his appalling handiwork, the Argentine still is lauded as perhaps the greatest soccer player in modern history. Every week in soccer, players dive in the box looking to con referees into awarding bogus penalties and nothing really happens to them. And yet, here we are, up in arms because Tiger Woods inadvertently took an incorrect drop -- and was subsequently penalized -- at the Masters. In football, linemen try to hold illegally all the time, but how many of them put their hands up and point this out to the officials who missed their infringements? "Hey, ref, call that touchdown run back, man, I held that D-lineman" is a phrase you'll never hear on Sundays in the NFL. Yet the angry villagers had their pitchforks in the air on Saturday, demanding Woods be disqualified from the Masters. "I think it would have done him a world of good to have disqualified himself. I think he should have said to the committee, 'Thank you for your thoughts, but I have broken this rule, and I am going to call it on myself,'" said analyst and three-time Masters champion Nick Faldo. Baseball's biggest modern stars took steroids while many heroes of yesteryear smothered foreign substances on the ball or filled bats with cork to gain illegal advantages. In basketball, 7-foot adonises flop to the hardwood as if mortally wounded if an opponent's hand as much as disturbs the air around them. But on the longest of Masters Saturdays, Woods was painted by those who have had it in for him as Public Enemy No. 1 because he didn't voluntarily withdraw from the tournament, despite no compelling reason to abandon his quest for a 15th major. The most difficult commodity to find when it comes to Woods is perspective. There's rarely any balance with him because he's become the most polarizing figure in, not just golf, but all of sports. But, simply put, he is not the villain of this story. Woods certainly benefited from a lenient ruling that effectively commuted what could've been a death sentence and allowed him to keep playing in the Masters. He did drop his ball in the wrong place during Friday's second round. But, as he said on Saturday after turning in a 2-under-par round of 70 at Augusta National, "Under the Rules of Golf I was able to play." He was assessed a two-shot penalty, which he accepted, and for him, that was the end of the story. His second round 71 became a 73, but he still lurks at 3-under par, just four shots behind co-leaders Brandt Snedeker and Angel Cabrera going into Sunday's final round. That, of course, won't be enough for Woods' many detractors. Like the religious zealots I walk past every day to get into the grounds here, they will scream that a Woods' win would come with an asterisk. But it will not. Even Faldo, when he heard the facts later in the day, changed his tone, saying that the issue had been buried. Of course, it won't be. If there is an antagonist in what's really an ugly blot on golf's most special tournament, it's Fred Ridley, chairman of the Masters Competition Committee. If Ridley, a former USGA president and former US Amateur champion, is to be taken at his word, then he should step aside, because he did not fulfill his duty, either to Woods or to the tournament. According to Ridley, a viewer called to say Woods incorrectly dropped his ball after hitting the flagstick and going into the water on the 15th hole. Ridley said he investigated the claim, deemed that Woods had done nothing wrong, and didn't even bring up the issue with Woods when he came to sign his scorecard. It is simply incredulous that anyone who'd looked at the video footage of the offending incident couldn't see that Woods had dropped the ball at least five or six feet beyond where he'd hit his initial shot. But Ridley said he saw nothing wrong. Only when CBS -- the network that broadcasts the Masters -- called at 10 p.m. ET Friday night to say Woods had, in fact, admitted to inadvertently dropping the ball in the wrong place did Ridley pull his finger out. He brought Woods in on Saturday morning and determined that he had, in fact, dropped the ball in the wrong spot, then gave him the retrospective two-shot penalty. He could have given him the death sentence -- disqualification -- but he couldn't in good conscience, as he'd given Woods a clean bill of health the day before. So he fell on his sword. The perception will be that Woods got preferential treatment, but the history of the Masters suggests that they look after players here, much more so than at other majors. Other than Roberto De Vicenzo -- who was famously denied making a playoff for the 1968 Masters because he signed an incorrect scorecard -- Augusta National has given Arnold Palmer (twice), Dow Finsterwald, Ernie Els and Rory McIlroy the benefit of considerable doubts on rulings. But maybe the real issue here is that golf's penalties already are among the harshest in sports. Two strokes, in a tight tournament like this, is a steep price to pay. Just how steep we won't know until late Sunday afternoon.
Original Story:
http://msn.foxsports.com/golf/story/t...
THE BACKYARD
BEST OF MAXIM
RELATED ARTICLES
Argentine soccer legend Diego Maradona has paid a visit to retired Cuban leader Fidel Castro. Official Cuban media have published a photograph of a smiling Maradona shaking hands with Castro, who is wearing a sporty blue jacket. Communist Party newspaper Granma said Monday that it was an ''animated and fruitful exchange between two old friends.'' The two have known...
One of the greatest football players ever, Joe Montana, vented his frustration over the decision that was made by the Augusta National rules committee one day after Tiger Woods took an illegal drop on 15 at the Masters, after his approach shot hit the pin and rolled into the water. Woods was penalized two-strokes and began the third-round -1. Montana's problem was that the penalty...
The New York Post ran the following headline (seen above) for its coverage of the Masters on Sunday.The headline is in direct reference to Tiger Woods' controversial two-stroke penalty and his reputable promiscuous past. Naturally, the Post decided to capitalize on their chance to feature a play on words that covered both. Many fellow golfers are upset with the PGA's ruling...
Tiger Woods was assessed a two-stroke penalty Saturday for his drop in the second round of the Masters, but was not disqualified. Below is the Masters' statement on the decision: ''Yesterday afternoon, the Rules Committee was made aware of a possible Rules violation that involved a drop by Tiger Woods on the 15th hole. ''In preparation for his fifth shot, the...
The 5-iron was almost as good as the wedge the day before. Tiger Woods played the 15th hole Saturday as if he wanted payback, and this time there was nothing controversial about it. The 10-foot eagle putt slid just by the left side, but birdie was almost as good. Woods was not only still playing, but back in contention for a fifth green jacket on what was easily the most unusual...
Tiger Woods knew this day should've turned out so much better. He was cruising toward the end of the second round at the Masters on Friday, tied for a share of the lead and looking every bit like the guy who would be in control heading to the weekend. Then, with one tough break at the 15th hole, everything changed. Woods struck the flagstick and wound up in the water, forcing...
Tiger Woods took to Twitter to release a statement regarding the Masters' rules committee's decision to give him a 2-stroke penalty for a bad drop. [via] Article found on: Next Impulse Sports
AUGUSTA, Ga. (AP) Tiger Woods dropped two strokes at the Masters before he even hit a shot Saturday, and he still has a chance to wear another green jacket. Woods shot a 2-under 70 in the third round at Augusta National, shaking off a two-stroke penalty assessed before he went out to the first tee. When he walked off the 18th green after sinking a testy par putt, he was four strokes...
A Masters that began so swimmingly for Tiger Woods effectively ended late in the second round, when his near-perfect wedge struck the flagstick at No. 15 and ricocheted into the water.
You can remember the 2013 Masters for Adam Scott's thrilling playoff victory over Angel Cabrera, the slow-play penalty leveled against a 14-year-old kid from China, or the two-stroke penalty a television viewer called on Tiger Woods for an illegal drop. The 2013 Masters was as memorable, strange, controversial and dramatic as any sporting event I can remember. It was Mike Tyson...
All Sports News

Delivered to your inbox

You'll also receive Yardbarker's daily Top 10, featuring the best sports stories from around the web. Customize your newsletter to get articles on your favorite sports and teams. And the best part? It's free!
THE HOT 10: Who's Trending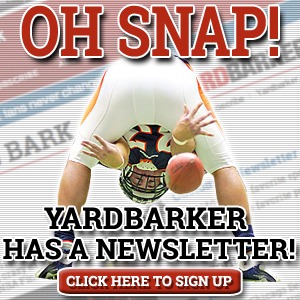 Latest Rumors
The Backyard

Today's Best Stuff

For Bloggers

Join the Yardbarker Network for more promotion, traffic, and money.

Company Info

Help

What is Yardbarker?

Yardbarker is the largest network of sports blogs and pro athlete blogs on the web. This site is the hub of the Yardbarker Network, where our editors and algorithms curate the best sports content from our network and beyond.