Found January 27, 2012 on hardballchat.com:
Joel Sherman of MLB Network Radio reported on the air last night that Detroit Tigers owner Mike Ilitch told the media that Scott Boras educated him about his organization. You have to know that Dave Dombrowski loved hearing that. Thus, the Boras strategy becomes clearer and clearer as more and more owners go public with how their negotiations go with him. Right or wrong, we also see why is the best agent in the business.
The number one source of inefficiency in the baseball market is information. The side that has it is the side that usually wins any deal. That goes for the amateur draft, international scouting, trades, and especially free agency signings. However, we are learning more and more that information is three dimensional. Before, we thought that some teams had it and some teams didn't have. Now, we know that some agents have it and some don't. Boras is clearly one that does.
When Boras has a superstar client he goes out of his way to not only control what information teams have on his client, but also what information they have on themselves. This is why he enjoys the most success bypassing general managers. GMs are trained to know everything there is to know about their payrolls and how things shape up for the future. What GMs don't necessarily know is what the business side of the game is going to look like a decade into the future.
Boras sold Ilitch on Fielder because he sold him on the economic impact of the signing. He showed him projections for what would happen with attendance and what would happen with cable television negotiations and other broadcasting rights. Were his projections right? Who knows? Where they skewed? I'm sure there is a huge chance they were. If you did not catch my last piece on the subject, be sure to catch Long Money is a Bad Bet. The basic crux is that superstar free agents don't necessarily have much of an effect on attendance.
Prince Fielder isn't going to help the out of work autoworker suddenly afford tickets. The Tigers were sure fire bets to win the Central division and with Justin Verlander they always had a chance to advance to the ALCS again. Fielder may improve their odds, but they aren't locks to get there. Fielder doesn't make the Detroit media market any bigger. It doesn't help those media outlets generate anymore sponsor money in a depressed market. The economy may improve to the point where more money is there within a few years, but that would have happened with or without Fielder.
While we can get angry at Boras, it isn't his job to give owners both sides of the coin. Our country has long lasted on the tradition of buyer beware. If an owner isn't going to use the information resources at his or her disposal then he or she has to take the word of a charlatan. This is why owners shouldn't go about spending in the hundreds of millions on a player without bringing in someone to study the economic ramifications. If your GM can't do it, there are plenty of experts like Vince Gennaro (author of Diamond Dollars and incoming president of SABR) that would be willing to help out.
More importantly though, if you are too much of a schmuck to ask your own general manager for the information then you deserve what you get. There is a fair to midland chance that Mitch Ilitch will look up in several years and wonder where that windfall is. Meanwhile, he'll as many as three DHs on his team and nowhere to put them.
In addition to being the editor of hardballchat.com, Scott Barzilla is also the proud father of one and the author of four books. His books can be found at Amazon and Barnes and Noble. Barzilla's Hall of Fame Index was nominated for the Sporting News Award for statistical advancement.
Original Story:
http://www.hardballchat.com/2012/01/t...
THE BACKYARD
BEST OF MAXIM
RELATED ARTICLES
DETROIT Manager Jim Leyland confirmed that with the signing of Prince Fielder, Miguel Cabrera will return to his roots as a third baseman. Some speculated with the injury to designated hitter Victor Martinez that Fielder and Cabrera would split first base and designated hitter, but Leyland said that would not be the case. He said Cabrera would begin spring training as the everyday...
No matter how they order it, the Detroit Tigers will have one of the best 3-4 lineup combinations in baseball. They already had Miguel Cabrera batting fourth last season behind Magglio Ordonez. Mags won't be back, but they are replacing him with Prince Fielder. During an interview with ESPN's Karl Ravech Thursday, Prince said he'd prefer to bat in front of Miggy. He likely...
Prince Fielder's landing in Detroit was a big surprise, but it turns out the Tigers were not the most unexpected entrant in the sweepstakes.
Mike Ilitch decided on a whim to add 214 million to the Detroit Tigers payroll this week. He just went out and signed Prince Fielder, saying he goes by instincts. Once they heard the news, the natural instinct of baseballs have-nots might have been to barf. While Ilitch is doling out hundreds of millions to one guy, other teams have to scrape and scratch to increase their revenue...
Prince Fielder has been introduced by the Detroit Tigers, a team desperate to win its first World Series title since 1984.
Cecil Fielder, interviewed on ESPN Radio: "That team is gonna win, man. They got people that compete. From the pitching staff to the everyday players, they compete, and that's what winning's all about."
"It's a very special day," GM Dave Dombrowski said. "I can't wait to get it going," Fielder added. As for Miguel Cabrera, Jim Leyland is "very comfortable" with him at third base, though Brandon Inge "isn't the happiest camper."
If Victor Martinez had not blown out his knee working out in Florida, Prince Fielder might have been a Dodger. Los Angeles ran a stealth recruitment of Fielder for two months, beginning immediately after the December winter meetings, only to be trumped when Tigers owner Mike Ilitch, concerned about contingency plans to replace Martinez, told his general manager, "I think we...
With the Hot Stove snuffed by the Tigers' signing of Prince Fielder, how do we keep warm? Spring training works. Or the midwinter Power Rankings, where Larry Dobrow explains why Detroit still Fielder-sized holes.
Tigers general manager Dave Dombrowski said there was no jaw-dropping moment in the process of signing free agent Prince Fielder. When you work for Mike Ilitch and have stunned the baseball world a number of times before, nothing seems unreasonable. Not even a nine-year, $214-million contract for a player not on the Tigers' radar three weeks ago.
Tigers News

Delivered to your inbox

You'll also receive Yardbarker's daily Top 10, featuring the best sports stories from around the web. Customize your newsletter to get articles on your favorite sports and teams. And the best part? It's free!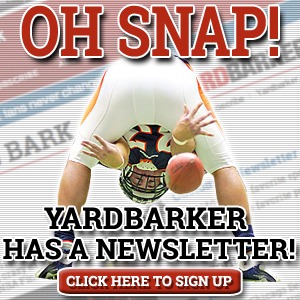 Latest Rumors
The Backyard

Today's Best Stuff

For Bloggers

Join the Yardbarker Network for more promotion, traffic, and money.

Company Info

Help

What is Yardbarker?

Yardbarker is the largest network of sports blogs and pro athlete blogs on the web. This site is the hub of the Yardbarker Network, where our editors and algorithms curate the best sports content from our network and beyond.