Found November 15, 2012 on Fox Sports North:
PLAYERS:
Rick Adelman
,
Kemba Walker
,
Malcolm Lee
,
Luke Ridnour
,
Andrei Kirilenko
,
Derrick Williams
,
Nikola Pekovic
,
Brandon Roy
,
Greg Stiemsma
,
Alexey Shved
,
Dante Cunningham
,
Chase Budinger
TEAMS:
Charlotte Hornets
,
Minnesota Timberwolves
MINNEAPOLIS The kid made a really good shot.It was as simple as that. Rick Adelman said plenty of words after Wednesday's 89-87 loss to Charlotte, words about playing better throughout and making free throws and competing with so few players, but it came down to those seven.The kid made a really good shot.The kid is Kemba Walker. The really good shot came with less than a second left on the clock and the game tied at 87. The really good shot won it for the Bobcats, but it shouldn't have had to.The fact that the kid had to make a really good shot was astonishing. The fact that the Timberwolves were in it at all, with their nine-person circus, was unbelievable. This was a team down 16 at one point, a team without four of its starters, a team talking about whether it would need to find a way to sign another player. But all that didn't make it any better for them, the loss, the 5-3 that could so easily have been 6-2.It took two hours and 45 minutes from the moment when the Timberwolves ran out for warmups, when they left the tunnel and the arena wondered, where are the rest? It took just that amount of time for a team to go from undermanned to overmatched to within just a second of winning. Oh, it was a rollercoaster, and it would have been too easy to say they would have won if they'd been healthy. It would have been almost natural to blame the injuries, the fact that the team put out a starting lineup of Malcolm Lee, Luke Ridnour, Andrei Kirilenko, Derrick Williams and Greg Stiemsma.But no one did. Not really.When asked in the locker room if the injuries had finally caught up to him and his teammates (it sure looked like they had), Ridnour was the most vehement he's been in two seasons. "No," he said. "Not even close to that. We don't use that as an excuse for anything." Luke Ridnour is never vehement, never forceful, never loud, and it was as close to a snarl as he will emit. He's not talking blame here. He's not faulting what he can't control. Neither is Rick Adelman or Andrei Kirilenko. They're talking transition defense and free throws. (The Timberwolves went 20-for-37 from the line, the third-worst free throw shooting in franchise history.) They're talking about the things they can tweak and control as they wait for the bench to fill back up.And soon enough, it will. On this night when the Timberwolves would rather look forward, when a win slipped through their fingers, according to Kirilenko, when the whole thing stung, in Ridnour's opinion, it's okay to talk about the future. It's okay to know that there were failings other than the injuries, but that the injuries made it worse. So here's a look ahead, at the weeks and months over which this team will evolve into something so different from the motley crew that took the court on Wednesday. This week: It's a reasonable guess that Nikola Pekovic, J.J. Barea and Brandon Roy will return within the week. Pekovic will slot back into the starting lineup for an immediate impact, and Roy will likely regain his starting role, too. Greg Stiemsma will shift back to the bench, where it's clear he belongs. He can fill that backup role well, but as a starter, he's overmatched. Malcolm Lee, too, will head back into the cluster of reserves, but he'll do so having made the biggest statement of his NBA career. He's no longer so much of an unknown. He's a defender. He's capable. He's now an option that involves some measure of familiarity and certainty.When Barea returns, he'll be back on the bench but still the major contributor he's been when healthy. His return will likely take some ball-handling away from Alexey Shved, as well, but the young Russian has proved himself in the past week and a half, and his minutes will likely remain significant.Roy's comeback is the most uncertain, yet his contributions have so far been the smallest of these injured players poised to return. If he's out longer, it's possible that Barea and Ridnour could both start, but the combinations there would likely be up in the air. If the team can get Pekovic and Barea back by Friday or even next Wednesday, this whole thing will look a lot more like the system it's supposed to be.Early December: Love will return from his broken hand and immediately reenter the starting lineup, pushing Williams back to the bench and into a more direct competition with Dante Cunningham, whom Adelman called a "son of a gun" on Wednesday. It's a pretty apt description for one of the team's best surprises, and Williams will be in jeopardy of losing significant minutes once Love comes back if he doesn't separate himself as the number one backup at power forward.Mid-December: This is a vague guess, and the team won't give any indication of a precise date for Rubio's return. It's just December, anywhere from the first to the 31st, at this point, but from everything I've been told, Rubio is about a month away from being back in it. His will be a gradual transition back into the game, and it's hard to predict whether he'd return as an immediate starter or off the bench for a bit. No matter; by sometime next month, the Timberwolves should have their rotation of Love-Rubio-Pekovic-RidnourRoy-Kirilenko in place.From everything we've seen so far, that would be something approaching terrifying.FebruaryMarch: Chase Budinger will return from his torn meniscus. It's almost too far off to think of at this point, and really, by then the Timberwolves' fate could be something close to sealed.-- It's so easy now to look forward, with a normal-ish lineup imminent and a frightening one poised to emerge in the next month to six weeks. Maybe injuries did catch up with the Timberwolves Wednesday. Maybe the loss made it easier to start thinking about how much the team needs its core back. Maybe that's not the healthiest way to approach a season, but if players can still see their faults as bigger than any injuries they could blame, it'll be okay.The statistics about the best start in so many years might abate now. It might be time to stop looking back and to begin thinking about the future. If everything falls into place as it should, if a few more free throws fall and the Timberwolves can field more than 60 percent of a team, they can start talking about finishes. A good finish. The best finish in quite some time.But there's a long way to go until then.Follow Joan Niesen on Twitter.
Original Story:
http://www.foxsportsnorth.com/11/15/1...
THE BACKYARD
BEST OF MAXIM
RELATED ARTICLES
MINNEAPOLIS Brandon Roy was staring at his feet.He was staring right past those knees, right past the problem. He doesn't like to think about the problem, really, but now, when it's being forced down his throat, he has to. It's a silent problem, an invisible one. Roy was dressed as if he were about to change out of his warm-ups and into his jersey for a game, but of...
MINNEAPOLIS And then there were nine. The Timberwolves announced at shootaround Wednesday that, in addition to Kevin Love, Ricky Rubio and Chase Budinger (all out with long-term injures), Brandon Roy, J.J. Barea and Nikola Pekovic will be unavailable for Wednesday's game against the Bobcats. Barea sprained his left foot last Wednesday night and has not played since. Coach Rick...
MINNEAPOLIS December is a hot word around the Timberwolves locker room.It's a pretty empty place right now, in the bowels of the Target Center, with six Minnesota players currently injured. But the mere mention of December is enough to spark some hope. For months, we've known it as a vague target for Ricky Rubio's return, but now, it's about Kevin Love, too.The All...
MINNEAPOLIS You've really got to wonder if the words "pain" and "hurt" fail to translate well between English and Montenegrin.Take Nikola Pekovic's first statement after spraining his ankle Monday night in Dallas: "I'm just glad it's not bad. I didn't hurt nothing, just a lot of pain. I'll see how I feel tomorrow."He hurt nothing...
The Minnesota Timberwolves are going to have trouble winning games if they don't have players on the court.  Of course, they'll have players on the court, but they have been missing starters.  Last night, the Wolves were without three players - Nikola Pekovic, Brandon Roy, and J.J. Barea. According to Jon Krawcynzki of ESPN.com, Brandon Roy hopes to play Friday, but...
Minnesota Timberwolves swingman Chase Budinger will miss the next three to four months while recovering from surgery to repair a torn lateral meniscus in his left knee. Dr. James Andrews performed the surgery Tuesday, three days after Budinger was injured in a game against the Chicago Bulls. Minnesota is already playing without Kevin Love, Ricky Rubio, JJ Barea and Brandon Roy...
ADDED TO THE PACK
With a roster decimated by injuries, the Minnesota Timberwolves reportedly have signed veteran small forward Josh Howard to a one-year deal.
The banged-up Minnesota Timberwolves aren't getting any reinforcements for their game against the Charlotte Bobcats. Center Nikola Pekovic, shooting guard Brandon Roy and point guard J.J. Barea all were scratched for the game on Wednesday with injuries, leaving the Wolves with just nine healthy players. Pekovic sprained his left ankle against Dallas on Monday night. Roy is...
MINNEAPOLIS Timberwolves small forward Chase Budinger will miss a minimum of three months after surgery Tuesday to repair the torn meniscus in his left knee, according to reports from Yahoo! Sports. Dr. James Andrews performed the surgery. Andrews' list of previous patients includes Michael Jordan, Jack Nicklaus, Drew Brees and John Smoltz. During surgery, the meniscus was completely...
With four starters and six key players out with injuries, the Minnesota Timberwolves have been searching for help. They'd like to see Josh Howard provide some as soon as Friday night. A day after signing the former All-Star to a one-year deal, Howard is expected to be in uniform when short-handed Minnesota hosts Golden State on Friday night. Brandon Roy (sore knee), JJ Barea...
The Minnesota Timberwolves have signed free-agent forward Josh Howard, according to an ESPN.com report. Howard strengthens the injury-depleted Wolves, who are without Chase Budinger, forward Kevin Love, guards Ricky Rubio, J.J. Barea and Brandon Roy. A nine-year veteran, Howard signed a one-year deal for the veteran's minimum. The 32-year-old has averaged 14.5 points and...
With four starters and six key players out with injuries, the Minnesota Timberwolves have been searching for help. They'd like to see Josh Howard provide some as soon as Friday night. A day after signing the former All-Star to a one-year deal, Howard is expected to be in uniform when short-handed Minnesota hosts Golden State on Friday night. Brandon Roy (sore knee), JJ Barea...
All Sports News

Delivered to your inbox

You'll also receive Yardbarker's daily Top 10, featuring the best sports stories from around the web. Customize your newsletter to get articles on your favorite sports and teams. And the best part? It's free!
THE HOT 10: Who's Trending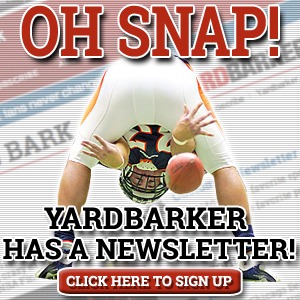 Latest Rumors
The Backyard

Today's Best Stuff

For Bloggers

Join the Yardbarker Network for more promotion, traffic, and money.

Company Info

Help

What is Yardbarker?

Yardbarker is the largest network of sports blogs and pro athlete blogs on the web. This site is the hub of the Yardbarker Network, where our editors and algorithms curate the best sports content from our network and beyond.