I'm thankful for family, friends, loved ones, blah…blah…blah… I'll spare you. What really matters here is what we're thankful for in the realm of sports.  While most of my friends are thankful for Buster Posey, Colin Kaepernick, and other Nor Cal losers (I know, your teams are all good right now.  I'm bitter…don't worry about it), us fans in Southern California have other things to worry about.  With that, I'll start my list with the Lakers…   I'm thankful that almost all of the cable companies in the Los Angeles area have reached agreements with Time Warner and are FINALLY broadcasting Laker games.  For a while there I seriously thought this was all just a sad attempt to get the Clippers more fans… Come on now.  The Lakers are one of the most storied franchises in the history of sports, but the majority of their fans can't even watch their games on TV?  I know they weren't really worth watching the first few games, but now that Mike Brown is…where is Mike Brown, anyway?…now that Mike Brown is out and Mike D'Antoni is in, these games need to be seen.  The Lakers are scoring again and they are actually fun to watch.  Sure, it's gonna take time for them to really gel and play like an elite team, but in the meantime, they are an exciting team that needs to be on TV…especially in LA.  I'd rather watch Dwight's goofy 'I-just-got-away-with-goaltending' dance than reruns of Tyler Perry's House of Payne any day of the week. Well, you can't say he isn't entertaining   While we're talking about the Lakers and Payne…   I'm thankful that Kobe has a higher pain-threshold than Kyrie Irving, or any other player for that matter. Kyrie…you're joking…aren't you?  I love the way you play, and I love Uncle Drew, but a broken finger is going to keep you out of action for a month?  Wow.  I'm sure Kobe laughed when he heard this news.  I don't think Kobe even notices when he breaks a finger. Come on, Kyrie. Just because you play an old man in Pepsi commercials, doesn't mean you have to act like one on the court.   I'm thankful that, even though the Dodgers have a lot of work to do, they are in a MUCH better situation than they have been in in years. I understand that money does not always equate to championships (Shut up, Giants fans…I hear you), but after suffering through years of the nightmare that is Frank McCourt, it sure is nice to have owners who are willing to make a splash and acquire talent.  Stan Kasten and Co. might be overspending, but they are doing what they need to do to bring baseball back to LA.  These guys realize that McCourt did a lot of damage to this team and its fan base, and they are doing everything in their power to restore order.  They are sending a strong message to Dodger fans and players alike: it's time to start winning again.   I'm thankful that the NHL lockout occurred after the Kings won the Stanley Cup. Hey, the Kings don't win too often, so they might as well keep the trophy as long as they can, right?   I'm thankful that Rasheed Wallace is back in the NBA. Everything is better with Sheed around!  Fight! Fight! Fight! Umm? (Photo by Bill Kostroun/New York Post)   While there are plenty of things to be thankful for, we wouldn't want to make it seem like everything was perferct, would we?  One thing I'm not too thankful for…   I'm NOT thankful for Thursday Night Football. I agree, it's a great idea in theory.  What fan wouldn't want another night of the week to watch football?  What's that, NFL?  You're going to broadcast the worst matchup of each week on Thursday night during primetime hours?  As much as I love watching pro football, there are at least three or four shows I'd choose from the Thursday night lineup over a rousing contest between the Dolphins and Bills.  Today is the one day of the year when professional football should be played on a Thursday. The holiday season wouldn't be complete without at least a little complaining! So?  What are you thankful for?  Fine….you can complain if you want to…          
Original Story:
http://sportswithsilverman.com/wordpr...
MORE FROM YARDBARKER
All Sports News

Delivered to your inbox

You'll also receive Yardbarker's daily Top 10, featuring the best sports stories from around the web. Customize your newsletter to get articles on your favorite sports and teams. And the best part? It's free!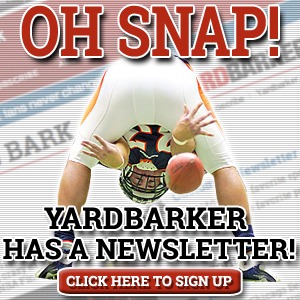 Latest Rumors
Best of Yardbarker

Today's Best Stuff

For Bloggers

Join the Yardbarker Network for more promotion, traffic, and money.

Company Info

Help

What is Yardbarker?

Yardbarker is the largest network of sports blogs and pro athlete blogs on the web. This site is the hub of the Yardbarker Network, where our editors and algorithms curate the best sports content from our network and beyond.