Found August 09, 2012 on Los That Sports Blog:
Titans running back Chris Johnson, by many regarded as the fastest man in the NFL, believes he could beat world record holder and Olympic gold medalist Usain Bolt in a 40-yard dash race: "I feel like if I would have kept training for track I'd have a chance, but I play football and he runs [...]
Original Story:
http://losthatsportsblog.com/2012/08/...
THE BACKYARD
BEST OF MAXIM
RELATED ARTICLES
The Tennessee Titans are shifting into a pass-first offense in 2012, which would lead many to lower running back Chris Johnson on their fantasy football rankings. But even CJ2K says that he believes he can have a huge bounce back season in 2012, especially considering just how poorly he played at times last year. Apparently, Johnson is not the only one in Tennessee who feels as if...
It was just another case of history repeating Thursday night Usain Bolt became the first runner to complete the 100-200 double in consecutive Olympics, blowing away another fast field in the 200 meters. Bolt led a Jamaican 1-2-3 finish in the race, as he was followed by Yohan Blake and Warren Weir. Bolt now stands just one race away from equaling his performance in the 2008 Games...
''Legend.'' A small word, but with such weight of meaning. Usain Bolt bandied it around a lot before the London Olympics, saying these would be the games where he wanted to become one. He did. But not solely for the reasons he thinks. Becoming the first man to win the 200-meter sprint at two Olympics made Bolt a pioneer. But that feat, while historic, isn't...
Track official Gordon Staines has two special words for Usain Bolt: ''Thank you!'' Staines is the guy who fired the gun to start the men's 200-meter final Thursday night, and he's downright thrilled that Bolt and his other competitors stayed ''steady'' at the start of the race and that no one had to be disqualified. ''I know I breathed...
Chris Johnson is coming off the worst season of his NFL career, but he's as confident as ever. In addition to claiming that he's still the best running back in the NFL and that he's back to his "old self," Johnson is fairly certain he could give Olympic gold medalist Usain Bolt a run for his money. Johnson, who was a track star in high school, thinks he could...
Usain Bolt: Happy Happy, Joy Joy Why not click the Google +1 & the retweet buttons? **Follow us on Twitter. Subscribe, or Return to BobsBlitz.com.Follow us on Twitter. Subscribe or Return to... Full story at Bob's Blitz ~ http://www.bobsblitz.com
With Manchester United losing the English Premier League title in the final seconds of the season in 2011/12, they could probably use a bit more depth this year. However, they probably never thought that help might come in the form of Usain Bolt, the world's fastest man. After winning the 100 meter race at the London Olympics on Aug. 6, Bolt confirmed that the rumors of wanting...
Dear Madam or Sir,      Supposedly, Brett Gardner is pondering a September comeback as pinch runner.  No. No-no-no-no. En. Oh. NO.  We'll kill the guy. He returns too soon, tries a headfirst slide, pops a gonad and it's, "Hello Dr. Snipsnip." Forget Gards. Let him heal. Better idea: Sign Usain Bolt. No kidding. The world's fastest man.Wait, Bri, put...
The fellas talk about the greatness of Usain Bolt, fantasy football draft shenanigans and more on The Unsportsmanlike Conduct Show podcast.The post Podcast: Usain Bolt Is The Man appeared first on The Sports Fan Journal.
The question of Usain Bolt versus Michael Phelps dominated headlines in 2008. And now that the two have combined for five gold medals at the London Olympics, the debate about which is the greater Olympian has resurfaced four years later. But while you will get reasons touting each athlete's superiority -- Phelps supporters point to his 18 gold medals, while Bolt backers argue...
The game was nearly as grand as the stage, in doubt until the last seconds and so important that the winning country's commander in chief was following it back home. Across town, Usain Bolt was doing in London what he did in Beijing, but for 80,203 people at Wembley Stadium and the two best women's soccer teams in the world, this was their Olympic moment. Soccer always has...
Hi. It's Friday. Tyrann Mathieu, the Honey Badger was dismissed by LSU. That's sort of a big deal. David Ross is no Usain Bolt. He is more a Ryan Henning. I like the Wire, and I like sports, so this is a great post. SCOREBOARD nothing….
Titans News

Delivered to your inbox

You'll also receive Yardbarker's daily Top 10, featuring the best sports stories from around the web. Customize your newsletter to get articles on your favorite sports and teams. And the best part? It's free!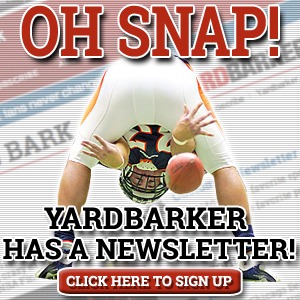 Latest Rumors
Best of Yardbarker

Today's Best Stuff

For Bloggers

Join the Yardbarker Network for more promotion, traffic, and money.

Company Info

Help

What is Yardbarker?

Yardbarker is the largest network of sports blogs and pro athlete blogs on the web. This site is the hub of the Yardbarker Network, where our editors and algorithms curate the best sports content from our network and beyond.