Found February 26, 2013 on Buckeye Empire:
PLAYERS:
LeBron James
,
Jack Tatum
,
Mike Nugent
,
Johnny Unitas
,
Katie Smith
,
George Steinbrenner
,
Red Auerbach
,
Jackie Robinson
,
Jack Nicklaus
,
Arnold Palmer
,
Lee Trevino
TEAMS:
Miami Heat
,
Cincinnati Bengals
,
New York Yankees
,
Boston Celtics
,
Cleveland Browns
,
Penn State Nittany Lions
,
Ohio State Buckeyes
Top 10: Influential Buckeyes from the Pro Ranks Throughout the years, there have been plenty of Buckeyes soar past the confines of I-270 that encircles Columbus and prove to be truly essential in the annuls of the professional ranks. The question is, who are the most influential? In order to answer that question, we must delve into the top ten Buckeyes who have done the most in the professional ranks. Honorable Mention Ÿ Jesse Owens (Track & Field)-  If this list was a question of who has had the most impact of any, or who was the best athlete, or who was the most important athlete in OSU history, then Jesse Owens would be first in all of those. Unfortunately, this list can not technically include Owens as he technically was not a professional when he competed in the 1936 Berlin Olympics, where he won four gold medals in front of the most racist and evil leader to ever walk the earth. The "Buckeye Bullet" has gone on to be the most important athlete in the history of the Olympics, and his legend lives on not only in Columbus, but all across the world. Want proof? The award for the United States' best track athlete every year is named after Owens to this day. Ÿ LeBron James (Basketball)- Once again we are using the honorable mention category to bend the rules a bit. James has said in the past that if there WERE a one year rule for declaring for the NBA when he came out of Akron St. Vincent-St. Mary high school, he would have chosen the Buckeyes to play that one year. It's mind-boggling to think of what he could have accomplished. Honestly, can you imagine him playing Penn State? Anyway, he has already been mentioned in the same breath as Michael Jordan, and continues to cheer for the Bucks passionately. He might already be the second best player of all time, and even though he didn't technically play here, he's still will always be a Buckeye. Ÿ Jack Tatum (Football)-  Has there ever been any more of an intimidating nickname than "The Assassin?" Tatum's pro statistics are very good, but to be honest not on par with the people on this list. However, in the interest of keeping the list of most influential, he must be on it. In his span of play during the mid 1970s in the NFL for the Raiders, he was the most intimidating player in the world. He did win a Super Bowl and was second-team all-pro twice along with three pro bowls, but it was his reputation as one of the hardest hitters to ever be in the league that endures today. TOP TEN 10. Lou Groza (Football)- I know what some will say, he's only a kicker. Last I checked, kickers have been beloved at OSU. See Mike Nugent. Also, when it's possibly the best kicker to ever play, I'd say he deserves to be on here and deserves our attention. Not only is he in the Hall of Fame, the best kicker award in college is named after him. In the pros, he was a 4 time first team all-pro and 9 times was selected to the pro bowl. His stint with OSU was short, but his life in the pros was everlasting. 9. Paul Warfield (Football)- Warfield is one of the better receivers to ever play the game, and when you're asked about that list he sometimes gets left out. Let's be honest, when Richard Nixon calls to ask coach Don Shula to run a play for him in the Super Bowl, you have to admit he was pretty influential. A pro football Hall of Famer, 6 time all-pro, 8 time pro-bowler, 3 time NFL champion and 2 time Super Bowl champion, Warfield has a list of accomplishments that anyone would envy. Warfield was the definiton of a home run threat, and has made many lists of the best 100 players of all time NFL players. 8. Jim Parker (Football)- Jim Parker was possibly the best lineman to ever play the game. And nevertheless, he was still a lineman, so he often gets forgotten when being mentioned as the greatest Buckeyes ever in the pros. That's ashame. In his incredible career, he played both tackle and guard, something not usual in the game. He's not just in the Hall of Fame, he was the first pure offensive lineman to be inducted, period. Eight times in a row he was all-NFL, 8 pro bowls, 2 NFL titles, on the NFL's 75th anniversary team, and his number is retired in Baltimore. Yikes. He was more than influential. He was game-changing, and I'm sure Johnny Unitas would agree. 7. Katie Smith (Basketball)- Talk about influential, Katie Smith is undoubtedly one of the best professional women's basketball players of all time. Along with winning three gold medals in the Olympics as a member of the USA teams, being the B1G MVP award at OSU, and holding the B1G record for scoring in her amateur career, Smith has accomplished plenty of firsts in the pro ranks. She has been the first female basketball player to score 5,000 and 6,000 total points in a career, spanning time in the WNBA and other leagues. She has won 2 WNBA titles and was the Finals MVP once as well. She's been the league's scoring champion once, first team all-WNBA twice, been an All-Star 7 times and is a member of the decade's all WNBA team. She was also voted by fans to be in the best 15 player group in the league's first 15 years. With all of these accomplishments, it makes us wish she would've been allowed to play for the boy Buckeyes as well. No doubt she would've dominated there too. 6. George Steinbrenner (Owner, New York Yankees)- Remember, this list is worded as "most influential" in the pro ranks. That does not always mean the best people. Despite earning his graduate degree at OSU, there is a laundry list of things George Steinbrenner did wrong as the outlandish owner of the New York Yankees over his time, but the performance of his team is not one of them. From the Billy Martin fiascos of firing and re-hiring 5 times, to being convicted of illegally contributing to Richard Nixon, to being suspended by the MLB, Steinbrenner certainly did things his way. And many times his way did not agree with most everyone else's ways. He fought with everyone, including his best players, over things like goatees and mutton chops to their performance at the end of the season. However, he bought the Yankees for roughly $10 million and built them into the most valuable franchise in sports. Winning 7 championships along the way, Steinbrenner will forever be remembered for his flamboyant ownership style. For me, he will be remembered as George Costanza's boss who loved calzones. 5. Jerry Lucas (Basketball)- As much as OSU is known for its football, we have historically had some incredibly strong basketball as well. There was no better player OSU ever had on the court than Lucas. He's not only the best player in OSU history at the collegiate level, he is widely considered to hold the best college resume of any B1G player in history. Given that, let's take a look at the pro numbers. NBA champion in 1973, 7 NBA All-Star games, 3 times names to the NBA first team and twice named to its second team. Lucas is also a member of the Basketball Hall of Fame for accomplishments in both college and the NBA. Even though most remember him for his days in scarlet and gray, his professional career was nothing short of spectacular. 4. John Havlicek (Basketball)- While Jerry Lucas had the better college career, Havlicek's numbers with the Boston Celtics propelled him to be the best OSU player in professional basketball history. Not only that, Red Auerbach once said that he was the guts of the team on all those Celtic title runs. Not a bad compliment. Try to focus as these numbers rattle off: 8 NBA championships, 1974 NBA Finals MVP, 13 time All-Star, 4 time NBA first team and 7 time second team, 5 time all NBA defensive team and a member of the NBA's 50th anniversary team which includes the NBA's best 50 players all-time. Havlicek averaged over 20 points a game on a team loaded with stars, and is currently 12th all-time in NBA scoring with over 26,000 points. Add that he is a member of the Basketball Hall of Fame, and those stats are incredibly hard to beat. His number is retired by the Celtics, and last time I checked that's not a bad rafter to have your jersey hanging from. 3. Bill Willis (Football)- Willis is recognized for his excellent play on the field as a member of both the College Football Hall of Fame and Pro Football Hall of Fame, but is even more importantly recognized for his bravery in the face of the intolerable racism he faced as a player. At first, after a great career at Ohio State, he could not find a job in the pro football ranks, largely due to him being an African-American man at a time when most teams would not sign anyone but white players. However, according to the Pro Football Hall of Fame website, Willis got a tryout from none other than his former coach Paul Brown for a team named after their coach. He performed so well, he was given a pro contract a year BEFORE Jackie Robinson broke the color barrier in baseball. He and three other African-American players garnered pro contracts that year to break the barrier, with Willis being one of the first. During his time in the AAFC and NFL for the Cleveland Browns, he was named first team all-pro 7 times. He appeared in 3 NFL pro bowls in the Browns' first 4 years in the league, and his legend lives on to this day, especially when looking up in the ring of honor at Ohio Stadium. 2. Paul Brown (Football coach)-  It's hard to be any more influential than "The Miracle Man of Massillon." If a professional team is given its name because of your last name, isn't that the definition of influential? And that's not nearly the end of his impact. Look at these stats: Brown won 6 state titles with Massillon Washington, 4 of those also being national titles, he moved on to Ohio State and guided them to the first national title in 1942,  he started the Cleveland pro franchise, he won the AAFC title 4 times, he won the NFL championship 3 times, he's a member of the Hall of Fame, has the Massillon Washington stadium named after him as well as the Bengals stadium named after him, and was one of the first coaches to help break the color barrier in professional football. Not only that, he implemented many tactics employed by coaches today. From hand signals for play-calling, advanced recruiting, playbook study for players, film study for players, behavior management off the field, and to developing an intricate passing attack, Brown forever changed the game. 1. Jack Nicklaus (Golf)- "The Golden Bear" is not only a former OSU student, he's born and bred in Columbus (Upper Arlington to be exact). Still the greatest golfer to ever play the game, he's also still the most decorated. People tend to forget that he not only won a record 18 major titles on the PGA tour, but also finished second an astounding 19 times in major tournaments as well. The competition was stiff during his times, with the likes of Arnold Palmer, Lee Trevino, and Gary Player, but that didn't stop his dominance. According to the World Golf Hall of Fame, Nicklaus completed the cycle that is considered a major Grand Slam three times, a feat that no other player has accomplished more than once. And Nicklaus did not let his influence diminish after his playing days either. He has continued to stay involved in the game, designing dozens of golf courses around the world, hosting his Memorial tournament in his hometown, and being captain numerous times for the U.S. Ryder Cup and President's Cup teams. From prodigy to Hall of Famer, no Buckeye has accomplished so much in their sport as a player and beyond than him.
Original Story:
http://buckeyeempire.com/blog/2013/02...
THE BACKYARD
BEST OF MAXIM
RELATED ARTICLES
Sports Illustrated takes a little poke at itself as Ohio State quarterback Braxton Miller and South Carolina defensive end Jadevon Clowney burst through separate regional versions of SI's yearly March Madness cover. It's part of SI's spring college football preview. Clowney is called "Football's next bust-out star, while Miller is "Ready to burst onto the...
The last time Ohio State played Northwestern, the wounded Wildcats had the Buckeyes on the ropes most of the night. Then the Buckeyes went on a late 12-0 run to pull off a 69-59 home win that might mislead some to thinking they were more in control than they actually ever were. The teams will meet again on Thursday night at Welsh-Ryan Arena and coach Thad Matta knows his team must...
  Braxton Miller graces the cover of Sports Illustrated's Spring Football Preview this week.  He is one in a long line of Buckeye football players to make an appearance.  As most of us assume, this won't be the last time he's on there with the word "Heisman" involved.
Ohio State was well represented at the NFL Scouting Combine in Indianapolis, check out where the Buckeyes stack up in the 2013 Draft class.
There's something about traveling to Northwestern that seems to summon problems for the Ohio State Buckeyes. A year ago, the Buckeyes were ranked 10th and the Wildcats were headed for a losing record in the Big Ten. Yet it took Jared Sullinger's banked-in turnaround with 3.1 seconds left for Ohio State to escape with a 75-73 win. In 2011, the Buckeyes were 22-0 and No....
In the latest FOXSportsNEXT.com podcast we're joined by the team of BuckeyeSports.com talking about The Ohio State University.
In a game that I couldn't necessarily see, as I was being directly blocked by the backside of the basket, Ohio State got a much needed win against a great Michigan State basketball team. From the get-go, it was clear that the "good version" of the Buckeyes were out to play. They were hustling and calm, two things that Ohio State has seemed to lack in bad losses. Although Ohio...
Heading into Sunday it would have been hard to imagine that the Ohio State basketball team could beat a top-five opponent with Deshaun Thomas shooting 4-for-16 from the field. But with Aaron Craft's career-high 21 points, the Buckeyes knocked off then-No. 4 Michigan State. So the question begs to be asked - is Craft the difference for this team?
There's something about traveling to Northwestern that seems to summon problems for the Ohio State Buckeyes. A year ago, the Buckeyes were ranked 10th and the Wildcats were headed for a losing record in the Big Ten. Yet it took Jared Sullinger's banked-in turnaround with 3.1 seconds left for Ohio State to escape with a 75-73 win. In 2011, the Buckeyes were 22-0 and No....
By Ari WassermanOriginally published at BuckeyeSports.com As Tom Izzo meticulously sifted through a seasons worth of Ohio State film, it served more as a confirmation of what he already knew about the Buckeyes than it did a lesson of new things for his Michigan State team to watch out for. But what ended up beating his Spartans on Feb. 24 wasnt displayed on that film, not even for...
All Sports News

Delivered to your inbox

You'll also receive Yardbarker's daily Top 10, featuring the best sports stories from around the web. Customize your newsletter to get articles on your favorite sports and teams. And the best part? It's free!
THE HOT 10: Who's Trending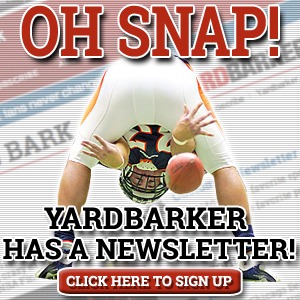 Latest Rumors
Best of Yardbarker

Today's Best Stuff

For Bloggers

Join the Yardbarker Network for more promotion, traffic, and money.

Company Info

Help

What is Yardbarker?

Yardbarker is the largest network of sports blogs and pro athlete blogs on the web. This site is the hub of the Yardbarker Network, where our editors and algorithms curate the best sports content from our network and beyond.