Found November 16, 2012 on Fox Sports:
Brad Keselowski's reaction to the misfortunes of Jimmie Johnson at Phoenix International Speedway last Sunday were unexpected. When Johnson crashed and ended up in the garage, Keselowski wasn't relieved. NASCAR's Twitter darling didn't gloat after regaining the point lead or tweet a snarky riposte chiding Johnson's setback. Keselowski said he was "disappointed" that Johnson finished 32nd, just for the sheer motivation that a closer contest would have offered the driver for the season finale at Homestead Miami Speedway. "I wanted the pressure of coming down here and having to win the race to win the championship, because that's the type of person I am," Keselowski said. "I want the ball. I want to be on the field on the last play with the ball thrown to me, and that's what that moment is. I thrive in it. That's what I want." It would not be a surprise if Keselowski's desire will take him to the finish line. While the path has been far from easy, the Penske racer has risen to each challenge. Four years ago, the awkward 24-year-old addressed a group of reporters at an automotive-parts manufacturing plant outside of Charlotte. If Keselowski wasn't the scheduled luncheon guest, he could easily have been just another one of the workers from the factory floor. Perhaps the surroundings elevated his comfort level. Given Keselowski's blue-collar background, he felt right at home. Keselowski answered questions with a tone wise beyond his years. He finally had found some stability in his second season behind the wheel of Dale Earnhardt Jr.'s Nationwide Series ride at JR Motorsports, but had known hard times. The third-generation racer watched his father, Bob, battle against more well-funded teams -- almost to the point of extinction. Although the Keselowski family received support from Dodge to compete in the truck series in the mid-1990s, by 2004 the onus was on the 20-year-old to drive. As Keselowski spoke of his family's dream to race out of Rochester Hills, Mich., interwoven in his yarn were Detroit's hardships as well. With his family's close ties to the Motor City, Keselowski understood the importance of NASCAR to market American vehicles to the masses. The passion with which Keselowski described his racing roots was reminiscent of a young Bruce Springsteen's poetic claim to the Jersey Shore. This wasn't just another aspiring racer. The Keselowski family's dream had become his as well. "I can remember the first time I drove for Dale Jr. and some of the stuff he told me -- 'Don't wreck the car or you're out' -- and to this day that race has the record for the most amount of Cup drivers in it, and I had never ran Chicago in my life," Keselowski said. "I had no idea what to expect, and here I am thrown in this car, don't wreck it, make the show, run well, most amount of Cup drivers ever. It was like, 'Wow, now that was pressure.'" Keselowski finished 14th in his JRM debut in 2007. Just over a year later -- and the weekend after the factory visit -- Keselowski won his second Nationwide Series event, in the 2008 Bristol night race against a Sprint Cup, star-studded field. In September 2009, Keselowski signed on with Penske Racing. Keselowski promised Roger Penske he would deliver the Captain's first NASCAR championship -- and he did with the 2010 Nationwide Series title. Now in his third season, Keselowski is closing in on the Sprint Cup title. "Well, it's been a long road from where I started to where I'm at now," Keselowski said. "If you evaluate drivers when they first come into the sport and say, 'Well, Tony Stewart, Jimmie Johnson, they're here (he motions to a top range level), and if you evaluate drivers, look at a (rookie teammate) Ryan Blaney let's say, it's a great example, who started out right here (in the middle), which is really good. He's obviously not at Jimmie and those guys' level, which is really high. "I did not start out right here (in the middle). I started out way down here, and my success story is attributed to a constant desire to improve, and that's how I've got to where I'm at, and that's how I feel like I'll continue to be successful. A commitment to improvement every day. I want to be better tomorrow than I was today and better in the future than I was tomorrow, beyond that. "So I think it's that commitment that took me from that level to get up to here, and I don't know, maybe here is where I'll top out and maybe where I'll fall down. But I certainly didn't start out as high as I would have liked to." When it comes to commitment, Keselowski's determination and perseverance top NASCAR's current crop. As a scrawny kid competing against men twice his size, he learned at a young age to be mentally tough. Over the last three seasons, he's proved to his peers just how tough, on and off the track -- whether it was Carl Edwards punting Keselowski's car up into the fence at Atlanta in 2010 or Tony Stewart claiming the points leader had "a death wish" after Texas two weeks ago. Keselowski said he realizes the "motivation" behind his fellow competitors' comments. "That discredits them of credibility, and that's pretty easy to brush off when you think of it that way." In fact, Sunday's "motivation" for his post-race rant at Phoenix was in part due to the criticism he's endured for his style of racing. And that criticism just fuels him more on the track. Perhaps the defining moment for his team, however, was Keselowski's comeback at Pocono Raceway from a broken ankle suffered during a vicious testing wreck at Road Atlanta, where his brakes failed and his car plowed into the wall at over 100 mph last August. While his crew chief Paul Wolfe has watched Keselowski evolve as a driver from "understanding the race and what he needs out of his car ... what the limits of his car are" and managing the equipment, the Pocono victory was a game changer for the No. 2 Penske Racing team. In six races, the team went from 21st in the points standings to its first Chase for the Sprint Cup berth. Although Wolfe, a former driver, had confidence in Keselowski before, soldiering through the pain elevated the team's opinion of their racer. "I think everybody on the team kind of looked at Brad a different way after that weekend," Wolfe said. "I think he proved to everyone how mentally strong he is and what he's capable of doing. It surely did for me. "I was there for that accident, and I spent a lot of time in the hospital with him. By no means did I think we'd be sitting in victory lane that next week, so pretty amazing. The guy is very dedicated and is working very hard at this. "I don't believe you could find anybody in the garage that's working as hard as he is and as dedicated as he is to trying to win this championship. He's a great guy to work for. He's a great leader and makes it a lot of fun for sure." Keselowski finished a career-best fifth in the Sprint Cup Series last year. With his win at Chicagoland -- the first race of the Chase -- he took over the points lead for six of the next eight events. But ultimately, the only points lead that matters is the one after Sunday night's race. If Keselowski finishes 15th or better, the Sprint Cup will be his. If he's able to pull off the feat, it would not only be a Michigander's first title, but also the first championship for Penske. He would be the first first-time winner since 2004 and the first Dodge win since 1975 -- nine years before Keselowski was born. On Thursday, Keselowski said it was premature to speculate on his feelings should he win the Sprint Cup. He asked for "the benefit of hindsight and time" to provide a suitable answer. It would be difficult to find a driver to match Keselowski's level of passion to represent NASCAR as its champion. But perhaps the voice of a new generation is precisely what this sport needs.
Original Story:
http://msn.foxsports.com/nascar/story...
THE BACKYARD
BEST OF MAXIM
RELATED ARTICLES
Jimmie Johnson's prerace strategy for this weekend is simple - plant a seed of doubt in the mind of opponent Brad Keselowski. As the clock ticks closer to Sunday's season finale, which will decide the Sprint Cup championship, Johnson knows from experience that moments of uncertainty will start to flood Keselowski's mind. After competing for multiple NASCAR titles -...
Brad Keselowski was a Hendrick Motorsports driver...
Five-time NASCAR champion Jimmie Johnson is the king of mind games and he doesn't mind reminding Brad Keselowski what's at stake at Homestead-Miami Speedway this weekend. Keselowski takes a 20-point lead over Johnson into Sunday's finale. He needs only to finish 15th or better to win his first Sprint Cup title. Johnson opened Thursday's news conference talking about...
Brad Keselowski was once on the fast track in the Hendrick Motorsports farm system. Now he's battling Rick Hendrick's five-time champion Jimmie Johnson for the 2012 Sprint Cup title. With Nationwide Series team JR Motorsports, a Hendrick Motorsports sister operation owned by Dale Earnhardt Jr., Keselowski finished the 2007 season in the No. 88 Chevrolet. The next two seasons...
Brad Keselowski got some help on the last day of practice for NASCAR's Sprint Cup season finale at Homestead-Miami Speedway. Pole sitter Joey Logano was involved in a three-car accident during the first of two practice sessions Saturday, switched to a backup car and will start from the rear of the field Sunday. That will move Keselowski, who had qualified third, to the front...
Many would consider the 20-point cushion for Brad Keselowski enough to go ahead and crown him the 2012 NASCAR Sprint Cup champion. And with the way he's running this year and turning in strong finishes at tracks he usually struggles at, why wouldn't you etch his name on the trophy? He's been clutch and running like a champion each week. All he has to do Sunday is finish 17th...
Brad Keselowski's worst finish in the Chase is 11th...
Jimmie Johnson, driver of the #48 Lowe's Chevrolet, sits second in points, 20 behind leader Brad Keselowski going into the final race at the Homeestead-Miami Speedway. Johnson talked to the media on the eve of the race weekend and below is the transcript of that meeting. I know there's so many people trying to downplay the mind games, but are you just trying to plant a seed in...
Joey Logano won the pole last night for the NASCAR Sprint Cup Series finale Sunday at the Homestead/Miami Speedway. However, he will have to relinquish that spot to start tomorrow's race due to a practice incident in the first practice today and was forced to go to the back up. Logano was caught up in a wreck on the front stretch with Greg Biffle and his teammate Denny Hamlin....
All Sports News

Delivered to your inbox

You'll also receive Yardbarker's daily Top 10, featuring the best sports stories from around the web. Customize your newsletter to get articles on your favorite sports and teams. And the best part? It's free!
THE HOT 10: Who's Trending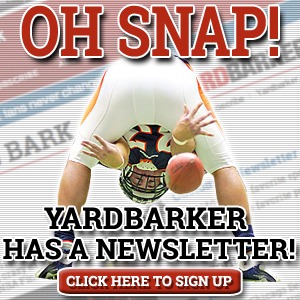 Latest Rumors
The Backyard

Today's Best Stuff

For Bloggers

Join the Yardbarker Network for more promotion, traffic, and money.

Company Info

Help

What is Yardbarker?

Yardbarker is the largest network of sports blogs and pro athlete blogs on the web. This site is the hub of the Yardbarker Network, where our editors and algorithms curate the best sports content from our network and beyond.