Found August 13, 2012 on Start 'N' Park Blog:
PLAYERS:
Clint Bowyer
,
Kyle Busch
,
Landon Cassill
,
Travis Kvapil
,
Bobby Labonte
,
Joe Nemechek
,
Joey Logano
,
Denny Hamlin
,
Brian Vickers
,
Michael Waltrip
,
Brad Keselowski
Toyota Camry Clint Bowyer (4th) was the top finishing Toyota Racing driver in Sunday's NASCAR Sprint Cup Series race at Watkins Glen International. Kyle Busch (7th) and Martin Truex, Jr. (10th) also earned top ten results for Toyota at the 2.45 mile, 11-turn road course in upstate New York. Busch led three times for a race-high 43 laps (of 90) in his Joe Gibbs Racing Camry. Other Camry drivers in the field at Watkins Glen included Landon Cassill (23rd), Travis Kvapil (24th), Bobby Labonte (27th), Joe Nemechek (29th), Joey Logano (32nd), Denny Hamlin (34rd), Jason Leffler (35th), Chris Cook (41st), Patrick Long (42nd), and Brian Vickers (43rd).
CLINT BOWYER, #15 5-HOUR ENERGY TOYOTA CAMRY, MICHAEL WALTRIP RACING – 4TH PLACE
How was the racing today? "That was some slick racing the last few laps. You watch these road racers race in the rain and find traction. It kind of reminded me of the old motocross days. It was real slick in that oil and you had to find grooves around it. I almost got into the 48 (Jimmie Johnson) there. We were sliding everywhere. He about got me and I about got him. It was kind of fun, but it was pretty nerve-wracking."
Are you happy with a top five finish for your points position? "We needed that. It was a solid weekend for us. This isn't one of my best tracks and I'm real proud of Brian Pattie (crew chief) and everyone on this 5-Hour Energy Toyota for helping me out."
What did you experience at the end of the race? "I'll add to the disbelief. What a wild last couple of laps. It kind of reminded me of the old motocross days when you had to go to the outside, inside, and find some traction because the groove certainly didn't have any traction. Pretty wild. Sam (Hornish, Jr.) and I had a heck of a race there then the 48 (Jimmie Johnson) slipped up on the last corner and I thought I was going to hit him. Pretty intense last couple of laps."
Are you a road racing ace now after a fifth place result and your Sonoma win? "I wuld not say I'm an ace. Thank Brian Pattie (crew chief) and everybody on this 5-Hour Energy Toyota. This isn't one of my best tracks and they pulled through and gave me a great race car again and got ourselves a good finish."
KYLE BUSCH, #18 M&M'S TOYOTA CAMRY, JOE GIBBS RACING – 7TH PLACE; CREW CHIEF DAVE ROGERS
What happened with Kyle Busch's car? "Well, the 47 (Bobby Labonte) broke, you can see him, he just went by smoking, he left oil down all over the track. Kyle hit the oil and it allowed the 2 car (Brad Keselowski) to get to us and he kind of raced us the way he raced. It was a good car and Kyle gave a great effort — really proud of everyone on this M&M's Toyota Camry team. We were fast and we were here, but we didn't get the job done today."
Is there anything wrong with the #18 Camry? "There's nothing wrong with the 18 car – he just got in the oil from the 47."
Was the oil on the race track from the #18 or another car? "There is 100 percent chance it came from somebody else. There is nothing wrong with this M&M's Toyota Camry. This car is fine, it's not leaking oil – look at the back bumper, there's no oil on it. There was another car in the field that blew a motor, went by us, we knew he blew a motor and instead of getting off the race track like he should have, he tried to stay out there and run the extra two laps and when he did he ran right through the groove. That was a mistake by another driver – oil on the field and the rest of us had  to deal with it. Kyle was just the first one there."
MARTIN TRUEX, JR., #56 NAPA AUTO PARTS TOYOTA CAMRY, MICHAEL WALTRIP RACING – 10TH PLACE
How was your race? "Man, it was rough. We dodged a big bullet there with a 10th place finish. We had a good car. The NAPA Toyota was fast. We were running third and one lap from pitting and we ran out of gas and the caution came out. So, when we pitted we had to go to the tail end of the longest line and I think there were only 25 laps to go and we were in the tail end of the longest line. We had to pass a lot of cars to get back to 10th. Man, if we didn't run out of gas we were going to get us another top five here. Those kinds of days when you make mistakes you've got to battle back. It was a good points day for us. We dodged a big bullet by being able to come back through the field like that."
JOEY LOGANO, #20 THE HOME DEPOT TOYOTA CAMRY, JOE GIBBS RACING – 32ND PLACE
What happened to bring you to the garage? "I felt it about 10 laps before that caution – I felt it bouncing really hard in the rear. It ended up ripping the whole mount – the whole shock mount right out of the chassis. We'll get back out there. They have to weld a new one in there. It's a bummer. I felt like we were a couple adjustments away from where we needed to be, but could get it to where we needed to be by the end of the race. We'll go out there and try to salvage everything we can get. The points position we were in was all about wins and now it's even more about wins. We'll salvage what we can with our Home Depot car and try it again in Michigan."
DENNY HAMLIN, #11 FEDEX FREIGHT TOYOTA CAMRY, JOE GIBBS RACING – 34TH PLACE
What happened to take you out of the race? "I have a thing with wrecks and fires lately. It's frustrating. Our FedEx Freight team had a rough weekend after getting caught up in the oil on Friday and getting caught in a wreck and just today the motor let go. For us, it's really the first engine issue all year. It's unfortunate, but it's a part of racing – it's what happens. Just an overall bad weekend for us, not the way we wanted to end it."
What did you experience in the race car when your engine gave way? "It was fine. Once again, I started feeling the heat and I looked down and saw fire right by my feet and it was coming through the fire wall. That part of it is pretty scary. Once I started to get a little fire on me, I decided to stop at the nearest fire station."
BRIAN VICKERS, #55 MYCLASSICGARAGE.COM TOYOTA CAMRY, MICHAEL WALTRIP RACING – 43rRD PLACE
What happened to take you out of the race? "We blew an engine getting into turn 6. On the downshift maybe I over-revved it. I'm not sure. It's really frustrating, MyClassicGarage.com Toyota was a really good car and I was really excited about the race."
Original Story:
http://startnparkblog.com/?p=9804&utm...
THE BACKYARD
BEST OF MAXIM
RELATED ARTICLES
CORNELIUS, N.C. – No. 15 5-hour ENERGY Toyota driver Clint Bowyer heads to Michigan International Speedway for this weekend's NASCAR Sprint Cup Series race with a 65 point cushion compared to 11th place with four races remaining before the field is set for the Chase for the Sprint Cup. The 5-hour ENERGY driver and team know winning races is the primary goal every weekend, and...
After a major disappointment at Watkins Glen, Kyle Busch looks to rebound at MIS…
Kyle Busch among Chase hopefuls needing a win or two over five-race stretch…
NASCAR had one of the most exciting final laps in its history yesterday at Watkins Glen.  The last lap brought back memories of Petty v Pearson at the 1976 Daytona 500 and Kurt Busch's classic Darlington duel with Ricky Craven in 2003.  Kyle Busch took the white flag first, but careened off the track in the first turn.  Busch was then spun by Brad Keselowski in Turn...
The No. 54 Monster Energy team, with owner-driver Kyle Busch, entered the Finger Lakes region hopeful for a strong run on the 2.45-mile Watkins Glen (N.Y.) road course. What the Kyle Busch Motorsports (KBM) team encountered over the weekend tested their skills as a team. Overcoming a variety of hurdles – such as a practice session in the rain, a broken engine, a deficient oil tank...
Juan Pablo Montoya has won the Sprint Cup pole for the Finger Lakes 355 at Watkins Glen International. Montoya turned a lap around the 11-turn, 2.45-mile layout in 69.438 seconds at 127.020 mph to eclipse the track record of 69.767 seconds at 126.421 mph set a year ago by Kyle Busch. It's Montoya's second straight pole and ninth of his career. Busch qualified second, also...
Boy, I think the song "Twist and Shout" sure fits well with the end of Sunday's road course race at Watkins Glen. I don't think I have seen so much twisting and shouting at the end of a race in a long time. That might be the best end to a race since that classic moment in time when Ricky Craven and Kurt Busch were coming to the line at Darlington in 2003. I kept...
Yesterday's wild finish at Watkins Glen was the best final lap of a Sprint Cup race this season. The white flag lap featured a controversial decision by NASCAR, a wrecked leader, and a paint swapping battle for the checkered flag seldom seen in the Sprint Cup all-about-sponsorship-and-points world.  The #47 of Bobby Labonte had put oil down, making for a slick track. NASCAR...
  Road courses are consistently some of my favorite events of the year. The on-the-track action is almost unfailingly riveting. This weekend's action at Watkins Glen featured many of the things that I love about road course racing: tons of action, varying pit strategies, and constant shuffling of the running order to keep the interest level high even during sustained green...
WATKINS GLEN, NY – Juan Pablo Montoya will lead the field to the green in Sunday's Finger Lakes 355 at the Glen NASCAR Sprint Cup race held at Watkins Glen International. Behind the wheel of the No. 42 Target Chevrolet, Montoya posted a new track record of 127.020 mph, collected his second consecutive pole position of the season, and earned his ninth Cup career pole.  Montoya's...
By Michelle Lesener Each and every point is crucial as all drivers and fans know, especially as we get closer and closer to the Chase cutoff.  What every Sprint Cup driver wantsPhoto – Chris Graythen/Getty Images   Going into Pocono, Dale Earnhardt Jr. held the points lead while Kasey Kahne and Kyle Busch held the two wild card spots. Over the course of the rain shortened race...
All Sports News

Delivered to your inbox

You'll also receive Yardbarker's daily Top 10, featuring the best sports stories from around the web. Customize your newsletter to get articles on your favorite sports and teams. And the best part? It's free!
THE HOT 10: Who's Trending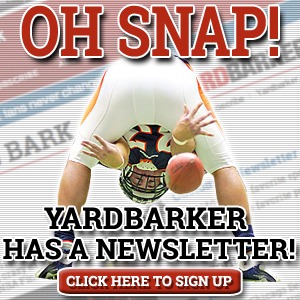 Latest Rumors
The Backyard

Today's Best Stuff

For Bloggers

Join the Yardbarker Network for more promotion, traffic, and money.

Company Info

Help

What is Yardbarker?

Yardbarker is the largest network of sports blogs and pro athlete blogs on the web. This site is the hub of the Yardbarker Network, where our editors and algorithms curate the best sports content from our network and beyond.