Found May 06, 2013 on The Royal Half:
*THE FOLLOWING BELOW IS NOT WRITTEN BY THE ROYAL HALF, BUT RATHER PUMPERNICHOLL, OUR MASTER RECAPPER*   KINGS 1, BLUES 0 Heading into Game 3 against the St. Louis Blues, the Los Angeles Kings found themselves in an unfamiliar position. The team never trailed during its historic run to the Stanley Cup Final, and now were potentially going to be put on the brink of elimination.   Yet, I wasn't worried. I didn't think there was any way the Kings would lose the series, much less Game 3. Sure the Kings had scored only two goals in two games and hadn't managed to score a single goal at 5-on-5. That just meant things were going to open up soon.   That final prediction didn't come to fruition, but the Kings didn't disappoint their faithful weirdos fans. PREGAME: Still better than Kingston.   WHAT?! Kings fans cannot be serious, right? RIGHT?!   Better strap in, folks. It's only going to get much, much worse from here on out. Grab your favorite fifth if you're going to be able to handle all of this talk about the fourth.   Oh, this really is going to get worse.   Click Here to Read the Rest of PumperNicholl's RECAP of Game 2 vs the Blues!!! Somehow, Riquel isn't a 10-year-old boy.   Nerds everywhere are wondering where these girls have been their whole lives.   Kings fans are good at masking their pain.   Can't argue with that point.   Let's just move on before this gets any more pathetic...   Spoke WAY too soon. This is the part where we break down the game, but all of these Star Wars references are just too much.   *gives up*       TRH THREE STARS OF THE NIGHT     3. St. Louis Blues Fans   Of course Blues fans would NEVER engage in this behavior.   Speaking of staying classy...     There was a huge rush to get that Twitter handle.   Well this is awkward.   Uh ohs.   Never change, Blues fans. And if you want to become a Blues fan, just follow this handy guide and you're set.     2. Jonathan Quick   I love everything about this. Even the "quick question" reference.   Jonathan Quick: Choker.   Dad must be proud.   You guys mad?   ...right.     1. Slava Voynov and Alec Martinez Slava Voynov finally solved Brian Elliot in the 2nd period and scored the Kings first 5-on-5 goal of the series. In doing so, he rocketed up the Kings scoring chart and found himself in a nine-way tie for first with one point.   *takes three shots of Stoli* Something like that.   Kings fans were thrilled!   Blues fans, not so much.   *finishes rest of Stoli bottle* The #FreeAlecMartinez campaign finally ended when Darryl Sutter re-inserted the young defenseman for Game 3. Although Martinez started all 20 games during the Kings run to the Stanley Cup last year, he had been unable to crack the lineup since the acquisition of Robyn Regehr. Well, Martinez made the most of his opportunity by assisting on Voynov's goal. More importantly, he regained the trust of his head coach.    That's simple. He had to start stocking up on refills for this.         PumperNicholl is a lifelong LA Kings fan and actually learned how to speak English from Bob Miller by watching LA Kings games... and the Police Academy movies. You can follow him on Twitter.  
Original Story:
http://www.theroyalhalf.com/2013-arti...
THE BACKYARD
BEST OF MAXIM
RELATED ARTICLES
Immediately following their loss in Game 3, Ken Hitchcock headed for the St. Louis dressing room. As he did so he passed Vladimir Tarasenko, a healthy scratch for the first three games of the series. Hitchcock made a quick statement which signals we'll be seeing Tarasenko in this series very soon: "Get ready to play." There are two potential scenarios here...
If you've been on Twitter at all since Game 3 then you're probably aware of the Vladimir Tarasenko vs. the 4th line debate. After the Blues failed to light the lamp in Game 3, it was rumored that Tarasenko would be suiting up for Game 4. The question that lingered revolved around figuring out which player would sit out in order for #91 to make his debut.  After the team...
Heading into Game 4, I put up a post where numerous fans gave their opinion on the decision to play Vladimir Tarasenko over Adam Cracknell on the fourth line. Fans were in favor, hoping to see a boost in the team's attack with Frank in the mix. Most were in favor because it was believed he would start on the fourth line but then rotate to a different line as the game unfolded...
The Blues play the swing game of their best-of-seven series against the Kings tonight. If they win the game, they will take charge of the series.If they lose it, the series goes back to square one. Such a challenge defines what sort of players the Blues really have.Do they have a bunch of good players? Or does this team possess players who are ready to break out and become difference...
I'll have a more complete write-up shortly, but I wanted to say that watching NBC Sports I realized why the Blues aren't scoring in this series. Yes, that's right - Kevin Shattenkirk was wearing his hat backwards. (Every Blues fan here knows the significance of this.) Game time is 9:00pm Central. Be ready for a late night.
Nights like tonight prove why it's so hard to be a fan of the St. Louis Blues. Leading two games to zero, the Blues dropped Game 3. Leading in Game 4 by a score of 2-0, the Blues fell 4-3. As we've seen countless times during the regular season, the Blues played a stretch of very strong hockey. Leading and looking to more or less put LA away, the Blues faded like they have...
The St. Louis Blues were confident they could push the Los Angeles Kings to the brink of elimination when they took a one-goal lead into the third period. Then the defending Stanley Cup champions pushed back and this highly entertaining first-round series became all even again. Anze Kopitar tied it with 12:46 to play, Justin Williams tipped home the go-ahead goal 76 seconds later...
*THE FOLLOWING BELOW IS NOT WRITTEN BY THE ROYAL HALF, BUT RATHER PUMPERNICHOLL, OUR MASTER RECAPPER*   KINGS 4, BLUES 3 There's never a true consensus of how a fan base feels. No matter what day of the year, a small percentage will be content while the majority believes the sky is falling and all hope is lost. I, for reasons unbeknownst to me, have been confident...
Another game, another battle between Jonathan Quick and Brian Elliott. This time Jonathan Quick was the hero as the Los Angeles Kings defeated the St. Louis Blues in Game 3 Saturday night to cut the Blues' lead in the series to 2-1. Quick defeated the Blues on 30 saves as the Blues had so many chances, but just couldn't find a way to put the puck in the net as it was a night...
EL SEGUNDO, Calif. (AP) Three games into the Los Angeles Kings' tremendously tense playoff series with the St. Louis Blues, it's clear the scores are so low because the stakes are so high. Two elite Western Conference teams have combined for just seven goals, and nobody has led by more than one goal at any point. The highlight reels aren't getting filled up when these...
Game 3 between the Blues and Kings can be summarized with just two words: wasted opportunities. Maybe two more words: missed wide. Even if you take a few moments trying to remember all of the chances the Blues had, you probably won't be able to remember all of them.  David Backes, Jordan Leopold, Andy McDonald, Alex Steen, Patrik Berglund and numerous others all had high...
With the Kings winning Game 3 on Saturday by a score of 1-0 to cut the St. Louis Blues' lead in this series to 2-1, Darryl Sutter made no changes to the lineup for Game 4 today, as they looked to even this series up before heading back to St. Louis for Game 5. The [...]
All Sports News

Delivered to your inbox

You'll also receive Yardbarker's daily Top 10, featuring the best sports stories from around the web. Customize your newsletter to get articles on your favorite sports and teams. And the best part? It's free!
THE HOT 10: Who's Trending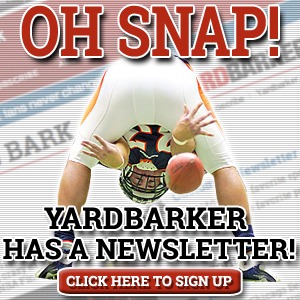 Latest Rumors
The Backyard

Today's Best Stuff

For Bloggers

Join the Yardbarker Network for more promotion, traffic, and money.

Company Info

Help

What is Yardbarker?

Yardbarker is the largest network of sports blogs and pro athlete blogs on the web. This site is the hub of the Yardbarker Network, where our editors and algorithms curate the best sports content from our network and beyond.