Found September 14, 2012 on Fox Sports North:
MINNEAPOLIS Liam Hendriks is not getting special treatment.On Thursday, he got five innings. He got a three-run leash and a realistic shot at a win. He left with no chance at one, just as he so often has this season. His teammates bailed him out in the bottom of the ninth, erasing any blame or loss, but the Twins' 4-3 win was still not enough to dig Hendriks out of his nine-loss hole.So there was no special treatment, no extended time to earn a win. But Hendriks did get his very own, invented statistic.After the game, Ron Gardenhire joked that Hendriks had earned half a win. And with the season he's had, he deserved it.Seventeen starts into his two-year major league career, and Hendriks has yet to win a game. What's a natural part of baseball for nearly every pitcher in the big leagues has taken on a life of its own for Hendriks and become a rite of passage rather than just a result."We need to get that kind of out of the way before this season ends," manager Ron Gardenhire said.Liam Hendriks needs a win. A real one, a full one, not an invented, awarded statistic. With every game, that becomes more and more the case.Hendriks is 0-9 over his career, a mark that puts him on the kind of leaderboard no pitcher wants to be a part of. With that record, he has the second-most losses of any pitcher without a win, trailing just Minnesota's own Terry Felton, who accrued an 0-16 record from 1979-82.It could be worse. The Twins could have fallen to the Royals on Thursday, pushing Hendriks' losses to 10 and his confidence further down. Instead, he pitched well, and two first-inning runs didn't doom him. In fact, Hendriks seemed downright pleased after the 10-inning affair ended."As soon as (pitching coach Rick Anderson) came out, he just goes, 'Look, you've got to have fun. Go out and have fun,'" Hendriks said. "Before that I was kind of pressing a little bit. After that, I felt good. I felt loose, and everything was flowing well. I had fun out there."Plenty of pitchers have more losses over the past two years than Hendriks. Some have records that on paper look as bad, if not worse. Aaron Cook has gone 6-20 for Colorado and Boston, Jonathan Sanchez 5-16 for Kansas City, Colorado and San Francisco. Two pitchers, Jordan Lyles with Houston and Brian Matusz with Baltimore, are 6-19. Those marks are just as poor, but it's easy to see how that zero can overshadow any comparisons.The zero is a sign of much more than struggles. It's a reminder of bad luck, of the team blowing games once they're out of Hendriks' hands. It's a barometer of the difference between the majors and Triple-A, where Hendriks went 9-3 with a 2.20 ERA this year. And above all else, it's frustrating.There's no way to force it. Gardenhire isn't going to keep Hendriks in a game when he thinks his bullpen gives the Twins a better shot at staying in it. As much as that win needs to happen, Hendriks hasn't earned that vote of confidence yet. There are too many ifs, too much uncertainty, too many conditions. And the conditions haven't been right, not yet. But Thursday helped, in more ways than a no-decision might indicate."At least we saw something there that came out of his hand the last couple innings, at least, the last three innings," Gardenhire said. "That's what he needs to do. He just needs to attack and throw the ball. He can't dance around the strike zone He's got to pound the strike zone and get ahead of people.Hendriks did just that, with 64 of his 98 pitches falling in for strikes. It's not perfect, but it's better, and it was enough against Kansas City to keep his team in the game. Just enough.Before the game, Gardenhire discussed Hendriks' past play and the conditions that might lead to a win. They were specific, and for the most part, Hendriks met them. Yet so much else lies outside of his control."It would be nice if we could get him a lead and then he can handle that," Gardenhire said pregame. "Hopefully if we can get him a lead, he won't get too worked up and try to overthrow the baseball. He's just got to be able to relax and kind of let the talent flow, as they say."No lead on Thursday, but the talent eventually flowed. No lead, no win, and yet Hendriks proved something."His emotions have probably got the best of him the last couple times with a lead, and he's got to handle that, too," Gardenhire added.No emotions on Thursday, aside from the easy smile of a player whose team has just won a game in the locker room after. Hendriks' emotions weren't the issue. It was merely a lack of offense. Because of only a matter of timing, Hendriks was stricken from the record, no longer a factor in the game on paper. In the end, we remember Billy Buter's 10th inning argument with the home plate umpire that got him thrown from the game. We remember Trevor Plouffe's game-tying home run in the bottom of the ninth and Denard Span's walkoff hit in the 10th.We don't remember Hendriks, but we should. In part because he didn't get that win, but mostly because he did enough to ensure the result that matters most: a team victory.If only a half-win were a real thing. It's not, not even to Gardenhire, really. So Hendriks will deal with reality. He will try again, but this time with a new measure of confidence that 0-10 might not have to happen.Follow Joan Niesen on Twitter.
Original Story:
http://www.foxsportsnorth.com/09/14/1...
THE BACKYARD
BEST OF MAXIM
RELATED ARTICLES
Liam Hendriks doesn't have a major league victory to his credit, and Minnesota Twins manager Ron Gardenhire has a pretty good idea why. The right-hander looks to end his drought Thursday night while helping Minnesota avoid its first home sweep at the hands of the Kansas City Royals in more than 13 years. Hendriks (0-7, 6.20 ERA) has let 4-0 leads slip away in consecutive starts...
MINNEAPOLIS The Minnesota Twins love Ryan Doumit's versatility. That's why the team signed him to a two-year contract extension earlier this season --he can play multiple positions while also providing some pop offensively. Prior to joining the Twins as a free agent this offseason, Doumit had spent time at first base, right field and designated hitter along with his normal...
MINNEAPOLIS Denard Span has been the subject of trade speculation before. Twice, actually. Prior to last year's trade deadline, the Minnesota Twins center fielder and leadoff hitter heard his name rumored as a possible trade candidate. And again this year, Span's name came up in trade rumors as the deadline neared. Both times, the deadline came and went and Span remained...
MINNEAPOLIS A Thursday MRI revealed that Twins rookie starting pitcher Cole De Vries cracked a rib in his Saturday start against Cleveland after being hit by a line drive. He will miss the rest of the season.De Vries pitched six scoreless innings on Saturday, giving up just three hits, and he attempted to pitch through the injury before coming out of the game. He said that he felt...
Trevor Plouffe may still be a work in progress, but nights like the one he had Thursday in Minnesota's 4-3, 10-inning victory over the Kansas City Royals will keep the Twins interested. Very interested. Plouffe, 26, entered the game in a major rut, forcing the Twins to rethink plans to make him their starting third baseman in 2013. However, he made a spectacular play to save...
Minnesota Twins All-Star Joe Mauer is not in the lineup for the second straight night after being scratched in the series opener against Kansas City with back spasms. The Twins put Drew Butera at catcher for the game Wednesday night. Mauer's back tightened up before batting practice Tuesday and he was scratched. While he was criticized for missing too many games last season...
MINNEAPOLIS The Minnesota Twins released their preliminary 2013 regular-season schedule on Wednesday, which includes the Twins opening the season at Target Field for the first time in the parks four-year history. Minnesota will begin the 2013 season by hosting the Detroit Tigers on April 1, 3 and 4. As they have in the past, the Twins built in an off day in case of inclement weather...
Denard Span had a game-ending RBI double in the 10th inning and the Minnesota Twins rallied for a 4-3 victory over the Kansas City Royals on Thursday night. Trailing 3-1, the Twins capitalized on a bases-loaded walk by Royals closer Greg Holland in the eighth and Trevor Plouffe's homer in the ninth to tie it. Alexi Casilla led off 10th with a double to right-center off Francisley...
MINNEAPOLIS (AP) -- Denard Span had a game-ending RBI double in the 10th inning and the Minnesota Twins rallied for a 4-3 victory over the Kansas City Royals on Thursday night. Trailing 3-1, the Twins capitalized on a bases-loaded walk by Royals closer Greg Holland in the eighth and Trevor Plouffe's homer in the ninth to tie it. Alexi Casilla led off 10th with a double to right...
Thursday the 13th is always the worst, isn't it? The top 15 rookie seasons in MLB history. There is a Twins player that probably deserves a trip to the Hall of Fame on this list. A gentle reminder. Joe Mauer is actually really good. Another good catcher is Ryan Doumit. Definitely not a good left fielder, but good with a bat. SCOREBOARD MLB Detroit 8, Chicago 6 – Either Francisco...
It's the weekend! (for most of you) I would like a video game where players can accidentally be launched into space. The NFL is pretty much just trolling.  Hey, at least there will be college hockey this season on national TV! Right? SCOREBOARD MLB Minnesota 4, Kansas City 3 – The Twins prevent the sweep with a game winning double from Denard Span NFL Green Bay 23, Chicago 10...
I was going to do a statistic-laced post about the candidates for the Twins' rotation next year, but my computer kept shutting itself down due to depression so instead I'll just do that thing where I type whatever I think about.  I'll eventually get to the Twins' rotation because I've already put in too much time to just let it die, but man, looking at Cole Devries...
All Sports News

Delivered to your inbox

You'll also receive Yardbarker's daily Top 10, featuring the best sports stories from around the web. Customize your newsletter to get articles on your favorite sports and teams. And the best part? It's free!
THE HOT 10: Who's Trending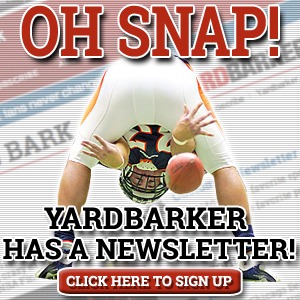 Latest Rumors
The Backyard

Today's Best Stuff

For Bloggers

Join the Yardbarker Network for more promotion, traffic, and money.

Company Info

Help

What is Yardbarker?

Yardbarker is the largest network of sports blogs and pro athlete blogs on the web. This site is the hub of the Yardbarker Network, where our editors and algorithms curate the best sports content from our network and beyond.