Found October 20, 2013 on Hardwood Gold Rush:
PLAYERS:
Ty Lawson
,
Carmelo Anthony
,
Chauncey Billups
,
Brian Shaw
,
Nate Robinson
,
LeBron James
,
Chris Paul
TEAMS:
Denver Nuggets
,
New York Knicks
,
Detroit Pistons
,
Miami Heat
,
Los Angeles Clippers
Ty Lawson is without question the best player currently on the Denver Nuggets roster. The point guard has improved each of his seasons with Denver and this will be his third full season as the Nuggets starting point guard. This is the season where Lawson must take that next step as a player or he will likely never take that step. Lawson will turn 26 years old within the first few days of the 2013-14 NBA regular season. For most NBA players, once they reach the age of 27, they are pretty much as good of a player as they are ever going to be. Lawson is inching dangerously close to that mark and as Denver's best player, that should make fans as well as the Nuggets front office nervous. Denver has been lacking a superstar player and some would say a leader since Carmelo Anthony and Chauncey Billups were traded in 2011. The Nuggets have wanted Lawson to be that player for them since that trade but this has yet to materialize. New head coach Brian Shaw is implementing a half-court offense with many elements of the triangle system. Lawson has never had to run a half-court heavy offense and in fact has not looked to be an effective half-court point guard at any point in his career. He relies on his physical gifts as a speedy player more than anything while he is on the floor. That is a huge advantage for the Nuggets when they are on the fastbreak and playing the uptempo style of basketball we are accustomed to seeing in Denver. However, Lawson will need to learn how to use his quickness in the half-court and improve his vision on the court. The Nuggets have a renewed focus on advanced statistics and metrics this season. Contrary to what has been reported about the Nuggets as new users of advanced analytics, Denver previously employed Dean Oliver (now with ESPN) as Director of Quantitative Analytics during the Anthony era. In fact, it was Oliver's advanced stats that convinced the Nuggets to trade for Lawson on draft night. However, a closer look at stats could lead Lawson out of town. Lawson's shooting percentages have decreased in every single season that he has been in the NBA. This could simply be attributed to an increase in playing time. However, he actually played slightly less minutes per game in 2012-13 than he did in 2011-12. Lawson's assists per game have increased every season though. A couple of things are interesting when looking at Lawson's statistics. The Nuggets brought in Nate Robinson over the summer and his 2012-13 numbers are very similar to Lawson's production, in less minutes. For the sake of this comparison we will look at per 36 minute stats since Lawson played close to 36 MPG and Robinson only played about 25 MPG. Lawson averaged 17.4 points, 7.2 assists and 2.8 rebounds per 36 minutes of play. Robinson averaged 18.5 points, 6.2 assists and 3.2 rebounds in the same amount of time. Robinson had slightly higher usage and assist percentages than Lawson last season. For further comparison, Robinson had a PER (Player Efficiency Rating) of 17.4 to Lawson's PER of 17.9. For those unfamiliar with PER, it is a number that attempts to roll every piece of statistical information about a player into one number that can show how good a player is. As a point of reference, the league average is 15 and last season's MVP, LeBron James had a PER of 31.6. Statistics aside, there is another important number in sports – salary amount. Robinson is due just over $2 million this season, while Lawson is slated to make just under $11 million. Both are undersized point guards with similar production, but the salary difference makes the complete picture staggering. Lawson has frequently stated his desire to be on the same level as Los Angeles Clippers point guard Chris Paul. Let's look at some of the same numbers for Paul to illustrate the chasm Lawson needs to cross. His per 36 minute stats from last season: 18.3 points 10.5 assists, 4.0 rebounds and 2.5 steals with a PER of 26.4. It does not seem like much of a difference: 0.9 points, 3.3 assists, 1.2 rebounds and 1 steal. Lawson has more than enough talent to put up those numbers. But the 9.0 differential in PER reveals a lot more. Paul also has an assist percentage about 20 points higher than Lawson. Paul is an elite point guard – a superstar. Lawson is thus far an above average point guard that put up numbers last season on par with that of a journeyman making one-fifth of what the Nuggets will pay him this year. For Denver's sake, Lawson needs to make the jump this season or they need to seriously consider finding a point guard that is more suited to lead this team and run Shaw's half-court offense. Let's hope it is the former. Follow Peter Sherwill on Twitter @PeterSherwill or add him to your network on Google. photo by: Keith Allison The post Ty Lawson: Denver Nuggets 2013-14 Profile appeared first on Hardwood Gold Rush.
Original Story:
http://hardwoodgoldrush.com/ty-lawson...
THE BACKYARD
BEST OF MAXIM
RELATED ARTICLES
On the court Ty Lawson's gifts are easy to see — the speed the quickness the ball handling that help make him an elite point guard in the NBA. On a computer screen full of numbers his game looks something like this: PIE (11.8 percent) TS% (54.9) TmTOV% (14.6) ASTRatio (28.2) and NetRtg (4.4). Confused? You're not alone. But the people who study it invented parts of it...
JaVale McGee, the second highest-paid player on the Denver Nuggets roster, will get his chance to start in 2013-14. When former-Nugget starter Kosta Koufos got traded to the Memphis Grizziles during the 2013 NBA Draft, the Nuggets made it clear that McGee is their plan for the future. Last season, McGee averaged 9.1 points, 4.8 rebounds and 2.0 blocks in 79 games for the Nuggets...
Someone tell Denver's Nate Robinson it is just the preseason and for the most part, they are meaningless games. Then again, we are talking about Robinson who seems to have a perpetual chip on his shoulder and "short-guy" complex. The feisty Nuggets' guard was fined $10,000 by the NBA for shoving Thunder's rookie Steven Adam in the back and hitting him on...
  LA Clippers All-Star Chris Paul torched the Denver Nuggets (2-3) for 40 points in a 118-111 overtime win Saturday.  Evan Fournier and Anthony Randolph each tallied 16 pts for the Nuggets off the bench at The Mandalay Bay Events Center in Las Vegas. The Nuggets had a chance to win at the end of the fourth quarter. Down 104-102 with 22.5 seconds left , Paul drove to the basket...
Here's we go. JaVale McGee, who sets new marks for weirdness (in a good way) off the court, is still mastering the ins and outs of the NBA game. In at least one other game, though, he has nothing left to prove. McGee and Nuggets teammate Evan Fournier showed off their extensive catalog of Mario Kart noises, from "Okie dokie!" to "Let's a-go!" Check it out in the Instagram...
If you have played Nintendo's Mario Kart, then you'll know that these sounds by Denver Nuggets goofballs JaVale McGee and Evan Fournier. If you have never played Nintendo's Mario Kart, then you will have to accept my word that these sounds by Denver Nuggets goofballs JaVale McGee and Evan Fournier sound exactly like the game. [via SB Nation]
Tweet There are plenty of negative things you could find to say about newly signed Denver Nuggets guard Nate Robinson. You could criticize his shot-selection, his attitude at times, and his defensive abilities. You can never say that he doesn't believe in himself, though. Robinson is certainly one of the most confident players in the league...
Denver Nuggets vs Los Angeles Clippers tonight at 8:30pm (MDT) in Las Vegas at the Mandalay Bay Event Center and will also be available on NBA TV. Here are some storylines to watch in tonight's game: First chance the Nuggets will get to see the Clippers Wilson Chandler is scheduled to make his preseason debut tonight after missing Denver's first four games with a hamstring strain...
Nate Robinson has been fined $10,000 for pushing OKC rookie Steven Adams from behind and striking him in the chest during the October 15 Nuggets-Thunder preseason game. Video of the incident: The post Nate Robinson Fined $10K For Shoving Steven Adams appeared first on Beyond The Buzzer.
Despite standing a diminutive 5-foot-9, there isn't a lot Denver Nuggets guard Nate Robinson fears in life. In fact, Robinson is probably one of the most fearless players in the NBA, if not all sports, and arguably one of the most confident, too. During a recent interview with Believe the Hype, Robinson said he believed he could be one of the best cornerbacks in NFL history...
Nate Robinson has been fined $10,000 for pushing and striking Steven Adams in the chest, the NBA announced. The incident occurred in Saturday's preseason game between the Denver Nuggets and Oklahoma City Thunder. Robinson signed a free agent deal with the Nuggets in the offseason after a strong season with the Chicago Bulls.
Doc Rivers told CP3 "he was nothing" during their first conversation as player and coach, and now Chris Paul is hell bent on proving to Rivers just how good he really is. I'm not sure if it was the powder blue uniform with the sleeves, or the fact that he saw a quality guard in Ty Lawson across from him, but Paul went off on the Nuggets Saturday night. Paul was 13-of-21 shooting...
All Sports News

Delivered to your inbox

You'll also receive Yardbarker's daily Top 10, featuring the best sports stories from around the web. Customize your newsletter to get articles on your favorite sports and teams. And the best part? It's free!
THE HOT 10: Who's Trending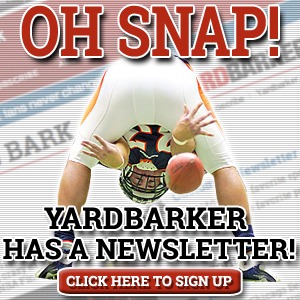 Latest Rumors
Best of Yardbarker

Today's Best Stuff

For Bloggers

Join the Yardbarker Network for more promotion, traffic, and money.

Company Info

Help

What is Yardbarker?

Yardbarker is the largest network of sports blogs and pro athlete blogs on the web. This site is the hub of the Yardbarker Network, where our editors and algorithms curate the best sports content from our network and beyond.