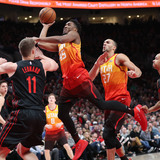 The abridged first week after the All-Star break always marks a transition, but it will be different this year with the trade deadline already complete. Some teams had more time to incorporate new additions as franchises push towards the playoffs or fire up the tank.ThursdayNets at Hornets, 7 p.m.: At nine games under .500, Charlotte needs a serious push if they want to make the...
DENVER — The same night he lit up the Milwaukee Bucks for 26 points on 12 shots, Jamal Murray caught a flight to Los Angeles. The second-year guard was the Denver Nuggets' lone representative at All-Star Weekend. He was slated to compete in the Rising Stars Challenge on Friday and the Skills Challenge on Saturday. While […]
Jimmy Conca started designing shoes in 2012. His toolbox contains masking tape, an X-Acto knife and paint. His first client was former Denver Broncos safety Rahim Moore. Conca, who also paints portraits of athletes, designed Jamal Murray's custom Adidas CrazyExplosive shoes that Murray wore for the Nuggets' 70's, 80's and 90's themed nights earlier this season. […]
MILWAUKEE — While most of his teammates finalized plans for their All-Star break vacations in the minutes following the Denver Nuggets' 134-123 over the Milwaukee Bucks on Thursday, Jamal Murray stood at his locker and readied himself for another back-to-back. "I leave tonight," Murray said. After Murray wrapped up his postgame media obligations, he boarded a […]
DENVER — A little less than an hour before the Nuggets took on the San Antonio Spurs in a nationally televised game Tuesday, Jamal Murray labored through his pregame warmup on the Pepsi Center hardwood. The second-year guard practiced mid-range pull ups and spot-up threes the same as always, but this time something seemed a […]
Nuggets guard Jamal Murray made an opposing player look silly on one particular play in Thursday's game against the Thunder.It happened when Murray drove baseline in the second quarter, which caused Steven Adams to eventually follow him all the way out to the perimeter. Murray noticed the mismatch, and then took full advantage of it. He used a few crossover moves to shake Adams,...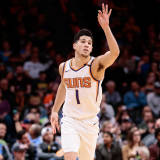 Suns star Devin Booker showed how strong his troll game is during Friday's game against the Nuggets.He did that after attempting a three-pointer during the matchup, with Jamal Murray trying to close out on him. Booker drained the shot. and then made sure to let Murray know about it afterward by doing his signature bow-and-arrow celebration. That's one way to stick it to your opponent...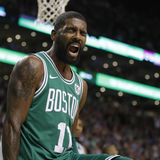 Thanksgiving totally changes the typical NBA schedule since the league does the right thing by giving every team the night off on Thursday. That means more League Pass games on a less balanced slate, and a more fun week. There are some interesting East vs. West games, including Blazers/Wizards, Pistons/Thunder, Clippers/Knicks and Trail Blazers at 76ers, but the Game of the Week...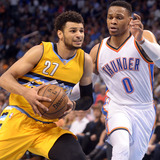 As a good but not yet great 20-year-old, Jamal Murray is prime fodder for trade rumors at this time of year, and even he will admit to some anxiety.In an interview with Donnovan Bennett of Sportsnet that was published on Saturday, the Denver Nuggets guard opened up about his uncertain offseason."It's different knowing I could be in Cleveland right now. I could be in Minnesota. I...
Denver Nuggets guard Jamal Murray likely won't be getting many votes for Rookie of the Year, but what he apparently fought through this season was nothing short of astounding.Nuggets insider Chris Dempsey of Altitude Sports reported on Thursday that Murray played in all 82 games this year through a sports hernia. The 20-year-old Murray finished the season with 9.9 points, 2.6 rebounds...
MORE STORIES >>
Nuggets News

Delivered to your inbox

You'll also receive Yardbarker's daily Top 10, featuring the best sports stories from around the web. Customize your newsletter to get articles on your favorite sports and teams. And the best part? It's free!