Found November 03, 2012 on Fox Sports North:
PLAYERS:
Dante Cunningham
,
Greg Stiemsma
,
Chase Budinger
,
Brandon Roy
,
Andrei Kirilenko
,
Kevin Love
,
Ricky Rubio
,
Nikola Pekovic
,
Keith Smart
,
Will Conroy
,
Rick Adelman
,
Tyreke Evans
TEAMS:
Minnesota Timberwolves
MINNEAPOLIS With 67 seconds remaining in the Timberwolves' 2012 home opener, the sold-out Target Center crowd at once took its feet. It was uncanny, almost, the unity with which an entire arena rose and realized that the season it had been dreaming of since long before the last one ever ended would begin with a win. The fans got just a minute to revel in it. They should have had more time, perhaps, after the Timberwolves' early dominance, but a minute was enough. When a city is conditioned to believe that a blown lead can't be recouped and the fourth quarter is for listless sputtering, nights like Friday can be excruciating. When the Timberwolves ceded the lead to the Kings in the third quarter, it was easy to imagine the bottom had dropped out, that this team had regressed to some rougher, rawer form of its preseason self. Last season, stumbles became spirals into losses that no one wanted to talk about, much less think about. Last season, everyone held their breath and waited for that moment when things would fall out of reach. Last season Last season Last season If Friday proved anything, it's that it's time to forget about last season. The Timberwolves' comeback against the Kings, which they parlayed into a 92-80 win, wouldn't have happened last April. No way. And here they are, just one game into this season, with proof that it can happen now. There's proof that a messy game does not necessarily mean a loss, that struggling to score does not necessarily spell doom. It's all so fresh, this notion of coming back. It makes you want to talk about it all day, to pick it apart and figure out what tipped the scales. And yet there's barely anyone to ask about it. J.J. Barea, who led the Timberwolves with 21 points, might have a few choice words about the end of last season and those blown games. But Dante Cunningham won't. Neither will Greg Stiemsma or Chase Budinger. Brandon Roy can't speak to it, and Andrei Kirilenko was happily ensconced in Russia when game after game slipped away in Minnesota. That might be the best thing about this new-look team. It has no cause to dwell, no little voice in the back of its collective brain demonically whispering that these kinds of things can't happen, that they're the Timberwolves after all, and such is their fate. Last year, it took 20 points and 10 rebounds from Kevin Love, a slew of assists from Ricky Rubio and a dominant Nikola Pekovic in the paint to win. This year, winning can be a different beast. Before the game, Sacramento coach Keith Smart talked about the difficulty of planning for a team without its stars. Difficulty? Really? But Smart had a good point, as if he somehow saw the game's messy, hodge-podge energy coming at him an hour before it started. "A team when their stars are out is pretty dangerous, Smart said. "It can be any guy on any given night at a particular time in the game. And so it was. Barea off the bench was likened to a tornado postgame in the locker room. It was a nickname so convincing that Will Conroy stuck with it, yelling across the room to try to get Tornado's attention. Greg Stiemsma did everything, scoring nine points to complement his seven rebounds and four blocked shots. Dante Cunningham's defense hummed and sprung, and in the end, it was energy and resilience that tidied the mess. The Timberwolves won the game by 12 points while missing 15 of 17 3-pointers and 10 free throws. They shot just 36.8 percent from the field and had just 17 assists (four of which came on their first four scores). They did all that without signing a death sentence, and for that, they should be proud. "Offensively we've got a long ways to go, coach Rick Adelman said. "We missed so many shots, but we stayed with it in the fourth quarter. "We're trying to figure out how we're going to score when the game's on the line. We don't know right now. We're just kind of searching for it. Searching for it. The same could be said for the end of last season, but back then, it was undefined. It was all the things the Timberwolves hinted at on Friday: energy, resilience, contributions across the board. Now, that missing it is offense, and to ease into it will not spell certain losses. There's something fun about this team that's so clearly an underdog from the outset without its stars. It's not in fighting shape, not yet, but with these players and this coach, it gives the impression that it can someday be. "I think that goes back to our team's maturity and our defense, Cunningham said. "To be able to withstand a barrage like that to kind of get a time out, get our composure and come back out there and take care of business, that just goes to our maturity. With 8:47 remaining in the third quarter, Tyreke Evans drove the ball to the basket and scored, cutting the Timberwolves' lead to three. The defense seemed to be coming undone, and offense was hardly there to fall back on. But the game marched on, and as the Timberwolves took the ball back down the court, Stiemsma got out of his seat on the bench and took a step forward. He watched, leaning forward a bit as if urging the ball along and into the proper hands. He clapped, even as Kirilenko missed a jump shot. Stiemsma wasn't conditioned to believe that the whole thing was blown by a sloppy run. Neither is this team, and that's its greatest asset. Follow Joan Niesen on Twitter.
Original Story:
http://www.foxsportsnorth.com/11/03/1...
THE BACKYARD
BEST OF MAXIM
RELATED ARTICLES
Anyone who knows Brandon Roy can attest to that fact that Roy is a real calm and cool cat both on and off of the floor. But come Friday evening in Sacramento, the Minnesota Timberwolves guard will likely be a ball of nerves as his NBA comeback tour kicks off in Minnesota's regular season opener. It has been a very long and very interesting 19 months since Roy last played in...
MINNEAPOLIS Rick Adelman told Brandon Roy not to worry about the missed shots. Dont worry about the 10 field goals, the five three-pointers, the two free throws. Theyll come. My, what a positive after a 92-80 win that came in spite of the Timberwolves offense, in spite of Roys shooting, in spite of so much. But Adelman isnt delusional. Hes been doing this too long to be. Hes had...
MINNEAPOLIS The Timberwolves held their final practice on Thursday before the regular season begins Friday night at home against the Kings. Finally.They'll be one of seven teams come Friday that have yet to play a game and the only Western Conference team that won't have taken the court. If it weren't for the Knicks-Nets cancellation, the Timberwolves would have been...
The T'Wolves are an interesting team, a nice young core with little experience, but tons of talent. However, they are starting the season facing injuries to major contributors on the team. Kevin Love and Ricky Rubio won't be back for a while out with a broken hand and recovering from ACL surgery respectively. They did add Andrei Kirilenko and Chase Bundinger which should be able...
(Eds: APNewsNow. Will be updated. AP Photos.) By DAVE CAMPBELL AP Sports Writer Brandon Roy's once-balky knees have been holding up. Now the Minnesota Timberwolves are going to put those valuable joints of his to the test. When the Timberwolves host Sacramento on Friday night, Roy will take the court and complete a remarkable comeback from chronic pain in both of his knees...
MINNEAPOLIS On Wednesday, James Harden's deal in Houston got done, as did Steph Curry's with Golden State and DeMar DeRozan's in Toronto. Chicago and Taj Gibson took it down to the wire. So did Jrue Holiday and Philadelphia, but both got their money. As the clock ticked to midnight, these and other members of the draft class of 2009 learned their fates; the winners saw...
Ricky Rehabbing Knee So, I had planned on doing a little blurb about every team in the NBA leading up to a grand Timberwolves finale today.  I made it through the Eastern Conference and I'm freaking exhausted.  So, today I'm doing the Wolves season preview as planned, and maybe I'll haiku the crap out of the rest of the conference early next week. Chance for the playoffs...
The Minnesota Timberwolves fell apart last season after Ricky Rubio went down with an injury. How they'll fare with both him and star Kevin Love sidelined to begin the 2012-13 campaign remains to be seen. Brandon Roy and a host of newcomers make their team debuts Friday night when Minnesota hosts the Sacramento Kings, who will look to clean up their play after dropping their...
J.J. Barea had 21 points and five assists in 28 minutes for Minnesota, helping the Timberwolves overcome a weak shooting performance in their season opener and beat the Sacramento Kings 92-80 on Friday night. Brandon Roy pitched in 10 points, six assists and five rebounds and Andrei Kirilenko added 10 points, seven rebounds and five assists as both players returned to NBA action...
The Minnesota Timberwolves may be in position to gain a rare win over the Toronto Raptors. The Timberwolves have lost 14 of their last 15 in this series and eight straight in Toronto heading into Sunday night's matchup with the 0-2 Raptors. Minnesota (1-0) hasn't won in Toronto since Jan. 21, 2004. But the Timberwolves, who visit Brooklyn on Monday, start their first set...
Timberwolves News

Delivered to your inbox

You'll also receive Yardbarker's daily Top 10, featuring the best sports stories from around the web. Customize your newsletter to get articles on your favorite sports and teams. And the best part? It's free!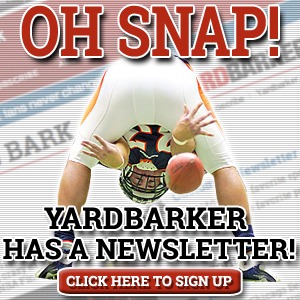 Latest Rumors
The Backyard

Today's Best Stuff

For Bloggers

Join the Yardbarker Network for more promotion, traffic, and money.

Company Info

Help

What is Yardbarker?

Yardbarker is the largest network of sports blogs and pro athlete blogs on the web. This site is the hub of the Yardbarker Network, where our editors and algorithms curate the best sports content from our network and beyond.