Found April 22, 2012 on Waiting For Next Year:
Yesterday, UniWatch had their first post of submissions for their new running contest. Their goal is to find the most creative idea for name changes for two of the more ridiculed Native American-based team names in all of sports: The Cleveland Indians and The Washington Redskins. With 35 entries in all for the Cleveland baseball team alone (the first half were revealed yesterday), I thought it would be a fun practice to point out some of the best in my opinion and touch upon if now is the time for a change.
Let me start by saying that if you had asked me this question as little as two years ago, you couldn't find someone more opposed to a name change. The Indians were named to honor Louis Sockalexis, and the tradition of something nearly 100 years old is not something I'm willing to give up at the drop of a hat. In art class in elementary school, this writer with a lack of even a single artistic bone in his body took to drawing Chief Wahoo. I love wearing Wahoo gear, and even if there's a name change, I'm not likely to stop wearing it. I even wrote a persuasive paper in high school chronicling why the Indians shouldn't be forced to change their name. One of my arguments was that if you were going to make my baseball team give up their name, you'd have to take out the Fighting Irish, Vikings, Cowboys, Seminoles, Redskins, Chiefs, Fighting Illini, Braves, Celtics, and Warriors. I'm 12.5% Irish. Maybe I'm offended by the Fighting Irish and Celtics mascots. It's an all or nothing proposition for me. Remove everything that could be even possibly misconstrued as politically incorrect if you're going to do it at all.
Another thing I'm not a fan of is redrawing Chief Wahoo or keeping the name and ridding the team of The Chief. The C's and the I's are okay for secondary or tertiary logos, but not as the main one. We don't need to have a hideously bland identity like the New York Giants. More than anything, I would have to be convinced of a new name and identity with a Cleveland history and identity, one that I wouldn't feel is being shoved down our throats as Cleveland fans. This contest may have done just that for me.
Of the 17 entries that UniWatch showed in their first entry, six were for the name "Spiders". The name was used from 1889-1899 in Cleveland in the National League. The team won the 1895 championship, and while most will remember the name for the worst record in MLB history in 1899 with a 20-134 mark, the name could get a second chance. It's a fairly unique name, with the Richmond Spiders of the NCAA being the only one that comes to mind. There were also some really creative entries here that made me think, "Yea, I could roll with that."
My favorite of the six Spider entries by Liam Burkholder:
I really like this entry for its simplicity and color scheme. For you CSU Vikings, I would think this is very eye-pleasing.
The other entry I believe is the most creative. It belongs to Daniel Irwin, who developed the idea of the "Blue Socks", which combines elements of three past nicknames. The name references the "Blues" (1879-1884, 1887-1889, 1901), it has a Spider for the mascot, and it's a tip of the cap to Louis Sockalexis, a Penobscot Indian. On top of being grammatically correct (yes, Sox is commonly accepted but given my disdain for those two franchises that use the name, I dislike it). The Spider mascot, Napoleon (seen below), has blue socks on each of his eight legs. What a creative way to combine historical elements and provide a new identity.
The third and final entry that I'll highlight is the Cleveland Tribe, submitted by Douglas King. For those who don't want to get rid of the Indians' name, this may be a softer blow. I know that I myself refer to our baseball team as "The Tribe" far more than I do "Indians".Keeping the same established red-blue color scheme that we're accustomed to may not be the worst decision either. Nothing about "Tribe" has to necessarily be linked to Native Americans. One definition I found online: "A social division in a traditional society consisting of families or communities linked by social, economic, religious, or blood ties"
The other entry names were Barons (two), Blues, Brown Sox, Rockers, Colts, Grays, Lakers, Moses, and Coasters. Do you guys have your own suggestion or like any of these better than the three I outlined? Let's hear about in the comments section where I'm sure there will be plenty of passion both ways.
Original Story:
http://www.waitingfornextyear.com/201...
THE BACKYARD
BEST OF MAXIM
RELATED ARTICLES
The Indians are making it look pretty simple these days. Timely hitting, quality starts, and their closer nailing it down in the ninth inning. The Indians took the series opener 4-3 led by Jack Hannahan's 3 RBI effort. Hannahan added the team's first run with a sac fly in the 2nd then doubled home two in the fourth inning. Yoenis Cespedes had three hits and two RBI for the Athletics...
The Cleveland Indians sent left-handed pitcher David Huff to Class AAA Columbus after activating him from the 15-day disabled list Sunday. Huff had been in Class AA Akron on a rehabilitation assignment. He was placed on the disabled list March 30 after sustaining a strained right hamstring. He made one start for Akron, throwing four innings and allowing one hit, one walk and striking...
Cleveland Indians pitcher Derek Lowe was a member of the 2004 Boston Red Sox team that won a World Series. Asking him to show you the ring might be a touchy subject today- "The Lee County Sheriff's Office is investigating the theft of a 2004 Boston Red Sox World Series ring and a gold World Series trophy from Major League Baseball pitcher Derek Lowe's Fort Myers residence...
When a team is locked in offensively, even when they go quiet for a few innings, you have an overwhelming feeling that they're just waiting for an opening to burst things wide open. The Indians had 10 hits in the first seven innings of this one with only two runs to show for it. But, in the turning point that was the eighth inning, Jason Kipnis had the biggest hit of the game with...
Cleveland Indians RHP Jeanmar Gomez will start Saturday night at Oakland. Following the game, Gomez will drop his appeal and start serving his five-game suspension. Gomez was suspended for five games for intentionally hitting Kansas City 3B Mike Moustaskas on April 14.
The Tribe offense was getting plenty of hits, but for the second straight night, they specialized in leaving guys on base. That is, until the eighth inning. The Indians broke this game open in the top of the eighth with a two-run triple by Jason Kipnis and a wild pitch which allowed him to score. Kipnis had four hits and drove in three runs. Four other Indians (Hafner, Donald, Choo...
A few weeks back we wrote about the contest they're having over at Uni Watch to re-name and re-brand the Cleveland Indians. The first batch of results was posted on Saturday and while one of the concepts is genuinely horrifying, folks have come up with some interesting ideas. Relatedly, some good work by Frowns regulars (including Kanicki and NeedsFoodBadly) and some other folks...
OAKLAND, Calif. (AP) -- Jason Kipnis drove in three runs and scored twice, Jeanmar Gomez pitched into the sixth inning for his first win of the season and the Cleveland Indians extended their best road trip in more than 20 years with a 5-1 victory over the Oakland Athletics on Saturday night. Jason Donald had two hits and also scored twice while Travis Hafner and Jack Hannahan added...
Follow @ClevelandDTR By: Eric Grinnell The Indians just finished their road trip, where they were an impressive 7-2. On the week, the Tribewas 4-2 to put there overall record at 8-6, good for 3rd in the AL Central. There were lots of good things this week, so let's get to them! 1. I got on Josh Tomlin pretty good in last week's MMTT. I said that I was really worried...
They have been playing Seattle, Oakland, and Kansas City. Will they be able to play with the cream of the league: They still have to play Texas, New York, Tampa, and Detroit? The Angels who are coming up soon will be a major test. The Red Sox will not be down forever and the Orioles have gotten off to a good start. We like what we see so far with the Tribe. Time will tell.
APNewsNow. Indians 4, Athletics 3. With AP Photos. Jack Hannahan drove in three runs against his former team and Shin-Soo Choo added two hits and an RBI, leading the Cleveland Indians to a 4-3 victory over the Oakland Athletics on Friday night. Ubaldo Jimenez (2-0) gave up two runs on six hits over six innings as the Indians won their sixth in seven games, all on the road. Chris...
A series against the Kansas City Royals provided just what the Cleveland Indians needed to break out of a slow start to this season and get some momentum going for a successful road trip. When they return home, the Indians will try again to add to the Royals' misery. Cleveland will seek its eighth win in 10 games Tuesday night by continuing its recent mastery of the Royals...
All Sports News

Delivered to your inbox

You'll also receive Yardbarker's daily Top 10, featuring the best sports stories from around the web. Customize your newsletter to get articles on your favorite sports and teams. And the best part? It's free!
THE HOT 10: Who's Trending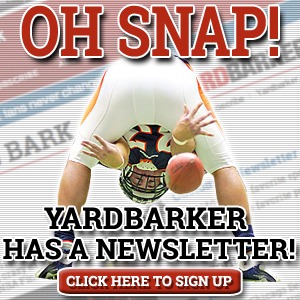 Latest Rumors
The Backyard

Today's Best Stuff

For Bloggers

Join the Yardbarker Network for more promotion, traffic, and money.

Company Info

Help

What is Yardbarker?

Yardbarker is the largest network of sports blogs and pro athlete blogs on the web. This site is the hub of the Yardbarker Network, where our editors and algorithms curate the best sports content from our network and beyond.