Found July 29, 2013 on Fox Sports Detroit:
DETROIT -- Balaal Hollings survived a bullet that remains lodged in his brain, yet still hopes to fulfill his dream of playing college football. Doctors have told Hollings that that isn't likely, but he figures theyve been wrong before and notes, "God is in charge." Hollings also was told hed never walk or talk again. He's doing both now and plans to attend either Eastern Michigan or Wayne State in January. Hollings will undergo another surgery next week at Detroit Medical Centers Sinai-Grace Hospital, where on April 8 he arrived in a speeding ambulance with little chance to live after a ricochet shot blew away part of his skull at a house party in Detroit. Theyre replacing part of my skull with titanium, Hollings said. He took off his Tigers baseball cap to expose the wound to Detroit All-Stars Torii Hunter and Prince Fielder, who met with Hollings in the clubhouse at Comerica Park over the weekend. Balaal took that hat off and it was like, Man! Hunter said while pursuing his lips and shaking his head. "What hes been through, this kid? Hollings was the senior class president and a six-sport athlete at Detroit Northwestern High. A 6-foot-2, 320-pound nose guard and offensive lineman, he planned to play at Lakeland College in Sheboygan, Wis. After the accident, Hollings inspired his classmates -- who also voted him class clown -- by attending the Class of 2013 graduation and addressing them. Hes convinced that his faith in God has gotten him over every hurdle, and Hunter agreed. Said Hunter: I told him, God has bigger plans for you. Stay the way you are, and good things are in store for you. "Hes intelligent, with a lot of character and charisma. And hes very mature for being 18. Ten years from now, well be saying, Look what hes doing! Theres no limit for that kid. Hollings smiled and said: For Torii to speak so highly of me, saying, Hes going somewhere! Well, that means so much to me. "I love that guy. Hes so down to earth, and I felt like Ive known him my whole life. I interviewed and wrote about Hollings after he made his miraculous recovery. At the time, he asked about my profession, what I usually covered. When I told him that I wrote about the Tigers, he said he wanted to meet Torii Hunter. I told Hunter about Hollings, and Hunter was enthusiastic about talking with him. A meeting was arranged, and Fielder became captivated with Hollings when he came into the clubhouse. Prince was so happy to see him, Hunter said. Said Fielder: Hes a nice young man and a very good guy. You can tell. And he has such a great smile on his face all the time. I really liked meeting him. Hollings received an autographed bat from both players and got a signed glove from Fielder -- a first baseman, just like Hollings. Tigers equipment manager Jim Schmakel found him a XXXL Tigers pullover at the request of the players. I told Prince, You make big dogs look good," Hollings said. And he laughed about that. I was wearing a Prince Fielder T-shirt and told him I had to shop for one that fits. "He said, I know the feeling, so they got me something that finally fits. Prince, meeting him was on my bucket list. His personality, like Toriis, was something so special. "Hey, Ill never forget meeting them. Im so blessed and thankful. For two of the best players in baseball, the feeling was mutual.
Original Story:
http://www.foxsportsdetroit.com/mlb/d...
THE BACKYARD
BEST OF MAXIM
RELATED ARTICLES
There's about to be a sigh of relief in the state of Michigan. The Tigers are starting to look like the dominant team they were supposed to be. With less than 100 hours left until the trade deadline, the Tigers are 7-3 since the All-Star Break and sit 14 games above .500, with a three-game lead over the Cleveland Indians. That was the big inhale for the sigh of relief. The beginning...
It was always in the cards. It was just a matter of who, when, and how much. Despite moving to a season high 13-games over .500 with a sweep of the woeful Philadelphia Phillies an ongoing saga that had occupied the Tigers-related rumor mill for  much of the season was always, "What will the Detroit Tigers do to solve their bullpen inadequacies?" On Monday morning an off-day...
Detroit Tigers slugger Miguel Cabrera was ejected while batting with the bases loaded in the third inning of Sunday's game against Philadelphia after he appeared to say something to home plate umpire Chad Fairchild. Manager Jim Leyland was also ejected in the ensuing argument. Cabrera was batting with one out when he took two called strikes. He appeared to say something to...
DETROIT -- Jim Leyland doesn't usually get to manage games in late July like a spring-training exhibition. When he got the chance on Saturday, he took full advantage. Miguel Cabrera? In his first game back from a hip injury, he only played four innings. Of course, by that point he had a homer and three RBI. Max Scherzer? He threw a season-low 75 pitches in six innings, only allowing...
DETROIT -- There are few, if any, general managers as good as Dave Dombrowski at the trade deadline. The Detroit Tigers, on the eve of the 2013 deadline, have already met their biggest need, acquiring Houston Astros right-handed reliever Jose Veras to join closer Joaquin Benoit and Drew Smyly in the late innings. That move allows the Tigers to pick their spots for talented-but...
Miguel Cabrera homered in his first at-bat after returning from a hip injury and Max Scherzer held Philadelphia to one hit in six innings to become baseball's first 15-game winner as the Detroit Tigers routed the Phillies 10-0 Saturday night. The Phillies lost their seventh in a row. Scherzer (15-1) threw only 75 pitches - he was one of several stars pulled early after the...
By the time Jhonny Peralta broke the game open with a sixth-inning grand slam, the Detroit Tigers were already well on their way to another victory. For that, they could thank the Philadelphia Phillies, whose eighth straight loss might have been the ugliest of the bunch. Peralta's slam capped an eight-run sixth for Detroit, and the Tigers overcame Miguel Cabrera's ejection...
Jose Veras has been acquired from the Houston Astros for outfield prospect Danny Vasquez and journeyman PTBNL. I don't know much about him, but it seems like a no risk move. I don't expect him to close, though I do think it's reasonable to believe that he'll be the setup guy. I'm afraid this means that Octavio Dotel is done for the year. I think the Tigers are done. I think...
Dave Dombrowski, the general manager of the Detroit Tigers, found a good reliever in terms of value in Jose Veras, who they acquired from the Astros today for outfield prospect Danry Vasquez and a player to be named later.   Veras, a right-handed set-up man, will fit nicely into the Tigers back-end of the bullpen as a compliment to the left-handed Drew Smyly in front of closer...
BROOKLYN, NY - Brooklyn Cyclones outfielder Patrick Biondi was a huge Detroit Tigers fan growing up. He may not be physically intimidating -- he's just 5'9 and 165 pounds -- but Biondi plays the game with a tiger's tenacity that has made an indelible impression on his manager.
Ben and Sam discuss whether an owner overruling a GM can ever be a good thing, then revisit the Tigers` decision to extend Justin Verlander well before he was a free agent.
Tigers News

Delivered to your inbox

You'll also receive Yardbarker's daily Top 10, featuring the best sports stories from around the web. Customize your newsletter to get articles on your favorite sports and teams. And the best part? It's free!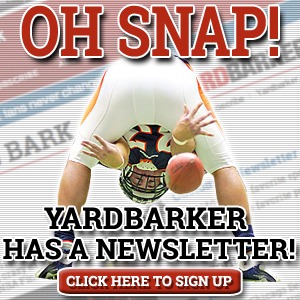 Latest Rumors
The Backyard

Today's Best Stuff

For Bloggers

Join the Yardbarker Network for more promotion, traffic, and money.

Company Info

Help

What is Yardbarker?

Yardbarker is the largest network of sports blogs and pro athlete blogs on the web. This site is the hub of the Yardbarker Network, where our editors and algorithms curate the best sports content from our network and beyond.