Found February 07, 2013 on Fox Sports Wisconsin:
MILWAUKEE -- Rickie Weeks will never fully admit it because he's as tough as nails. Though he had every reason to use his gruesome ankle injury as an excuse for a forgettable first half of 2012 in which many called for him to be yanked from the lineup or even sent to Triple-A, he didn't say one word about it. But in reality his ankle wasn't healthy in the first half of 2012, and that played a major role in why he hit only. 199 before the All-Star break. Getting healthier as the season wore on, Weeks slowly morphed into the player he was before the July 2011 injury. Now, with another offseason of healing, expect Rickie to be Rickie again. "I'll tell you the first half was a beast," Weeks, 30, said while in Milwaukee recently. "I didn't like anything about the first half, from my standpoint and as a team." As the fan chatter heated up and the media continued to run stories about what was and wasn't wrong with Weeks, some fans wanted him banished to Nashville. But he never made excuses, never let on that his ankle wasn't fully healed. When Weeks suffered a severe left ankle sprain on July 27, 2011, he was playing the best baseball of his career. Less than a month earlier, he was voted in as the National League's starting second baseman in the All-Star Game and was hitting .272 with 19 home runs and 43 RBI at the time he went down. If the Brewers had been out of the race, Weeks would have sat out the rest of the season. But Milwaukee was on the way to a division title and Weeks felt a natural pressure to get back as soon as possible. It's honorable that Weeks sacrificed his body and health for the good of the team by coming back just two months later, but it was obvious he rushed back too soon. The injury impacted him. As an explosive and powerful player, Weeks couldn't push off or get the strength out of the ankle he needed to play his game. He hit just .243 with one home run in the final 14 regular-season games and batted just .146 in the postseason. The same hampered player showed up in 2012. A full offseason of rehab and rest wasn't enough, and Weeks' batting average was a putrid .158 on June 1, .185 on July 1 and .199 at the halfway point of the season. There's no other way to explain Weeks dropping from an All-Star to hitting below the Mendoza Line for 81 games. A healthy Weeks may have regressed, but not that far. He's too talented, too powerful and too established for a complete free fall. When Weeks is right, he's an impressive athlete, one you have to see in person to really value. He's big, strong and powerful. At the plate, he's dependant like many hitters on his stride. He needs to get his lead foot down and use his powerful legs to explode through the baseball. When the left ankle was still tender, his stride was affected. His ability to drive a baseball wasn't the same, let alone tacking on the mental drain that a slump brings. Clearly frustrated, Weeks didn't use the ankle as an excuse because he knew it was going to get better. It was just going to take time. Weeks hit .276 with seven home runs and 22 RBI in June and July and hit eight more home runs in September and October. By Opening Day, it will be nearly 20 months since the injury, and Weeks should be fully healed, his confidence back after returning to form in the second half of last season. And as this July rolls around, Brewers fans won't be looking to replace him at second base. Instead they'll be casting their ballots to send him to another All-Star Game. Rickie Weeks is going to look like Rickie Weeks again. Follow Andrew Gruman on Twitter.
Original Story:
http://www.foxsportswisconsin.com/02/...
THE BACKYARD
BEST OF MAXIM
RELATED ARTICLES
When I think back on Rickie Weeks' 2012 fantasy season, I'm mostly overwhelmed with negative thoughts and emotions. If you look at his end-of-season stat line, though, it wasn't really all that bad. Yes, his .230 batting average over 588 at-bats was a category killer, but his 21 homers, 16 steals, and 85 runs were actually pretty useful. What really soured me on Weeks last...
Larisa Fraser in a bikini is exactly what we need on a day like this. It's freezing cold and a massive blizzard is about to ruin our weekend, but at least we can count on Larisa to keep us warm, right? Fraser, Brewers slugger Ryan Braun's fiance, recently shot these photos for Venus Swimwear. If you are Braun would you pay her off to get her to stop modeling? The guy just signed...
Former Milwaukee Brewers first-round pick Eric Arnett underwent reconstructive surgery on the ACL in his right knee Thursday and is expected to be sidelined for five to six months. The Brewers made the expectation of Arnett's ACL diagnosis public Tuesday and said the right-hander was scheduled to be evaluated by team physician Dr. William Raasch in Phoenix on Wednesday to confirm...
MILWAUKEE -- Mark Rogers has had plenty of seasons end or fail to begin at all because of injuries. It's hard to blame the right-hander for being a bit agitated when the Brewers decided to shut him down following his Aug. 31 start last season. With his team in the playoff race, Rogers wanted to keep contributing to the cause. It's also hard to disagree with the decision the...
This is the second part in a five-part series previewing the Milwaukee Brewers by position heading into spring training, which starts Tuesday with pitchers and catchers reporting. Friday: Starting pitchers Today: Relief pitchers Sunday: CatchersMonday: InfieldersTuesday: OutfieldersON THE ROSTER (alphabetical order): RHP John Axford (5-8, 4.67 ERA, 35 saves), RHP Burke Badenhop ...
This is the first in a five-part series previewing the Milwaukee Brewers by position heading into spring training, which starts Tuesday with pitchers and catchers reporting. Friday: Starting pitchersSaturday: Relief pitchersSunday: CatchersMonday: InfieldersTuesday: Outfielders ON THE ROSTER (alphabetical order): RHP Nick Bucci (2-2, 1.99 ERA in Single-A), RHP Hiram Burgos (2-2...
Yahoo! Sports reporters Jeff Passan and Tim Brown reported late on Tuesday that they had obtained records of now defunct anti-aging clinic Biogenesis and that three of the documents contained the name of Brewers left fielder Ryan Braun. Last week, the New Times of Miami reported that Biogenesis and its founder Anthony Bosch had allegedly provided performance-enhancing drugs to other...
As Major League Baseball continues their investigation of Anthony Bosch's Biogenesis clinic in Miami, Florida, there are still more names of professional ballplayers released that had a connection with the biggest PED scandal since BALCO. The newest release of names included Yankees catcher Francisco Cervelli and Orioles third baseman Danny Valencia, but the biggest name was the...
We've seen this before Ryan Braun, the most popular and by far best player on the Milwaukee Brewers is accused of using drugs.  Last time he got off on a technicality.  This time he got off because he was reviewing the technicality.   What in the hell are we even talking about? Hi Ryan. I don't care if you are a juicer. Really. Rookie of the year, 202 home runs so far, a...
FOX Sports Wisconsin on Thursday released the Milwaukee Brewers spring training television schedule for the 2013 season, and it will begin at 3 p.m. Monday, March 11 with a matchup against the Los Angeles Dodgers.FOX Sports Wisconsin also announced plans to televise "Brewers On Deck 2013 at about 10 p.m. Monday, Feb. 11 following the Milwaukee Bucks game. The spring training...
Brewers News

Delivered to your inbox

You'll also receive Yardbarker's daily Top 10, featuring the best sports stories from around the web. Customize your newsletter to get articles on your favorite sports and teams. And the best part? It's free!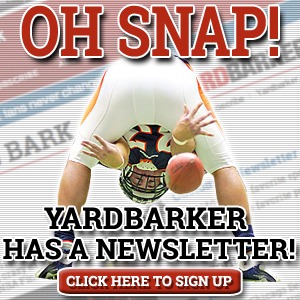 Latest Rumors
The Backyard

Today's Best Stuff

For Bloggers

Join the Yardbarker Network for more promotion, traffic, and money.

Company Info

Help

What is Yardbarker?

Yardbarker is the largest network of sports blogs and pro athlete blogs on the web. This site is the hub of the Yardbarker Network, where our editors and algorithms curate the best sports content from our network and beyond.