So every year game developers like to play a little game of cat and mouse with the public on when their game is coming out and the details of their new games. They leak a little here, squash a couple rumors there. But with each company they tend to have a pattern they stick to for every title they release. Its actually pretty predictable, so here we go, here's what to expect from some of your favorite companies.   EA  Well EA  is about the most predictable company out there. Each year they release their games at almost the exact same time as last year. They spend the entire year in between trying to tell you as much as possible about their game hoping you get sucked into buying another years worth of the same crap. Sometimes they try and actually improve the game like they've done with the NHL franchise over the years. They've done this in several genres from the Sims to Need for Speed. But for the most part they just make a few small changes slap on a new term for something they already had. Though Dead Space has been an nice change of pace from them. Predictable If you're looking for details they'll most likely be everywhere you can look Repetitive Sometimes just throw complete curveballs (the lineup for the past few Tiger Woods…) Rockstar Studios As of recent history Rockstar has been more predictable than before. May seems to be their go to month for releases over the past few years with Red Dead Redemption, La Noire and Max Payne 3. With Rockstars promise of GTA 5 in Spring 2013 we can safely assume it will be released sometime around then. An annoying thing Rockstar does with every GTA game is release several screenshots that are essentially wall papers with subtle hints at locations and characters. Then they finally spill the beans on the place, and then a little bit on the character, and so on and so forth until you finally know a few awesome things about the game and then its released. They do releasing big games the way i think all these companies should, they don't jump the gun on release dates, they don't reveal anything and everything about their game before you can even buy and play it. As of late somewhat predictable Some cool wallpapers as the only hints for a few months With GTA a new location every time A trailer that shows off a little bit of the story A realistic estimated release time Blizzard/Activision Since Blizzards owns Activision I figured id group them together. Ill start with Activision since they are way easier. Since the tremendous success of the original Modern Warfare Activision has just pulled an EA. They take the same game and just kinda repackage it every year. A few flashy things here, package the special edition with a remote controlled vehicle and bang best selling console game ever. Albeit the games are a  little less repetitive than say the last 5 renditions of Madden and are still enjoyable they just aren't breaking the creative bank on each new title.  They tend to just wait for the big events like E3 to make announcements and the occasional trailer release to get the buzz stirring for their new game. Now when it comes to the Blizzard side they tend to let their community in on a lot of what they're doing and usually have the need to publicly beta test their games making it much more difficult to keep a lot of it secret up until release. They also tend to create an awesome theatrical trailer with absolutely no relevance to the gameplay. Blizzard has also been known to randomly "delay" games and abandon a lot of work. (I'm looking at you Starcraft Ghost which is on indefinite hold) and their release times tend to change drastically up until the end. The new Call of Duty will be out in November next year If its another Blackops expect an RC vehicle, if Modernwarfare 4 expect something spec ops related for your collectors edition With Blizzard expect vague release dates and for them to be pushed back Also expect a decently long beta test phase And if its not named World of Warcraft or Starcraft 2 it may not see the light of the day (purposely left out Diablo 3, still so dissapointed in it) Ubisoft I have mixed feelings about the path of releases Ubisoft has taken. Back when they changed the shooter genre with the early titles in the Splinter Cell series they had ideas and tried to innovate the genre especially with their first stint into stealth multi-player. But when Splinter Cell started to fade, they reinvented it with more Call of Duty like version of stealth. With their most successful recent endeavor they have done what they can to innovate again, but in the process have tried to milk the fans for as much as they could. Normally trilogies go the first, the second, and the third. For Assassins Creed they did 1 and 2 and then decided they needed two other full games in between the 2nd and 3rd. Now these games were anything but bad in fact they introduced a great new multi-player experience. But with each of these games they led people to hope it was going to be the climactic finish to the trilogy. But they put it off for two more games.  Ubisoft loves to use trailers to hint at the games they release. Their was huge buzz about the Assassins Creed 3 trailer and its big reveals. These trailer reveals are also a pet peeve of mine because almost no actual game play footage is ever used in them. Expect the unexpected Expect another Assassins creed even though 3 was supposed to be the end Look for trailers ranging from vague teasers to full fledged commercial versions but none will include actual gameplay footage Expect the expected (if they're games not  what everyones buying they'll fundamentally change it so its more like the mainstream. Looking at the last Splinter Cell game)   Indie Games The proverbially knuckle ball of video game development. Consumers like us will know about as much as we care to find before these games launch. With such little marketing done to get these games out there there are hundreds of games out right now that have garnered critical acclaim that most people don't have a clue exist. Here are a few i actually know about that are relatively inexpensive and an extremely good time. These next two are a little more well known for their success.  Find some new information outlets for these guys, they won't have much TV coverage or any random TV show coverage Try them, www.humblebundle.com is a great place to get these games for extremely cheap, and to donate to charity Hell give ones you don't know if you'd like a chance most of these games are far less expensive than 60 dollars. Valve If you've ever played or enjoyed a Valve game then you already know whats coming. Valve is famous, or should i say infamous, for their horrendous "Valve" time. Almost every time they've announced a big title releasing they give a estimated date and end up being off by months or even years. Hell the 3rd installment in the Half Life trilogy, probably the best selling franchise they have, hasn't even been hinted at being made. They left the story of Half life 2 on a cliffhanger and haven't even announced if they are developing it. So even though they seem to be working on some super cool technology that may be a decade away from being released. (http://www.tomshardware.com/news/Valve-VR-Headset-Michael-Abrash,17462.html)  Don't expect anything you'll be less frustrated Add 3 months at minimum to any date they announce early Be excited about their diving into hardware, but don't be too excited yet wait a year or two Play their games if you haven't, I've wasted more than enough time playing CS in my life I'm strapped for ideas at the moment on any other predictable or noteworthy developers or producers and their habits. But with this list you can get a good idea of what too look for from your favorite developer concerning any game you can't wait to find out more about.   One Honorable mention, EPIC games  the creators of Gears and Bulletstorm didn't make the cut because the driving force behind this company Cliffy B. resigned to find work elsewhere. So I have no idea what they're deal is going to be now.  
Original Story:
http://thenosebleeds.com/what-to-expe...
MORE FROM YARDBARKER
All Sports News

Delivered to your inbox

You'll also receive Yardbarker's daily Top 10, featuring the best sports stories from around the web. Customize your newsletter to get articles on your favorite sports and teams. And the best part? It's free!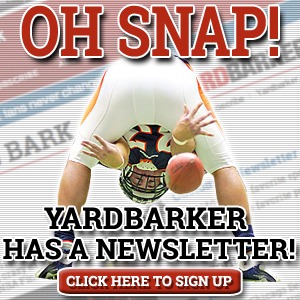 Latest Rumors
Best of Yardbarker

Today's Best Stuff

For Bloggers

Join the Yardbarker Network for more promotion, traffic, and money.

Company Info

Help

What is Yardbarker?

Yardbarker is the largest network of sports blogs and pro athlete blogs on the web. This site is the hub of the Yardbarker Network, where our editors and algorithms curate the best sports content from our network and beyond.