Found December 02, 2012 on Taking Bad Schotz:
PLAYERS:
Nnamdi Asomugha
,
Cullen Jenkins
,
Michael Vick
,
Andy Reid
,
Nick Foles
,
Jason Peters
,
Jason Kelce
,
Todd Herremans
,
LeSean McCoy
,
DeSean Jackson
,
Dominique Rodgers-Cromartie
,
Bryce Brown
TEAMS:
Philadelphia Eagles
Not even a doctor could diagnose the issues happening in Philadelphia right now.  In a city so haunted by sports failures, going into the beginning of December, the Phillies have won a game more recently than the Eagles, and they didn't even make the MLB playoffs. Going into a promising week five game against the Pittsburgh Steelers, Eagles fans were giddy.  Not only were the Eagles finally performing up to their potential with a 3-1 record, but also the wins were close, proving that this Eagles team could be clutch.  And then it was back to playing Eagles football from the year before.  As of Nov. 29, the Eagles have dropped seven games in a row, and now sit in the basement of the NFC East with what seems like another lost season. Last year, the Eagles embarked on a huge spending spree.  They inked top free agent safety Nnamdi Asomugha, defensive tackle Cullen Jenkins, quarterback Vince Young, and recently released defensive end Jason Babin, among others.  With a team full of all-stars, nothing could go wrong.  This team was destined for greatness.  Just ask backup quarterback Vince Young, he said the Eagles were a "Dream Team", or Mike Vick, who called the Eagles a "dynasty." Then it all went wrong. Seven losses in a row, starting quarterback Mike Vick getting a concussion, something all too familiar to Eagles fans, and turning the ball over 19 times, far too many, and only averaging a quarterback rating of 47.5, twenty fifth in a league.  That's far from a "dynasty", or a "dream team." Photo Credit: David Maialetti/Philadelphia Daily News/MCT Now fans are calling for head coach Andy Reid's head.  The defensive coordinator, Juan Castillo, has already gotten the boot, and there is nothing that makes news defensive coordinator Todd Bowles' job safe either.  Many are expecting the team to clear house over the offseason, hiring new personal all across the board. But as the season drags on, more and more problems are arising.  Nick Foles, the wonder child to many fans, finally saw that the problem was not necessarily the quarterback, but the offensive line in front of him.  The Eagles lost Jason Peters before the season.  Peters is one of the best – if not the best – offensive linemen in the league, and his absence has supported this idea.  The Eagles have also lost their starting center Jason Kelce, tackle Todd Herremans, and guard Mike Wilson.  Star running back Lesean McCoy is now battling concussions too, and top receiver Desean Jackson is also out for the year. The problems do not stop with injuries, however, the defense has been horrendous.  The Eagles shelled out $60 million over five years for cornerback Nnamdi Asomugha, and he has not played up to par.  The same can be said for cornerback Dominique Rodgers-Cromartie, who was brought in during a trade for quarterback Kevin Kolb.  Both of them, combined with a young set of safeties, have not been able to control wide-recievers. There have been some bright spots, however.  Aside from the passing failures of the team, backup running back Bryce Brown has shown potential in his first NFL start, running for 178 yards on nine carries.  Also, linebacker DeMeco Ryans, brought in from Houston, has shined for the Eagles, giving them success at a position that has been lacking for years in Philadelphia.  The Eagles are almost surely out of the playoff picture now, and it's time for them to start looking into the draft.  Look for the Eagles to have a top five pick, barring a string of wins, and to look at some offensive line help, perhaps a quarterback, or some help on the defensive line, because the draft is so deep.  Heisman trophy potential, Manti Te'o from Notre Dame is a possible pick at linebacker, while the Eagles could look at tackle Luke Joeckel from Texas A&M for help.  And of course, the Eagles could end up with either Matt Barkley, preseason Heisman favorite from USC, or West Virginia quarterback Geno Smith. All in all, it has been nothing short of a failure in Philadelphia, and everybody knows.  It's time to usher in a new age in Philadelphia. -Weingold
Original Story:
http://www.takingbadschotz.com/?p=10427
THE BACKYARD
BEST OF MAXIM
RELATED ARTICLES
Following their eighth straight loss, the Philadelphia Eagles announced on Monday morning that defensive line coach Jim Washburn has been fired. He is replaced by  Tommy Brasher, who previously held the position with the team  in 1985 and again from 1999-2005. The team issued the following statement to accompany the moves: "Jim is a fine football coach and we appreciate the efforts...
The foundering Philadelphia Eagles have fired defensive line coach Jim Washburn as they try to fix a broken pass defense amid an eight-game losing streak. Eagles coach Andy Reid on Monday announced former defensive line coach Tommy Brashear is replacing Washburn. The Eagles hired Washburn before last season, expecting his wide-nine defensive line alignment to produce plenty of...
Eagles head coach Andy Reid announced that rookie QB Nick Foles will remain the team's starting quarterback for the remainder of the 2012 season, per Reuben Frank. Last week, reports came out that Michael Vick's concussion issues were actually getting worse, so this could be the right decision for both the team and Vick's long-term health. Foles put together the best performance...
It looks like Alex Smith isn't the only quarterback to lose his job after an injury, as Philadelphia Eagles head coach Andy Reid announced Monday that Nick Foles will be the starting quarterback over Michael Vick for the rest of the season. It's been an ugly season for the Eagles, who find themselves at the bottom of the NFC East with a 3-9 record and have lost their last 8...
Following another lost, the Eagles fired another member of the coaching staff. Nope, it's still not Andy Reid. Early Monday morning, the Eagles have announced that they have relieved defensive line coach Jim Washburn of his duties. The team has announced the hiring of Tommy Basher. Basher was the defensive line coach in 1985, and 1999-2005. Updates to come.
Dallas hopes to keep slim playoff hopes alive.
The Philadelphia Eagles continue to rearrange the deck chairs on the Titanic, firing defensive line coach Jim Washburn following Sunday night's 38-33 loss to the Dallas Cowboys. Brasher previously coached the Eagles' defensive line in 1985 and again from 1999-2005, when he retired from football. Washburn, who instituted the team's "Wide 9″ defensive front, had…
How Can Brown Fail For You? > On the first play from scrimmage, DeMarcus Ware wasted Brent Celek and nearly ended Nick Fols as Philadelphia shrugged> WR Riley Cooper and Celek both fought for first downs, which was nice, I guess> RB Bryce Brown is really good at running wide for a big loss> Cowboys RB DeMarco Murray is running with a slight limp, which means he might...
Steve hosts My Two Cents with special guest Bill Zeltman. They discuss the Philadelphia Eagles future and upcoming games against the Cowboys and some great Phillies offseason discussion. My Two Cents 12.1.12
Eagles News

Delivered to your inbox

You'll also receive Yardbarker's daily Top 10, featuring the best sports stories from around the web. Customize your newsletter to get articles on your favorite sports and teams. And the best part? It's free!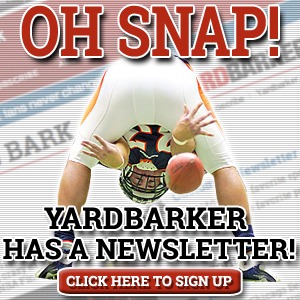 Latest Rumors
Best of Yardbarker

Today's Best Stuff

For Bloggers

Join the Yardbarker Network for more promotion, traffic, and money.

Company Info

Help

What is Yardbarker?

Yardbarker is the largest network of sports blogs and pro athlete blogs on the web. This site is the hub of the Yardbarker Network, where our editors and algorithms curate the best sports content from our network and beyond.