Found August 11, 2012 on Waiting For Next Year:
PLAYERS:
Omar Vizquel
,
Jeff Wolfert
,
Brandon Weeden
,
Travis Benjamin
,
Mohamed Massaquoi
,
Scott Paxson
,
Dimitri Patterson
,
Jordan Cameron
,
Asdrubal Cabrera
,
Clay Buchholz
,
Robin Ventura
,
Mike Matheny
,
Dwight Howard
,
Andrew Bynum
TEAMS:
Toronto Blue Jays
,
Detroit Lions
,
Cleveland Browns
,
Oakland Raiders
,
Cleveland Indians
,
Boston Red Sox
,
Chicago White Sox
,
Los Angeles Lakers
,
Philadelphia 76ers
,
St. Louis Cardinals
,
Cleveland Cavaliers
While We're Waiting serves as the early morning gathering of WFNY-esque information for your viewing pleasure. Have something you think we should see? Send it to our tips email at tips@waitingfornextyear.com.
Quickly recapping the GLC victory: "Come on, Browns fans — don't tell me I was the only one who had a goofy smile on their face when Jeff Wolfert's 45-yard field goal sailed through the uprights to give Cleveland a 19-17 victory over the Detroit Lions in the Great Lakes Classic? The final score in preseason games usually don't mean squat for judging the regular season, and the case was no different here." [Chris Pokorny/Dawgs By Nature]
–
This recap includes bullet points on the highlights and lowlights of the opener: "Like any preseason contest, there was both good and bad. Quarterback Brandon Weeden's 34-yard pass down the sideline to fellow rookie wide receiver Travis Benjamin? That was a great thing. Injuries to wide receiver Mohamed Massaquoi (concussion), defensive tackle Scott Paxson (knee), cornerback Dimitri Patterson (ankle) and tight end Jordan Cameron (back)? Not so great." [Steve DiMatteo/Dawg Pound Daily]
–
Trouble could be on the horizon for Browns tailgaters: "So while those pat downs will eliminate some of the time needed to enter the stadium, chances are it's going to take longer. How long? Well, consider that the Oakland Raiders, in an email forwarded to me by a season ticket holder, are advising fans to enter their stadium two hours early to allow 'ample time for this new security procedure.' That could severely cut into tailgating time — or drive crazy Browns fans to head to the parking lots even earlier." [Joel Hammond/Crain's Cleveland]
–
The Indians' modest two-game winning streak came to an end Friday night: "Even though Asdrubal Cabrera did not drive in both of the Indians' runs tonight, he was responsible for both of the Indians' hits and the only earned run charged to Red Sox starter Clay Buchholz. … As dead as the offense looked tonight, I guess I have to give them credit for managing to scrape by two runs on just two Cabrera hits. While my reflex reaction is to pick on the offense (often this season, the appropriate response) I feel the need to tip my cap to Buchholz." [Stephanie Liscio/It's Pronounced "Lajaway"]
–
Looks like our old friend Omar could be a hot managing candidate this fall: "Vizquel could interview for managerial and coaching jobs as early as October — within days or weeks of his final game. The Chicago White Sox and St. Louis Cardinals could be advancing through the postseason at the same time. Why is that significant? Well, those clubs are managed by former Gold Glove winners — Robin Ventura and Mike Matheny, respectively — who had never coached or managed professionally before accepting their positions last offseason." [Jon Paul Morosi/FOX Sports]
–
A look at this week's Indians Minor League Player of the Week: "Luis Dejesus' first experience in Class-A probably didn't go exactly how he'd planned. Four relief appearances, 12 innings, ten earned runs, 15 hits, and a 7.50 ERA. It was somewhat of a shock for the soft spoken righty. 'They told me 'Luis, they need pitching as soon as possible, and you're going to be relieving,' he said. 'I've never relieved in my life, and going to Lake County and relieving and not know anything, not having a routine, not knowing what to expect, and then having them suddenly say, 'Luis get hot!' That was tough.'" [Tony Lastoria/SportsTimeOhio]
–
And, finally, some Cavs-centered thoughts on the Dwight Howard trade finally becoming official: "Our long national Dwightmare has come to a close. That is the good news. The bad news is that the Cavaliers were clearly trying to be proactive and go after Andrew Bynum, and were not able to pull it off. … This trade is unfortunate for a few reasons. For one, Cavaliers fans had been hoping that either or both of Iguodala or Bynum would come to Cleveland at some point." [David Zavac/Fear The Sword]
Original Story:
http://www.waitingfornextyear.com/201...
THE BACKYARD
BEST OF MAXIM
RELATED ARTICLES
I thought Brandon [Weeden] did a good job. It looked like the game was slow for him. He was out there and he executed pretty well. I think he would want that one back on the interception. It was in tight coverage. The ball was a pretty good ball and we've got to make that play. I think for the most part, he executed in a way that I thought he would. Now there are other things we...
No! Precautionary! Cant wait to get back to work! @jmccurry08: @momass11 no concussion? congrats on the win #GoBrownies — Mohamed Massaquoi (@MoMass11) August 11, 2012 This is what Browns receiver Mohammed Massaquoi said to a fan last night asking if he had suffered a concussion. The third-year Georgia product left Friday night's preseason game against Detroit after sustaining...
Highly touted Cleveland Browns rookie running back Trent Richardson gave dynasty league and early drafters a bit of a scary when news that he had soreness in the knee he had surgery on in February.. Things really got tense when word came out that he will travel to see Dr. James Andrews. is also talk of a second scope. That is not news you want to hear for somebody that likely...
We wrote a fan forecast for the 2012 Browns for Kissing Suzy Kolber so click here to go there to check it out (our part starts in the grey box). Big night tonight, of course, with kickoff in Detroit at 7:30, but not as big as Browns/Lions pre-season matchups used to be. Of course, it will always be a paradigmatic subject of intense historical and scientific interest that not only...
Joe Haden, the 7th overall pick in the 2010 NFL Draft, is reportedly in danger of being suspended for 4 games, according to ESPN Cleveland, after testing positive for Adderall during a routine drug test. Adderall is a classified as a performance enhancing "stimulant" by the NFL. The NFL has reportedly told Haden he tested positive and that they are reviewing the drug test. Haden...
Editor's Note: We have no less than FIVE articles posted today in the free and premium content, so make sure you check everything out.  After 184 days and no less than 278 off-season articles posted on the pages of DLF, football is finally back as the preseason really kicks off tonight. We're planning on posting a regular watch list for the preseason games, full of players...
Cleveland Browns wide receiver Mohamed Massaquoi has left a preseason game against the Detroit Lions with a head injury. Massaquoi caught the first pass rookie Brandon Weeden threw Friday night, then was ruled out for the rest of the game before the first quarter ended. The fourth-year pro was limited the past two seasons because of concussions. Massaquoi left a game last year...
Jeff Wolfert kicked a 45-yard field goal with 28 seconds left to lift the Cleveland Browns to a 19-17 win over the Detroit Lions on Friday night. Detroit stopped Adonis Thomas on a 2-point conversion run with 6:05 left to keep the lead, but couldn't run enough clock to keep the ball away from the Browns. The Lions' last shot ended when rookie Kellen Moore was intercepted...
AP Photo According to Mike Florio of ProFootballTalk.com, a source has told him that Cleveland Browns cornerback Joe Haden used Adderal as a "pick me up" during an offseason visit. "A league source tells PFT that the locker-room scuttlebutt in Cleveland is that cornerback Joe Haden tested positive for Adderall after taking the ADD medication as a "pick-me-up" during an...
DETROIT (AP) -- Cleveland Browns wide receiver Mohamed Massaquoi has left a preseason game against the Detroit Lions with a head injury. Massaquoi caught the first pass rookie Brandon Weeden threw Friday night, then was ruled out for the rest of the game before the first quarter ended. The fourth-year pro was limited the past two seasons because of concussions. Massaquoi left a...
DETROIT (AP) -- Matthew Stafford showed he's still got work to do. Stafford threw one interception and didn't help Detroit score a point in his three drives, and the Cleveland Browns took advantage in a 19-17 win over the Lions on Friday night. "We learn from the good stuff and the bad stuff," Stafford said. Backup quarterback Shaun Hill led two touchdown drives...
All Sports News

Delivered to your inbox

You'll also receive Yardbarker's daily Top 10, featuring the best sports stories from around the web. Customize your newsletter to get articles on your favorite sports and teams. And the best part? It's free!
THE HOT 10: Who's Trending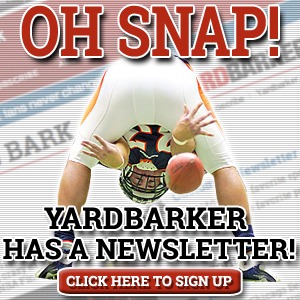 Latest Rumors
The Backyard

Today's Best Stuff

For Bloggers

Join the Yardbarker Network for more promotion, traffic, and money.

Company Info

Help

What is Yardbarker?

Yardbarker is the largest network of sports blogs and pro athlete blogs on the web. This site is the hub of the Yardbarker Network, where our editors and algorithms curate the best sports content from our network and beyond.