Found March 03, 2013 on Fox Sports Kansas City:
KANSAS CITY, Mo. He could rewrite the mighty stone tablets that are the Kansas record book, handed down on high from Moses and James Naismith, for years to come, if he wanted to. Ben McLemore probably has other plans, and that's fine. Not the issue. The issue is the present, or rather oh, heck, let's just say it Bracketville. Namely: Which Ben are we going to get, kids, once the ball is tipped at the NCAA Tourney? Big Ben? Saturday Ben? The one who sank 12 of 15 shots in a 91-65 beatdown of West Virginia? The one who netted 36 points on the day, the most ever in a single game by a Jayhawk freshman? The one who shattered the mark held by (gasp) Danny Manning, one of the four faces on KU's Mount Rushmore? Or will it be Gentle Ben? The one who dropped a meager seven points on Iowa State in Ames? The one who managed another seven points at Oklahoma State? The one who tends to disappear every time the vultures start circling? According to Sports-Reference.com, coming into the weekend, McLemore had made 50.6 percent of his shots at home while draining a remarkable 46.2 percent of his treys. At Allen Fieldhouse, he was averaging 18.1 points, 6.0 rebounds and 1.7 turnovers per contest. And yet, in 13 roadneutral tilts, Superman keeps getting his cape stepped on. Away from The Phog, McLemore was making 47.6 percent of his shots and draining 35.6 percent of his treys while averaging 13.3 points, 4.6 boards and 2.3 turnovers. Take away the "neutral" part of the equation, and in nine true road games, Benny Mac's shooting 43.5 percent from the floor, 28.1 percent from beyond the arc, and averaging 12.9 points a tilt. As the song goes, time is short and the road is long. So which one will it be? The one who defies gravity? Or the one who defies logic? Let's put it this way: Down three with two seconds left in Arlington, Texas, is McLemore the one you want with the ball in his hands? Do miracles make road trips? Hey, pal, what's the big deal, you say. Lighten up, Francis. Dude's a redshirt freshman. Freshmen, by and large, are notorious for being consistently well, inconsistent. Isn't this nitpicking for a team that's won six straight, just moved to 25-4, and seems to be gathering speed as the tourneys approach? Well, yeah. Maybe. Except for this: In Kansas victories, McLemore connects on 46.8 percent on treys and turns it over just 1.84 times a game. In four Jayhawk losses, it's 27.8 percent and 3.0 giveaways, on average. Gentle Ben doesn't come around often, but when he does, KU becomes the heavyweight with a glass jaw. McLemore is so prodigiously gifted legs, smarts, reach that he can change games with more than just his shot. Trouble is, Kansas, more often than not, needs that shot, especially in the Big Dance. Although he's automatic at the charity stripe (free-throw percentage: 88.0 pecent), the book says McLemore is primarily a catch-and-shoot kind of guy, and there are concerns about his ability to create a shot at the next level. Although that hasn't scared off too many scouts, either: NBADraft.net projects the St. Louis native to be the first player taken, to woeful Charlotte, in this spring's draft. According to a database kept by the site WalterFootball.com, out of 19 mock drafts updated since February 13, the Jayhawk star was expected to go No. 1 in 12 of them. Of the other seven, McLemore was listed as No. 2 in three, No. 3 in two, No. 4 in two others. So, basically, enjoy him while you can. That the wing man will declare for the pros has been a foregone conclusion for months, but one made clearer by a USA Today story a few days ago in which he revealed that his mother is presently out of work and his older brother and mentor, Keith Scott, is serving time in a Missouri prison. McLemore has a family to take care of, and if basketball is his means to that end, more power to him. It was fun while it lasted. Fun and a little unpredictable. Seven games of 22 points or more. Five games of 10 points or less. Thirteen points at Morgantown. Eleven in Manhattan. Ten in Lubbock. To Kansas faithful, Ben McLemore is the ultimate box of chocolates: So darned smooth, so blasted sweet. And yet, just like Forrest Gump, you never quite know what you're going to get. You can follow Sean Keeler on Twitter @seankeeler or email him at seanmkeeler@gmail.com
Original Story:
http://www.foxsportskansascity.com/03...
THE BACKYARD
BEST OF MAXIM
RELATED ARTICLES
Ben McLemore is having an incredible year. First, he broke onto the scene with his dancing phenomenon, "The McLemore". Then he began to showcase insane basketball skills on the hardwood and put himself in National Player of the Year discussions. He even led the Jayhawks in their own version of the Harlem Shake. On Saturday, he was at it again, this time adding to his considerable...
The issues WVU had defending Kansas star guard Ben McLemore in Saturday's 91-65 loss at Phog Allen Fieldhouse weren't problems of individual Mountaineer players being unable to match up with McLemore. Instead, according to WVU's Eron Harris, it was the failures of team defense that allowed McLemore to erupt for 36 points.
Kansas Jayhawks' star Ben McLemore defies gravity once again against the West Virginia Mountaineers, throwing down this monster baseline dunk.
(AP) -- With Ben McLemore having ended a shooting slump in emphatic fashion, Kansas appears fully ready for its final push toward a ninth consecutive Big 12 regular-season title. The sixth-ranked Jayhawks will try to move another step closer by beating lowly Texas Tech on Monday night. McLemore, Kansas' leader with 16.6 points per game, averaged 9.3 on 32.1 percent shooting...
With Ben McLemore having ended a shooting slump in emphatic fashion, Kansas appears fully ready for its final push toward a ninth consecutive Big 12 regular-season title. The sixth-ranked Jayhawks will try to move another step closer by beating lowly Texas Tech on Monday night. McLemore, Kansas' leader with 16.6 points per game, averaged 9.3 on 32.1 percent shooting over a...
Ben McLemore scored a Kansas freshman-record 36 points, and Jeff Withey came within one block of a triple-double as the sixth-ranked Jayhawks beat West Virginia 91-65 on Saturday. McLemore, a 6-foot-5 redshirt freshman, went to the bench with a little more than 5 minutes left after hitting 12 of 15 shots from the field, including 5 of 6 from beyond the 3-point arc. He had seven...
  * Draft order based on predicted final standings. 1. Charlotte Bobcats- Ben McLemore- SG- Kansas - McLemore is now the number one player on most experts' boards, as he is an elite athlete and shooter. He would be a perfect fit in Charlotte, as they are starved for offense and McLemore could be a star, if he becomes more aggressive. 2. Orlando Magic- Marcus Smart- PG- Oregon...
There's something about the month of March that signals to some college basketball teams that it's time to elevate their level of play. Last year, the Kansas Jayhawks did just that by ending the regular season hot, leading into the NCAA Tournament. On Saturday, they looked to be at it again, as they played above the rim in routing West Virginia 91-65 at Allen Fieldhouse.
Maybe what the NBA needs to do to really draw some interest is into the All-Star Dunk Contest is not up the financial payout, but go for pride; challenge them. Make them want to prove that they are better than someone else--like the latest group of college stars. If my top 5 dunks from Saturday's slate of college basketball is any indication the NBA could have something in...
Jayhawks News

Delivered to your inbox

You'll also receive Yardbarker's daily Top 10, featuring the best sports stories from around the web. Customize your newsletter to get articles on your favorite sports and teams. And the best part? It's free!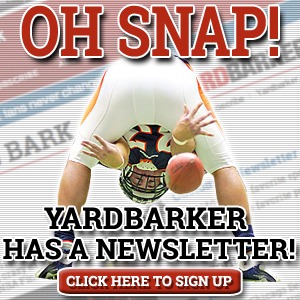 Latest Rumors
The Backyard

Today's Best Stuff

For Bloggers

Join the Yardbarker Network for more promotion, traffic, and money.

Company Info

Help

What is Yardbarker?

Yardbarker is the largest network of sports blogs and pro athlete blogs on the web. This site is the hub of the Yardbarker Network, where our editors and algorithms curate the best sports content from our network and beyond.