Found July 11, 2013 on Fox Sports North:
PLAYERS:
Alexey Shved
,
Rick Adelman
,
Chris Paul
,
Dwyane Wade
,
Chase Budinger
,
Kevin Love
,
Ricky Rubio
,
Flip Saunders
,
Andrei Kirilenko
,
Corey Brewer
,
Shabazz Muhammad
,
Gorgui Dieng
,
Lorenzo Brown
TEAMS:
Minnesota Timberwolves
,
Los Angeles Clippers
,
Miami Heat
MINNEAPOLIS -- Directing traffic and slicing through frontcourt double teams inside the Target Center Lifetime Fitness center Wednesday afternoon, Alexey Shved gave off every impression of a seasoned NBA veteran. Relative to most of his current workout buddies, the Timberwolves guard fits that description. But it was just four months ago that an overused Shved trudged wearily out of the same building for the final time in his rookie season, itching to load up his belongings and return to his native land. It was an eye-opening 2012-13 season for the charismatic, soft-spoken Russian, one he was admittedly ready to step away from. The itch to return, however, has since reemerged in full force. "After last game, I just think about taking my bags and going back to Moscow," Shved said. "After two or three weeks, you start missing basketball. "How you can live without basketball, I don't know." As part of his offseason regimen, Shved's spending the latter part of this week practicing with Minnesota's NBA Summer League team. He won't make the trip to Las Vegas this weekend, instead sticking around the Twin Cities for another week of workouts before joining Russia in the annual FIBA Eurobasket tournament. He's looking a lot more spry than the last time player development coach David Adelman saw him. "I think he's rejuvenated a little bit," said Adelman, the son of coach Rick Adelman and the Timberwolves' summer league head man. "That first season -- I don't care where you played, or how long were a professional overseas -- it's a long season, and we asked a lot of him." That included playing both point guard and shooting guard and logging unexpectedly hefty playing time, with injuries plaguing Minnesota from the season's outset. An average of 23.9 minutes per game didn't give him much time for observation while learning the American game. Shved's transition from CSKA Moscow of Russian SuperLeague A has been much more hands-on. One night, he'd be directing Rick Adelman's motion offense at one end and trying to slow down Chris Paul at the other. The next, he'd man a wing and match up with the likes of Dwyane Wade. Each passing game, the Target Center baselines looked further and further away from each other. By season's end, Shved was battered, bruised and just plain exhausted. "I don't blame him for dragging," David Adelman said. "That was a wild season for him." But some rest, some reflection and some resurgence around him provide hope his sophomore season might be a bit smoother than the first.He likely won't be leaned upon as much, not with starting with shooting guard Kevin Martin, whom Minnesota reportedly plans to obtain in a sign-and-trade with Oklahoma City. Small forward Chase Budinger will be back, too, along with power forward Kevin Love, who only played 18 games last season. After scoring 8.6 points per game and distributing 3.7 assists, he'll likely spend more time backing up starting point guard Ricky Rubio than playing alongside him. New president of basketball operations Flip Saunders views Shved as more of a one, though he worked at both guard spots Wednesday. The 6-foot-6, 190-pounder joked he'd play center if asked to. "I'd just play against (Nikola) Pekovic," Shved said with his signature goatee-framed grin. "I like playing, you know? I don't want to speak about point guard, shooting guard. I like playing point guard. I play point guard on the national team. If they put me on shooting guard or three position, then I don't care. I just want to play on the court, play for the team." If Minnesota's influx of talent and returning contributors can avoid injury -- the primary factor in last year's 31-51 finish -- Shved's in line for decreased playing time. In that challenge lies the benefit of learning behind Rubio, a luxury Shved wasn't privy to last year. A full-frontal taste of the 82-game grind means he should be more prepared for it this time around, too. Style of play, conditioning requirements, necessary offseason work -- they're all much less foreign to Shved than they were this time a year ago. "The responsibility is high," David Adelman said. "There's not a night off. I think he's taken that seriously, and I think he'll be better this year." Shved will have to grow up a bit in the impending absence of fellow Russian and mentor Andrei Kirilenko. Also a CSKA Moscow alum, the small forward opted out of the final year of his contract; with deals in place for Martin, Budinger, Pekovic and swing man Corey Brewer, the Timberwolves have pretty much eliminated the possibility of resigning Kirilenko. He'll be missed, Shved said, but that doesn't mean he'll be any less satisfied in Minneapolis. "I (will be) happy if he comes back, but if he cannot come, I stay here," Shved said. "This is my team, and I want to play here." It was with such rigor that Shved attacked his first scrimmage scenarios in a Timberwolves practice uniform since the 2012-13 campaign ended. Working with a group predominantly comprised of rookies, he was able to familiarize himself with draft picks Shabazz Muhammad, Gorgui Dieng and Lorenzo Brown. It was Muhammad's first exposure to Shved, too, and the Timberwolves' top overall selection walked away gushing. I love him,'" Muhammad said. "If you look out there, he kind of reminds you of a little bit of Rubio. I didnt know he could pass the ball like that. Hes a good guy. Ive been talking to him a lot and spending some time with him, and like I said, he can pass the ball." Shved wasn't the only Minnesota returner Muhammad and company got to meet Wednesday. Budinger could be seen milling around practice, even though he won't officially re-sign until after the Martin and Brewer deals are finalized. Rick Adelman was in attendance, too, in a strict observer's role. Operating under the same schedule they did Wednesday, the Timberwolves summer squad will practice in the morning and afternoon Thursday. They'll have one Friday workout before travelling to Las Vegas for three round-robin games and at least two tournament bracket contests.
Original Story:
http://www.foxsportsnorth.com/nba/min...
THE BACKYARD
BEST OF MAXIM
RELATED ARTICLES
MINNEAPOLIS -- Andrei Kirilenko won't leave the Twin Cities many signature moments to remember him by, but that isn't because the veteran small forward didn't make a difference during his one season with the Minnesota Timberwolves. The man nicknamed after a gun just operates more like an M-16 than a bazooka. The guy they call AK-47 takes a knack for steady, persistent...
MINNNEAPOLIS -- It's merely a formality, but Chase Budinger surely can rest a bit easier tonight. After celebrating his agreement to stay with the Minnesota Timberwolves back on July 2, the unrestricted free-agent small forward made it official Friday. The team announced it's signed him to an undisclosed salary, though media reports say he'll make 16 million over three...
MINNEAPOLIS -- The NBA's salary cap for the 2013-14 season is now set, and the Minnesota Timberwolves are sitting fairly pretty as free agency officially opens. The league Tuesday night set the cap at 58.678 million and announced a luxury tax level of 71.748 million. The league-wide July Moratorium ends at 11:01 p.m., when draft picks and free agents are allowed to sign contracts...
MINNEAPOLIS -- Luke Ridnour is headed back to Milwaukee, Corey Brewer returning to the Twin Cities, and the Timberwolves now should be able to welcome Kevin Martin into the fold. According to multiple media reports, Brewer and Minnesota have agreed upon a three-year, 15 million deal. In order to clear the necessary cap space, the Timberwolves plan to send Luke Ridnour to Milwaukee...
MINNEAPOLIS -- Welcome back to the start. When the Target Center emptied for a final time during the 2012-13 season April 17, the needs for the team sauntering off the floor were readily apparent. Get healthy. Get bigger. Get deeper. Get shooting. Get defense. Get better. Much, much better. Since then, a front-office regime change has brought an aggressive roster-building approach...
AK-47 must have really wanted to get out of Minnesota. After opting out of a $10 million salary with Minnesota, Kirilenko will get the Nets mini-mid level of $3.1 million, per source. — Chris Mannix (@ChrisMannixSI) July 11, 2013
MINNEAPOLIS -- For the rare NBA diehard in Minneapolis who considers three weeks without pro hoops a purgatorial layoff, it's a midsummer oasis in Vegas. For the more casual observer, it's a first glimpse into top draft picks' outlook at the next level. For 13 men who, for at least the next 10 days, will wear matching Minnesota uniforms, it's a proving ground. There...
The Nets have been busy this offseason, and they've added one more name to the list of new talent – Andrei Kirilenko. Brooklyn reached a deal with the former Timberwolves forward on a two-year, mini-mid-level exception, according to The New York Post. Kirilenko will now make $3.18 million next season, a surprising pay cut seeing as he opted out of the final year of his contract...
Minnesota Timberwolves president of basketball operations Flip Saunders told reporters Friday that assistant Bill Bayno has agreed to join the Toronto Raptors staff. Bayno, 51, had worked under Rick Adelman since the Timberwolves' head coach was hired in 2011. Bayno now joins Dwane Casey's staff in Canada, where he's expected to concentrate primarily on defense. The move...
Andrei Kirilenko didn't land a lucrative, long-term deal, but he will join a franchise with zero fear of taking on an extreme financial burden. According to Kirilenko's agent, Marc Fleisher, the Minnesota Timberwolves small forward of exactly one season will sign with the spendthrift Brooklyn Nets. The 11-year pro opted out of the second year of his contract in Minneapolis...
The second best center on the free agent market appears to have finally locked up a new deal as the restricted free agent Nikola Pekovic is reportedly nearing an agreement with the Minnesota Timberwolves. Yahoo Sports' Adrian Wojnarowski writes that Pekovic and the Timberwolves are "getting closer" on a four year deal in the $50 million range. It is a little weird...
According to Yahoo! Sports, talks between the San Antonio Spurs and free agent Andrei Kirilenko have ended. The San Antonio Spurs' exploration of acquiring free-agent forward Andrei Kirilenko in a sign-and-trade agreement with the Minnesota Timberwolves has passed without completion, league sources told Yahoo! Sports.   The Spurs seriously considered a multiyear...
All Sports News

Delivered to your inbox

You'll also receive Yardbarker's daily Top 10, featuring the best sports stories from around the web. Customize your newsletter to get articles on your favorite sports and teams. And the best part? It's free!
THE HOT 10: Who's Trending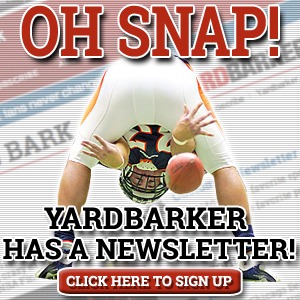 Latest Rumors
The Backyard

Today's Best Stuff

For Bloggers

Join the Yardbarker Network for more promotion, traffic, and money.

Company Info

Help

What is Yardbarker?

Yardbarker is the largest network of sports blogs and pro athlete blogs on the web. This site is the hub of the Yardbarker Network, where our editors and algorithms curate the best sports content from our network and beyond.