Found January 24, 2013 on With Leather:
Last we checked in on former Chicago Cubs slugger Sammy Sosa, he allowed me to absolutely, 100% legitimately spend two days with him and his new public relations team, as they are trying to attempt to rebuild his image with the hopes of getting him back into the good graces of the incredibly evil Baseball Writers Association of America. Basically, it seems that Sosa wants to get his baseball skeletons sorted out and atone for his sins so he can move on with his life. After all, baseball was very good to him.Sosa has been opening up a little more since those incredible Flickr and Pinterest photos kicked open the gates of our hearts, and it seems that not only is he intent on being voted into the Hall of Fame, but he also apparently wants the Cubs to accept him back and retire his number. At the very least, though, he doesn't want to come off as desperate, hence the new image makeover and some very meticulously worded quotes.Asked if he thinks he or McGwire belong in the Hall, Sosa said: "I think so.""I'm not going to come here and say anything that is going to jeopardize my future," he added. "But definitely time will determine everything. Right now whatever it is, it is. I am not (somebody who) is going to go out there and say anything I don't want to say. I'm waiting for my time. … I don't like controversy. Definitely time will determine everything." (Via Sports Illustrated)That's all fine and dandy, because America is a country built on second chances, especially if it involves someone that we built up as a god at one point only to joyously destroy him a few years later. We love comeback stories, and we certainly love recycling heroes just to destroy them one more time. You show me a country that does it better and we'll bomb it tomorrow.But somewhat buried in that SI blurb is this little nugget:Would he run for president of the Dominican Republic?"You never know," Sosa said.So is that what this all is? All of the posing and peace signs and forced smiles and origami teddy bears – this is all posturing for a career in Dominican politics? I'd probably be more inclined to call this a terrible idea if it hadn't also been revealed this week that Wilmer Valderrama, AKA Fez and the Guy Who Ruined Lindsay Lohan's Life, is also apparently pursuing a career in American politics.Sorry, Dominican Republic, but you're on your own. America has a far greater catastrophe to avoid.The post Worse Presidential Candidate: Sammy Sosa Or Wilmer Valderrama? appeared first on With Leather.
Original Story:
http://feedproxy.google.com/~r/uproxx...
THE BACKYARD
BEST OF MAXIM
RELATED ARTICLES
Sammy Sosa had an opportunity to go down in history as one of the best Chicago Cubs ever.  Then in 2003 a report came out that labeled Sosa as one of many players the used PED's, and well the rest is history. Sosa now says he's ready to forgive the Cubs, and during a live webcast that he set up, stated that the Cubs should have been retired his #21 jersey via ESPN Chicago. "I...
Sammy Sosa woke up.   Someone must've told him he didn't get elected to the Hall of Fame.  Now he's all over the media talking about he deserves to be in the Hall of Fame, and how the Cubs should've retired his number a long time ago.   To the first point, I say no. [...]
The Chicago Cubs plan on restoring Wrigley Field, with or without the city's help. The team announced a five-year, $300 million plan to rebuild the Friendly Confines at the annual Cubs Convention on Saturday, and owner Tom Ricketts said his family is willing to foot the entire bill -- but only if some long-standing restrictions are lifted. "[We would] like to be treated...
In the 2000s, the Chicago Cubs and the owners of the rooftops surrounding Wrigley Field had quite a tiff going on. The Cubs put up fences in the bleachers blocking the view of the Wrigleyville rooftops, so the rooftop owners built their seats higher above it. Then the ballclub put up another screen blocking the view, claiming it was for "post 9/11 security screens." After years...
The Chicago Cubs, adding another veteran to their outfield, have reached agreement with free agent Scott Hairston on a two-year contract, according to major league sources. Hairston, 32, figures to platoon with another free-agent signee, Nate Schierholtz, in right field. David DeJesus is projected to be in center and Alfonso Soriano in left. The New York Mets, New York Yankees...
Sammy Sosa took to the internet to do a ten minute Ustream chat on Wednesday.  Now famous for his Pinterest page, Sosa and his 609 homeruns (eight on the all-time list) only received 12.5% votes for the 2013 Hall of Fame.Should Sosa get in? He thinks so."I'm not going to come here and say anything that is going to jeopardize my future," he added. "But definitely time will...
That's right…the REAL Sammy Sosa, who told you about his Pinterest that is really him, and his Facebook that is really him, plus the Twitter that is really him, now REALLY has a TV show on Ustream.  It's either the real Sammy Sosa or a Terminator-like automaton designed to fool you into thinking it's Sammy Sosa, but he says it's HIM DAMMIT.  Here are some highlights…...
It's pretty rare that I ever side with "The Man" in any business argument, and yet here I am, siding with Tom Ricketts when it comes to his little border war with the Rooftop association. To be honest, however, this isn't a case of "The Man" vs. small business. This is "The Man" pitted against a smaller "The Man" situation. Let's backtrack a bit. You see, the...
Cubs News

Delivered to your inbox

You'll also receive Yardbarker's daily Top 10, featuring the best sports stories from around the web. Customize your newsletter to get articles on your favorite sports and teams. And the best part? It's free!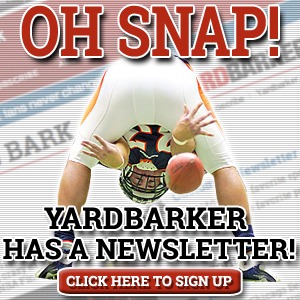 Latest Rumors
Best of Yardbarker

Today's Best Stuff

For Bloggers

Join the Yardbarker Network for more promotion, traffic, and money.

Company Info

Help

What is Yardbarker?

Yardbarker is the largest network of sports blogs and pro athlete blogs on the web. This site is the hub of the Yardbarker Network, where our editors and algorithms curate the best sports content from our network and beyond.