Yesterday Comcast maintenance 'identified' what may or not be our service issue. Comcast Corporate called after the neighborhood repairs were done. Our executive representative Jessica. We had a 30 minute conversation. She confirms that they found and repaired something. We'll need to watch over the next week for errors before we're able to say they found this problem. But here's the astonishing kicker. At the end of our talk we ask about the caller-ID broadcasting our city and not our name as it had in the past. She'll look into it. Now wait, recall 2/16/14. We spoke with a corporate team member, 'Chuck.' Chuck applied a credit for our internet service for January and applied a $15 dollar per month to the end of the year credit. On 2/20/14 The 'credits' we were to receive for the service issues were instead logged as charges. Doubling our bill as due for March. Called billing to get that remedied and we notice a 30 dollar charge for the initial modem, a self-installation kit. Nice. Got that fixed. (As we say good-bye, our HDTV service went down. Because billing 'switched' what TV had the HD package attached to it. You cannot make this up. Later that day, our 2nd floor 'small box' is only delivering channels to 29. 30+ read "this is not included in your Comcast subscription.' 25 minutes on the phone with a nice CSR who doesn't know what they heck the previous CSR did. Has to go to another computer to reassign our boxes.) But I digress. On 2/27/14 a tech removed the business troubleshooting modem he had installed the day before. We had to call billing because we had a 'CCOWPS' code (commercial) added to our account due to that modem. The modem was gone but they wouldn't remove the code FOR HIM. We did not get 2 modems, we were back with our (third) original one. And they wanted to bill us for the troubleshooting one their techs deemed necessary for this case! Mary in billing in Manilla sees our bill costs doubled again and cleanly seems to understand and fix the problem. She has not.We asked Jessica if she would please look at our bill that is due March 15th. It should be minimal. You know where this is going. It is not minimal. It is roughly 3x what it should be (and twice what a normal bill runs us.) We asked her to remove the problem charges and she said that she could not do that. Our 2 choices: Pay the bill as is and hope Comcast sorts things out after with credits that would leave us with '2 to 3 months' of 'little or no' bill. Our other option, the one we're taking, is to have the bank return the charges unpaid. We ask what will happen on her end. Jessica says there will be a $25 dollar 'returned check' fee that she would delete. And then the fear that even with cash in hand, Comcast doesn't sort that out.Comcast makes two billing errors. Only because we're so in tune to them due to the service issues do we notice them and quickly remedy the situation by calling billing. These two problems were addressed 23 and 17 days before our due date. And now we're told that they are still going to bill us knowing the charges are erroneous. That's a forced loan. And it has to be illegal, no? We will see.**Follow us on Twitter, Subscribe by Email, View via Our Mobile Site, or Return Home
Original Story:
http://www.bobsblitz.com/2014/03/xfin...
MORE FROM YARDBARKER
All Sports News

Delivered to your inbox

You'll also receive Yardbarker's daily Top 10, featuring the best sports stories from around the web. Customize your newsletter to get articles on your favorite sports and teams. And the best part? It's free!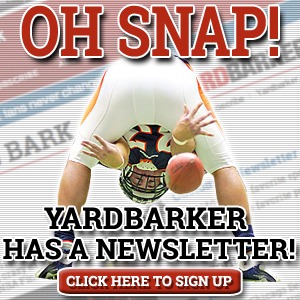 Latest Rumors
Best of Yardbarker

Today's Best Stuff

For Bloggers

Join the Yardbarker Network for more promotion, traffic, and money.

Company Info

Help

What is Yardbarker?

Yardbarker is the largest network of sports blogs and pro athlete blogs on the web. This site is the hub of the Yardbarker Network, where our editors and algorithms curate the best sports content from our network and beyond.