Every morning, we compile the links of the day and dump them here... highlighting the big storyline. Because there's nothing quite as satisfying as a good morning dump. The commonly held belief when a pitcher jumps from the National League to the American League is that his numbers will suffer. The lineups are deeper. There's no pitcher to feast on out of the No. 9 slot. The AL game is more offense-oriented. Randy Johnson wasn't the same pitcher in New York as Arizona (though, to be fair, he came to the junior circuit at age 41). Roy Oswalt was basically worthless in Texas, while John Smoltz cut his ERA in half after leaving Boston in 2009 and finishing his career in St. Louis. The winless Josh Johnson is having a rough go of things in Toronto just a few years after leading the NL in ERA. But to this list we cannot add Ryan Dempster. The prevailing narrative upon his arrival this winter was that he would get chewed up and spit out by the American League. Dempster's stuff might play in the NL Central, but forget about the AL East. However, five starts into Dempster's Red Sox career, he looks like an AL lifer, with the numbers to match. Herald - Dempster's in zone You can certainly count me among those that thought Dempster would be a disaster pitching for the Sox, in the AL East.  In fact, in our season preview, I predicted that Dempster would be the offseason acquisition that would haunt Sox fans throughout the year.  I said, and I quote, "I become physically ill each time I think of him having to face against that Blue Jays lineup." In my defense, he hasn't faced Toronto yet.  But to this point, I was way off base.  Dempster has been rock-solid.  Even though he's only pitched less than half the innings for Boston than he did for Texas last season (30 - 69) his performance is lightyears above what he did for the Rangers.  He's pitching his ass off this season.  I tip my cap to him, and apologize for the hurtful things I said. But I'm still waiting for the other shoe  to drop.  I don't mean to be so pessimistic.  But I am.  I don't see any reason we should expect Dempster to pitch at this level for the remainder of the season.  I'll point to one statistic to make my case:  .187. That's what opposing batters are hitting off of him thus far.  It's an absurdly low number.  So absurd, it's even lower than Buchholz's .192.  By season's end, I expect that number to jump around .250, which is Dempster's lifetime average.  He's already surrendered 13 runs in 30 innings without giving up many hits.  Once those hits start coming, so will more runs. That's science. I hope I'm wrong.  I really do.  I just don't think I am. Rest of the links: Herald - Carp warms to backup role | No question, Ross steps up | Globe -Dustin Pedroia hoping to get hotter for Red Sox | Dempster picks up first victory for Red Sox | WEEI - Mike Napoli has taken a liking to this first base thing | Closing Time: Red Sox continue to cruise through April, topple Astros | CSNNE - Ross enjoys career night at the plate | Game Day Notes: Ellsbury steals 200th base
Original Story:
http://www.tedsarmy.com/blog/2013/04/...
MORE FROM YARDBARKER
All Sports News

Delivered to your inbox

You'll also receive Yardbarker's daily Top 10, featuring the best sports stories from around the web. Customize your newsletter to get articles on your favorite sports and teams. And the best part? It's free!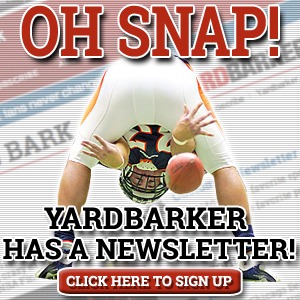 Latest Rumors
Best of Yardbarker

Today's Best Stuff

For Bloggers

Join the Yardbarker Network for more promotion, traffic, and money.

Company Info

Help

What is Yardbarker?

Yardbarker is the largest network of sports blogs and pro athlete blogs on the web. This site is the hub of the Yardbarker Network, where our editors and algorithms curate the best sports content from our network and beyond.