Found October 25, 2012 on Ted's Army:
Every morning, we compile the links of the day and dump them here... highlighting the big storyline. Because there's nothing quite as satisfying as a good morning dump. Ousted skipper Bobby Valentine created a stir Tuesday with comments to interviewer Bob Costas in which he criticized the team -- most notably David Ortiz -- and the media. Olney said that shouldn't be a surprise. "No, and I think it will continue," Olney said. "It's clear that Bobby was not happy with how it ended. He qualifies everything by saying, 'It's my fault, I should have done a better job.' But then he'll also in the same breath not hesitate to take shots at different people.  "The thing I'm going to be curious about is whether or not David Ortiz and others fire back. Or if they say, 'You know what, we know that if you get into this with Bobby, he's always going to be the one who gets the last word in.' David Ortiz, I thought the entire year, really he could have done incredible damage to Bobby -- and clearly he disagreed with him on some issues; he was in the middle of the thing with Mike Aviles in spring training -- and he held back. I'm really very fascinated to see whether or not he and others decide to go back at Bobby, or if they say, 'You know what, he's not the manager anymore, no point in continuing this." WEEI: Ortiz held back No. Please for the love of God, don't get into a war of words with Bobby Valentine. Just let it go. Now is not the time for this. Once the gag order has passed and Bobby V comes out with his tell all book, THEN you can go after him.  The whole interview shouldn't have surprised anyone. It was right in Bobby's wheelhouse and with Bob Costas lobbing the easy questions his way, it was nothing worth being riled up about. He said some things that were low blows like Ortiz quitting but one thing still rings true: that the clubhouse still feels entitled. The Sox are still in the process of getting those guys out of the clubhouse and hopefully it's different with Farrell here but that remains to be seen. David Ortiz is about to finalize the two year deal that he has coveted for the past couple of years. The Sox know you didn't give up, and they still think you can be the big bat in the lineup that you have been for the past decade. So be the bigger Papi man and just laugh it off.  Rest of the Links: Globe: Getting Farrell just the start 20 questions Costas should've asked Valentine | Herald: Another epic fail for Bobby V | Farrell set to pitch in | CSNNE: Cherington on Japanese pitching phenom Otani | Bobby V sounds off | WEEI: Into the unknown
Original Story:
http://www.tedsarmy.com/blog/2012/10/...
THE BACKYARD
BEST OF MAXIM
RELATED ARTICLES
Former Red Sox manager Bobby Valentine has not been shy about criticizing his former players and coaches in the aftermath of his firing. On Wednesday, one of his targets fired back. Red Sox bench coach Tim Bogar spoke to ESPN.com about Valentine's insinuation that his coaches were not loyal to him, and he also placed the blame on the manager's shoulders for the perceived...
You want to see how a pro handles being fired by the Boston Red Sox? Let's observe Bobby Valentine in his element, his bar in Stamford, Connecticut during Giants-Cardinals Game 7. The guy gets fired and will collect $2.25 million for not working next year. The first thing he starts doing in public is buy beer for guys at his bar. According to YES employee Joe Auriemma, Valentine...
There are two possibilities in this whole Bobby Valentine / Red Sox ordeal. Option A is that Bobby V really is the d*ckhead that everyone said he was. Option B is that the Red Sox are really a bunch... [[ Read More ]]
Bobby Valentine may be long gone and his successor already named, but it's apparently not too late for him to creat at least one last controversy in Boston. On Tuesday night, Valentine sat down for an interview with NBS Sports Network's Bob Costas on Costas Tonight, addressing many of the controversies and incidents that happened over the course of his year with the Red Sox...
Amilie Benjamin from the Boston Globe joins Fox Sports Tonight to discuss Bobby Valentine's latest comments and the Patriots upcoming game in London.
Terminated Boston manager Bobby Valentine claimed on Tuesday that juicehead designated hitter David Ortiz quit on the Red Sox after the team made a blockbuster trade that essentially sealed its playoff fate. The 36-year-old Ortiz, who made his Major League … Continue reading →
It's a new managerial era in Major League Baseball. With the dismissals of Bobby Valentine and Ozzie Guillen from the Red Sox and Marlins, respectively, there's an undeniable trend in the sport in terms of hiring managers. No longer are the Billy Martin-like, outspoken and thoroughly controversial skipper en vogue. Rather, there's a clear movement towards "players...
While Bobby Valentine received criticism throughout the season, it was David Ortiz who was always front and center when it came time to defend his manager. Ortiz constantly emphasized that Valentine wasn't to blame for the Red Sox' struggles, which even went against the philosophy of some fans. Apparently, Ortiz's consistent support wasn't enough, though, as Valentine...
Even with the Boston Red Sox trying to get away from their mistake of a 2012 season, the drama continues.  Bobby Valentine, who was recently fired by the club, gace an interview to NBC Sports.  He spoke with Bob Costas and covered everything from team dysfunction, front office issues, and the fact that he thinks David Ortiz quit on the team. According to the interview, as...
After Bobby Valentine led the Red Sox to their worst record since 1994, it was clear a change needed to be made. On Saturday night, that change came as the team announced the return of John Farrell. Farrell, who had his introductory press conference on Tuesday, will be the Red Sox' 46th manager. In two years as the Blue Jays skipper he had a 154-170 record. With...
A lot has changed since last December, and that was no more clear than it was Tuesday on a sunny October day in Boston. Just 11 months ago, Bobby Valentine was in front of the podium at Fenway Park, speaking about how excited he was to have another chance at managing again, let alone leading the Boston Red Sox. "This day is a special day, and it's more than...
Blue Jays News

Delivered to your inbox

You'll also receive Yardbarker's daily Top 10, featuring the best sports stories from around the web. Customize your newsletter to get articles on your favorite sports and teams. And the best part? It's free!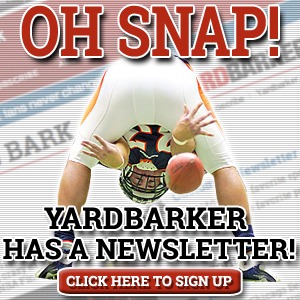 Latest Rumors
Best of Yardbarker

Today's Best Stuff

For Bloggers

Join the Yardbarker Network for more promotion, traffic, and money.

Company Info

Help

What is Yardbarker?

Yardbarker is the largest network of sports blogs and pro athlete blogs on the web. This site is the hub of the Yardbarker Network, where our editors and algorithms curate the best sports content from our network and beyond.