If you were banking on the Phillies selling everyone, which you know…. would make sense, you may want to sit down for this. ESPN.Com's Buster Olney had a series of interesting tweets Sunday night. Some teams that are dealing with the Phillies say they are having difficulty gaining traction in talks;not sure if PHI committed to dealing. — Buster Olney (@Buster_ESPN) July 28...
Let's be honest, folks. Entering the season, we all had high hopes for Billy Hamilton.The fleet-footed outfielder gave us a glimpse of his potential at the end of the 2013 season and it left us all anxiously awaiting the arrival of this one. However, there were concerns with Hamilton, especially whether or not he would be able to hit big league pitching on an everyday basis....
After years of sitting on the sidelines, Buster Olney got in on the action Sunday night during the Los Angeles Angels-Atlanta Braves game at Turner Field. The ESPN analyst has seen countless web gems in his day, but he pulled off one of his own as he snagged a foul ball off the bat of Jason Heyward during the sixth inning — while holding a notebook on his lap and chewing on a pen...
It shouldn't come as a surprise that Buster Olney is working on a book. The subject, though, isn't what you would expect from Olney. Vermont Public Radio has an interview with the ESPN baseball analyst on his plans to write a book about a childhood friend who is serving life in prison for assaulting and killing his niece. But this week, the Randolph native found himself in an...
Buster Olney wrote something that turned my head today. That A-Rod had a plea deal possible back in the spring — for a low, low, number of games — and turned it down: If Rodriguez had agreed to something last spring, before MLB investigators had all the Biogenesis details from Bosch, Rodriguez might've been able to barter for a suspension for something close to 50 games, or...
MLB has now decided to eliminate home-plate collisions at home plate, meaning, players must slide going into home.— Bob Nightengale (@BNightengale) December 11, 2013In a motion approved Wednesday afternoon, Major League Baseball has outlawed collisions at home plate in a measure to ensure player safety. The new ban will take effect in 2014.Runners will now be required to slide...
Buster Olney of ESPN has produced a pretty fun series of articles this week. Day by day, Olney has posted on his Insider blog Top 10 lists for infield, outfield, rotation, line-ups, and Top 10 overall teams. Olney's rankings are comprehensive but can be confusing; for instance, the teams with the two highest ranked line-ups, the Angels and Brewers, are not in the overall Top 10...
Jay Bruce in right, Shin-Soo Choo in center, and Ryan Ludwick in left -- this appears to be the outfield trio manager Dusty Baker will be penciling in on a regular basis in 2013. Chris Heisey, Xavier Paul, and perhaps Billy Hamilton will be called upon to patrol the GABP grasses at times next season, as well. So, how does Cincinnati's outfielding unit compare to those...
Great pitching hasn't exactly been a staple for the Reds in years past. The franchise has been traditionally known for its offensive prowess rather than its ability to get batters out. But that perception may be shifting thanks to the latest developments in Cincinnati. The Redlegs have been relying on pitching and defense and ESPN's Buster Olney has taken notice. In his...
THE BELL TOLLS FOR THEE
Reports out of Miami indicate that Marlins owner Jeffrey Loria is under pressure from team executives to fire Ozzie Guillen after only one season.
MORE STORIES >>
All Sports News

Delivered to your inbox

You'll also receive Yardbarker's daily Top 10, featuring the best sports stories from around the web. Customize your newsletter to get articles on your favorite sports and teams. And the best part? It's free!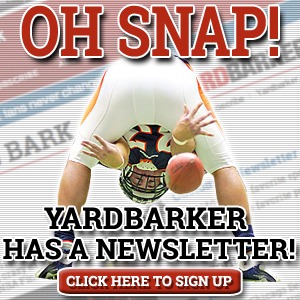 THE HOT 10: Who's Trending