Here's how the Royals' walk0ff win in the 12th inning of their wild Wild Card game matchup against the A's sounded in the home radio booth.  Ryan Lefebvre with the call courtesy 610 Sports in Kansas City… And the video and audio of Ernie Johnson's call on TBS… Your browser does not support iframes. The post Audio: KC radio call of Royals walkoff appeared first on Awful Announcing.
As we near the release date of 2K Sports NBA 2K15, one of the unique additions to this year's game is Turner Sports Shaquille O'Neal and Ernie Johnson will be in the game. Earlier today, Shaq and Ernie were featured in NBA 2K15 trailer which shows off some of their witty banter along with next-gen gameplay footage. Check out the full trailer below and get ready for some virtual...
Unfortunately your browser does not support IFrames. There are plenty of things we already knew about Ernie Johnson. Like, for example, that the guy is one of the smoothest broadcasters in all of sports. What you may not have known about Ernie is that he does an absolutely incredible Shaquille O'Neal impression. During a recent […]
"Inside the NBA" ringleader Ernie Johnson — because that motley crew is nothing if not a circus — paid a visit to TNT colleague Craig Sager on Tuesday, and while doing so, came up with a brilliant new moniker for the ailing veteran sideline reporter. Sager, currently undergoing treatments after being diagnosed with acute leukemia, […] The post Ernie Johnson pays visit to...
As Turner Sports sideline reporter Craig Sager continues his ongoing battle with leukemia, he got a special visitor this week. Inside the NBA studio host Ernie Johnson decided to visit Craig at the hospital and the two decided to pose for a photo. Check out the image that was sent out on Ernie's official Twitter account: This dude fires me up! #getwellsager #youmayhavecancerbutitdoesnthaveyou...
The NBA playoffs won't be as vibrant without the colorful suits of sideline reporter Craig Sager, who will miss the broadcasts as he battles cancer. TNT's Inside The NBA team—Ernie Johnson, Charles Barkley, Kenny Smith, and Shaquille O'Neal—wore Sager-esque suits during today's broadcast in tribute to Sager: EJ, Shaq, Charles and Kenny all dressed up this morning on...
Is there a broadcaster out there who's cooler and smoother than Ernie Johnson? If there is, you'll have to let me know who it is. The TNT crew was up to its usual fun and games on "Inside the NBA" following the Nuggets-Warriors game on Thursday. Shaq and Chuck for some reason were talking about […]
There are few people in the world that can deal with the controlled chaos of Inside the NBA like host Ernie Johnson. During tonight's episode, Ernie was asked by panelist Shaquille O'Neal if he knew what "putting 26′s on that thang" means? Then, Ernie dropped some serious knowledge with his response: *** Ernie Johnson schools Shaq on tire rims question [CJZero] Ernie Johnson...
Although they deserve a free pass with coverage of the NCAA Men's Basketball Tournament just getting underway on Thursday, the awkward exchange that occurred between studio hosts Greg Gumbel and Ernie Johnson when they attempted to engage in some kind of hand-to-hand greeting. Yeah, it did not go well. Granted, the fist bump is not the high-five, or as Jerry Seinfeld once referred...
Ernie Johnson went for the fist-bump, Greg Gumble went for the handshake, and what we all get are some laughs at the expense of both.
MORE STORIES >>
All Sports News

Delivered to your inbox

You'll also receive Yardbarker's daily Top 10, featuring the best sports stories from around the web. Customize your newsletter to get articles on your favorite sports and teams. And the best part? It's free!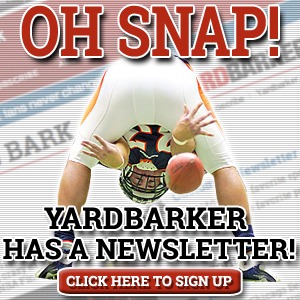 THE HOT 10: Who's Trending