"You have a chance to do something historic." This was a quote by ESPN's basketball analyst Jay Bilas made when talking to the Kentucky Basketball team in the locker room during their Big Blue Bahamas trip. Well, Jay, that statement seems a bit vague – doesn't it? I'm not necessarily surprised that the statement was […]
It's no secret that ESPN college basketball analyst — and dangerously self-aware NBA Draft Drinking Game guru — Jay Bilas has an affinity for rapper Young Jeezy. Bilas has been referencing Jeezy for years on Twitter and during game broadcasts. In turn, Jeezy rewarded Bilas with a shoutout on E-40′s "Function",  a track Jeezy guested on:  "City where we don't do...
Earlier this week, Texas AD Steve Patterson, while taking in the College World Series, spoke his mind about the future of college athletics. In his rant, which was aimed at those who oppose the current state of affairs, he specifically called out ESPN college basketball analyst Jay Bilas, who has been critical of the NCAA and its practices for some time now. Bilas, on Twitter, actually...
Bilas Former Duke basketball player and current ESPN college basketball analyst Jay Bilas has not been shy about his disdain for many of the practices of the NCAA and its member schools. Bilas has long been outspoken about his view on the concept of amateurism, and even once famously called out the organization for selling football jerseys online based on the "likeness" of athletes...
ESPN analyst Jay Bilas rolled out his March Madness bracket predictions for the 2014 NCAA Tournament on Monday. He picks Michigan State to win the tourney.
The power of social media strikes again. Jay Bilas exposed the NCAA for using players names to sell jerseys on their NCAA approved website. The bad press forced the NCAA to stop selling the jerseys immediately. Emmert on NCAA selling player merch: "We recognize why that could be seen as hypocritical. … We're going to exit that business immediately." — Matt Norlander...
It is a pretty good racket the NCAA has going on. They can punish Universities and kids for accepting a cheeseburger, but they are making billions off that same kids' likeness. It is hypocritical and everyone knows it. ESPN's Jay Bilas decided to show how hypocritical in a practical way. Go to http://t.co/qpH4tNnIpH, type in "Manziel" in upper right search box, hit...
Jay Bilas is one of the announcers that is not going to shy away from his opinion. During Thursday night's Notre Dame-Marquette game in the Big East Tournament, Bilas took a shot at the Adidas designed jerseys. Bilas, Bill Raferty and Sean McDonough were also critical of the white uniforms that ND wore for their first-round game. Here's the shoes that helped fuel Notre Dame to...
As the Cincinnati Bearcats unfortunately were forced to do on Wednesday in spectacular nightmare fuel fashion, the Notre Dame Fighting Irish also debuted the team's Zubaz-inspired new basketball uniforms designed by adidas during a appearance in the Big East Tournament. And again, much like the Bearcats, the Fighting Irish's new duds were awful, just awful. I mean really ugly...
Jay Bilas and ESPN's College GameDay headed out west for the UCLA vs Arizona game, and Bilas took the opportunity to photobomb to Bruins cheerleaders.
MORE STORIES >>
All Sports News

Delivered to your inbox

You'll also receive Yardbarker's daily Top 10, featuring the best sports stories from around the web. Customize your newsletter to get articles on your favorite sports and teams. And the best part? It's free!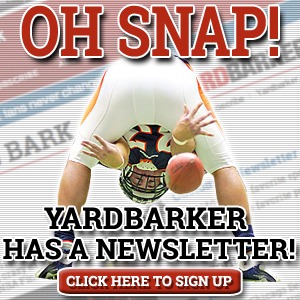 THE HOT 10: Who's Trending