The highlight of the weekend for University of Illinois athletics wasn't Wes Lunt's four touchdown performance. Neither was the volleyball team, ranked 11th in the country, sweeping all three of their opponents, including #20 North Carolina. The highlight of this weekend was Jalen Brunson, the top point guard in the Class of 2015, taking his official visit to Illinois. Friday...
For all Illinois Football fans, Saturday was a rough day. The Fighting Illini trailed against Youngstown State in the fourth quarter, the offense that had received so much off-season hype sputtered for most of the game, and to top it all off, it was the lowest attended home opener since 2000. If the team had lost, things would have gotten ugly. Luckily, Illinois didn't lose. They...
The Illinois Fighting Illini bumped up their home-opening win streak today to 17 consecutive wins with a 28-17 victory after a rocky start against the Youngstown State Penguins. Illinois is now 14-0 all-time against FCS teams. Youngstown State led 9-7 going into the fourth quarter and out-gained the Illini in net yards by 372 to 363. The Illini offense is expected to improve further...
56. D.J. WILLIAMS Height: 6'-7" Weight: 200 Position: SF Wingspan: 6'-9" High School (State): Simeon (IL) Club Team (Affiliation): Commitment: Illinois Fighting Illini Breakdown: Prior to his junior season at one of the top high school basketball programs in Illinois at Simeon, Williams made a verbal commitment to attend an in-state school, Illinois. As a junior ...
On August 24th, the Fighting Illini Football team held a practice open only to the students. We've got some of the best highlights on film. As fans trickled into Memorial Stadium the players did stretching exercises and the split into groups with various parts of the coaching staff. After about 15 minutes of this, Coach Beckman called the fans out onto the 50 yard and explained...
Landry Shamet, a point guard in the Class of 2015, is the latest player to schedule an official visit to Illinois. He is now the ninth player that will be taking an official to Champaign. Shamet took an unofficial visit to Illinois on August 16th, and has since cut his list of schools down to four. Some of the schools cut from Shamet's list include Creighton, Minnesota, and Nebraska...
Oh the joys of trying to keep up with high school recruiting. Unfortunately, Jalen Coleman will NOT be taking an official visit to Illinois. However, Doral Moore will be. Big Stage Quick Hits: Doral Moore with #Illini official visit on 9/26, James Blackmon showing strong for #iubb & more http://t.co/mAw5zsWoWp — Derek Piper (@DerekPiperBSH) August 18, 2014 The one problem...
Since John Mackovic left the Illinois Fighting Illini for the Texas Longhorns back in 1991, the Illinois football program has been very up and down. Mostly down. Still, there have been two BCS bowl appearances (2001, 2007), but they were fluky in the long run. Because the very next year (2002, 2008) Illinois was 5-7, and then things spiraled downward from there shortly after. So...
86. Aaron JORDAN Height: 6'-4" Weight: 180 Position: SG High School (State): Plainfield (IL) Club Team (Affiliation): Illinois Stars (Reebok) Commitment: Illinois Fighting Illini Breakdown: With Jordan and D.J. Williams already verbally committed, Illinois head coach John Groce is in quite a favorable position to move forward on his remaining targets on the recruiting trail. Both ...
The Walmart in Champaign is gearing up for Illinois football.Check out this awesome soda display a local sports reporter snapped a photo of during a recent visit. As you can see, the Fighting Illini logo is alive and well among the boxes of pop.Of course, Walmart wasn't going to let this display stand without putting their own logo smack dab in the middle as well.Via For the Win
So long, Nathan Scheelhaase. Four-year starters at any position are rare, much less at quarterback, where fate always seems to sideline a player with an injury at inopportune moments. Nevertheless, Scheelhaase walked onto the field as a freshman and went on to amass just shy of 10,000 yards of total offense in his career, including [&hellip (Visited 1 times, 1 visits today) The...
Tim Beckman, the head coach of the Illinois Illini, is on arguably the hottest of hot seats. His first year with the Illini was 2012, and his team went 2-10. In 2013, the Illini went 4-8, which was an improvement. However, the issue with Beckman has been the peripheral nonsense. In 2012, according to USA Today, he was caught on camera chewing tobacco on the sidelines, which breaks...
The Illinois Fighting Illini will debut an updated brand identity at a special event on Wednesday, April 16, starting at 7 pm at the Krannert Center for Performing Arts on the UI campus. For those of you who didn't go to business school, "brand identity" translates into logo, colors, trademark etc. Will there be a new logo? We'll probably have to wait until the 16th to find...
MORE STORIES >>
Illinois News

Delivered to your inbox

You'll also receive Yardbarker's daily Top 10, featuring the best sports stories from around the web. Customize your newsletter to get articles on your favorite sports and teams. And the best part? It's free!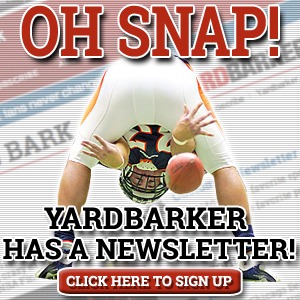 THE HOT 10: Who's Trending