In what is a surprise to nobody, ESPN NFL analyst Merril Hoge is destroying a polarizing NFL quarterback yet again.  Hoge has made a cottage industry out of dishing out the strongest and most extreme takes in football and trying to be the NFL's Mark May. Hoge appeared on the DVE Morning Show in Pittsburgh with Randy Baumann and unleashed on Johnny Manziel with one personal and...
I understand that Hoge wants attention and we are giving it to him, but why can't he evaluate a player without name calling? My question is would Hoge call Manziel this to his face? Hoge called Manziel "a juvenile punk." — mike freeman (@mikefreemanNFL) September 3, 2014 Lastly, Hoge said Manziel will be Brian Bosworth. Dayum, dayum. — mike freeman (@mikefreemanNFL...
It looks like whoever's controlling the Twitter for ESPN's First Take made a big mistake. Earlier we posted a tweet from them stated that Merril Hoge would draft Michael Sam over Jadeveon Clowney. That tweet has since been deleted and Hoge even went on Twitter to clear things up. .@ESPN_FirstTake's tweet from Merril Hoge saying he would take Michael Sam over Clowney has...
We seem to have some type communication error going on at ESPN, and we're here to help clear it up. Merril Hoge is steaming mad and ESPN's First take may be to blame. Hoge was a guest on the debate based show this morning where he discussed the NFL Draft of course and the overall potential of one Jadeveon Clowney. During the broadcast, the team running First Take's twitter...
ESPN NFL analyst Merril Hoge is not a Johnny Manziel fan. On Wednesday, Hoge discussed Manziel on "SportsCenter" and explained why he's down on the former Heisman Trophy winner. "He has absolutely no instinct or feel for pocket awareness," Hoge said. "He has an instinct to run. That's a bad instinct if you're going to […]
With the possible exception of Jadeveon Clowney, no player has been as popular a topic of discussion when talking about the upcoming draft than Texas A&M's Johnny Manziel, especially when it comes to his potential to be either a boom or a bust as an NFL quarterback. Count ESPN analyst Merril Hoge as one of those who thinks Johnny Football, despite all the swagger and confidence...
Joe Flacco just had an amazing playoff run which was capped off with a Super Bowl MVP. In case you're wondering Flacco threw 11 touchdowns and 0 interceptions during this playoff run, which is pretty good we must say. And because of his stellar play and ultimately winning the Super Bowl, Flacco will undoubtedly get paid like he's an elite quarterback. A fact that should make...
'PHONY AS A 3-DOLLAR BILL'
NFL analyst Merril Hoge has reached his saturation point on all things Tim Tebow, as witnessed this week by his takedown of the Jets backup QB.
He either took that from his kid's closet or it's a piece from the Mr. Potato Head Spring 2012 collection. What's the deal with ESPN NFL analyst Merril Hoge and neckties?  If he's not sporting a knot the size of a baby's head, he's showing off his ridiculously short tie that barely stretches past his nipples. Polo shirts Merril…it's what all the cool kids are wearing...
(By Joseph Person, jperson@charlotteobserver.com) Merril Hoge, like a lot of people, admits he was wrong about Cam Newton.The ESPN analyst was among those who questioned whether Newton was ready for the NFL after playing in a spread offense in his only season at Auburn.
MORE STORIES >>
All Sports News

Delivered to your inbox

You'll also receive Yardbarker's daily Top 10, featuring the best sports stories from around the web. Customize your newsletter to get articles on your favorite sports and teams. And the best part? It's free!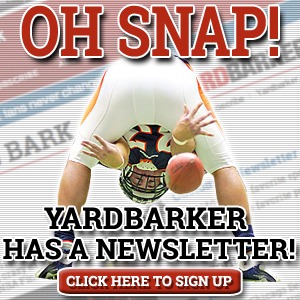 THE HOT 10: Who's Trending