This is how stupid Michael Kay is. 'Mike from Manhattan' called in yesterday. And the entire TMKS was dumbfounded by the prank. Follow us on Twitter for exclusive stories, Subscribe by Email, or Return Home
Hey, it couldn't be worse than that TMKS D-Nice segement. All kidding aside...the only way to get a Mike Francesa simulcast this week appears to be...via CCTV![Funtime Sports Bureau]Follow us on Twitter for exclusive stories, Subscribe by Email, or Return Home
Mike Francesa may have been told to stop talking about his Fox Sports 1 simulcast problems, but it doesn't mean that he won't complain when given the opportunity. In a rare case of his show was actually airing on Fox Sports 1 on Thursday, Francesa discussed his situation with two callers who complained that they could not watch him every day. Of course, the Sports Pope agreed...
Bob's Blitz has obtained the missing, brand new, (Mike Francesa rejected) Mike's Out theme song. [Reportedly hacked from a voice mail, the singer remains a mystery.]Mike Zout lyrics:Mike's out.Mike's out.He fell asleep on the FAN. Not just once, but twice in one day.Sweeni bored him back in May.Mike's out. Mike's out.Somebody wake him up. He's yawning...
We'll leave this up to you to decide.  This isn't the first time Mike has been caught sleeping, ON THE AIR. Here's another moment when Mike Francesa fell asleep. He may have dozed off but we recommend a nice cup of coffee. [b/r] The post Did Mike Francesa Fall Asleep Again? (Video) appeared first on Geeks & Cleats.
NY Post today:Bob's Blitz posted video proof of Mike Francesa sleeping on the job again. Fortunately for Mike, he works for WFAN, one of two organizations that allow its employees to nap while working. The other one, of course, is the Secret Service.Hondo added, "Francesa, who bumped his glasses into his microphone while nodding off, might want to invest in a good pair of...
New York sports radio host Mike Francesa may have been caught sleeping during Friday afternoon's show on WFAN, and it was captured perfectly on camera during the FOX Sports 2 simulcast.Francesa had his eyes closed while listening to a call from Mark in Bloomfield, NJ. Francesa's head slumped forward and bumped into the microphone, then as he bounced back up, his eyes were...
The clip of Mike Francesa falling asleep while hosting his radio show is one of the most famous in the history of the blogosphere. The sequel is just as good. On Friday, Francesa closed his eyes while taking a call and it sure looks like he dozed off once more.  Watch as his head bumps the microphone and he has to adjust his glasses.  The stare into the camera says it all. Mikey's...
Ever since Mike Francesa began his Fox Sports 1 simulcast of his WFAN radio show earlier this year, the relationship between the two parties has been rather tumultuous. Now it's reaching the breaking point. It's been quite the week for Mongo Nation as Mike Francesa's increasingly difficult simulcast situation with Fox Sports 1 is becoming increasingly strained.  Francesa...
MORE STORIES >>
All Sports News

Delivered to your inbox

You'll also receive Yardbarker's daily Top 10, featuring the best sports stories from around the web. Customize your newsletter to get articles on your favorite sports and teams. And the best part? It's free!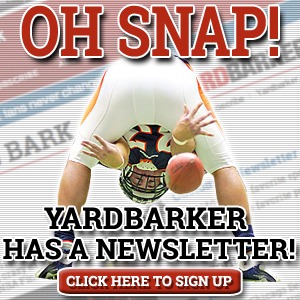 THE HOT 10: Who's Trending