ESPN's Colin Cowherd mocked Mike Francesa's 'can they use both feet' soccer question.Follow us on Twitter for exclusive stories, Subscribe by Email, or Return Home
WFAN reporter warned Mike Francesa not to fall asleep today while at Giants camp. Took it one step further, lecturing Francesa to 'keep his eyes open.' In all fairness, Kim Jones was up next.....Follow us on Twitter for exclusive stories, Subscribe by Email, or Return Home
Mike Francesa wants to know if Rutgers, The State University, throws in a lube job with its parking pass.Follow us on Twitter for exclusive stories, Subscribe by Email, or Return Home
Mike Francesa knows about the NYDN top-50 poll. In what finishes 2nd for the dumbest sentence ever uttered: He saw it, he heard about it, he didn't see it, somebody told him about it, he had it sent to him so he saw it.The dumbest sentence ever? Here: Francesa first says that the Mets called him to say Terry Collins was kidding about a comment attributed to him by Phil Mushnick...
Mike Francesa knows little to nothing at all about the World Cup. He proved that during this interview with St. Johns University Soccer Coach Dave Mazur. This might be the greatest interview in the history of all interviews. Here is the audio courtesy of the fantastic @OrdioMongo The post AUDIO: Mike Francesa's Epic World Cup Soccer Interview appeared first on Total Sports Blog.
On his Tuesday Afternoon show on WFAN 660-AM and 101.9 FM, Mike Francesa was told about how the Mets were hosting another sleepover at Citi Field, much like they did last year. Here is how he reacted and lets just say that it was classic Zaun. (H/T to @OrdioMongo) The audio just speaks for itself really, no additional comment is needed. Here is the press release from the Mets that...
On Tuesday afternoon Mike Francesa opened his show talking about the Mets. The Mets had just fired their hitting coach Dave Hudgens, lost for the 5th time in their last seven home games and was in the middle of a 7-17 month of May. Francesa, who is a Yankees fan and has been notoriously tough on the Mets, decided it was time to take the organization to task. Click here to view the...
MORE STORIES >>
All Sports News

Delivered to your inbox

You'll also receive Yardbarker's daily Top 10, featuring the best sports stories from around the web. Customize your newsletter to get articles on your favorite sports and teams. And the best part? It's free!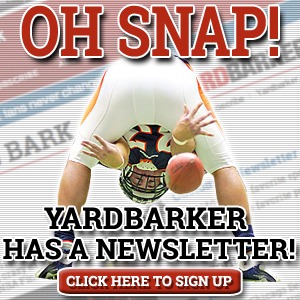 THE HOT 10: Who's Trending