Mike Tirico calls out Jon Gruden on Monday Night Football for being cheap, stating he never buys for anyone so he probably has his per diem.
The ESPN Monday Night Football crew were all on conference call today to preview the 2014 NFL season. As you would expect the Washington team name controversy came up. All three weighed in on how they will approach using the team name. Here's Mike Tirico's answer: "We broadcast a Washington preseason game and then ESPN released a network policy I think it was five days after...
ESPN's Mike Tirico pulled a quick one on the listeners of the Raptors-Nets Game 7 game on Sunday, rapping about Toronto's Global Ambassador, Drake. Going with Drake's "last name ever, first name greatest" line form Drake's song Forever, Tirico threw out a "Last name Graham, first name Aubry. Drake is the name the kids call me." The post Mike Tirico Raps Like Drake...
  Mike Tirico's son asked him not to do this on TV. He did it anyway though. Mike decided to rap about Drake's name when he was shown during the ABC telecast of Game 7 between the Raptors and the Nets. Mike definetly doesn't have BARS and when you have to explain your joke and still no one is laughing, it's a problem. Good job, good effort Mike. [watchnba20145]
It seems that everyone these days wants to talk about Toronto Raptors global ambassador Drake and during today's game seven ESPN telecast, Mike Tirico tried to drop a funny drake reference. Mike decided to parody Drake's first line from "Forever" by calling him by his birth name, Aubrey Graham. Sadly for Mr. Tirico, the joke didn't go well and he immediately regretted over...
Miami Dolphins center Mike Pouncey was flagged for unsportsmanlike conduct in the first quarter of Monday Night's Dolphins-Buccaneers game in Tampa, but ESPN's Mike Tirico just assumed the flag was for Richie Incognito because he's apparently the team bully in Miami. Incognito, as you probably know, is suspended indefinitely amidst the Jonathan Martin hazing saga. We'll just...
Last night, on NBC, Peyton Manning made his emotional return to Indianapolis in the most heavily hyped game of the NFL season. Tonight, on ESPN, the 0-6 Giants host the 1-4 Vikings in a game only relevant in the world of fantasy football.  According to the Elias Sports Bureau, tonight's matchup is, on paper, the worst in the history of Monday Night Football at this point...
Mike Tirico and Dan Dakich are quickly becoming an excellent pairing in the broadcast booth and did a terrific job calling #14 Ohio State's victory on the road at #2 Indiana last night.  Dakich in particular shined breaking down the game and calling out players when need be, which is a rarity in college hoops.  But his highlight was when a young woman held up a "Dan Dakich...
Last nights Monday night football game between the Titans and the Jets was all that I could have hoped for and more.  A fantasy football victory and 4 more interceptions from Mark Sanchez.  It's beyond my belief how this guy is still in the NFL.  Worst QB I've seen in years.  Give me Timothy Richard Tebow, NOW. It wasn't enough that they lost the game though, they...
COOL YOUR JETS
Monday Night Football doesn't have the advantage of flex scheduling, which has the potential to produce late season stinkers like the Jets/Titans game the nation witnessed tonight.  But thankfully, the 2012 New York Jets may be the greatest example of sporting schadenfreude we've ever seen.  Gang green bumbled and stumbled and finally fumbled away the game and their season...
MORE STORIES >>
All Sports News

Delivered to your inbox

You'll also receive Yardbarker's daily Top 10, featuring the best sports stories from around the web. Customize your newsletter to get articles on your favorite sports and teams. And the best part? It's free!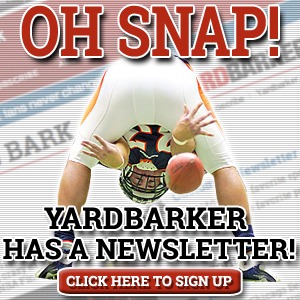 THE HOT 10: Who's Trending