Outrage! What nerve the National Football League has to rob us of yet another super-awesome-fun-wicked football tradition! The NFL just won't be the same without players having the freedom to dunk the ball over the goal posts following a touchdown. Wait, yes it will. I'll admit that the NFL's rulebook has grown obese. I'll admit that the "No Fun League" has become overwrought...
I mean… [via @theebeardedone] Related Posts Tyrann Mathieu was interviewed by Trey Wingo and kept his composure Brad Wing penalized for celebrating – and our first post Lane Kiffin post practice presser is gold
Compared to some of his cohorts at ESPN, it sometimes seems as though Trey Wingo flies under the radar. He's not bombastic or silly, and he doesn't really bring the hubris. That, in our opinion, is a good thing. And that's why it's usually a joy to watch Wingo do his thing on NFL Live.  This week, Awful Announcing caught up with Wingo for 10 questions.  ...
COSTLY SHOT
Trey Wingo from ESPN Tweeted out a photo of a camera casualty at the British Open on Thursday, and apparently it was not a cheap piece of equipment. Thomas Bjorn was the golfer who had the precarious start at Muirfield when he hit an errant second shot on the first hole that shattered the lens of an ESPN camera. The rough is no joke over in East Lothian. Wingo said the camera was...
Golfer Thomas Bjorn got off to a precarious start on the very first hole of Thursday's first round of the British Open tournament when he smashed the lens of an ESPN camera with an errant shot. Bjorn's tee shot landed in the rough on the side of the fairway, which led to the shot that broke the camera lens: ESPN TV camera on first fairway after Thomas Bjorn's second...
Denard Robinson and Trey Wingo combine for the most awkward interview of the 2013 NFL Draft. Someone get Denard a steak or something.
Up-and-coming ESPN anchor Lindsay Czarniak will anchor ABC's coverage of the Indianapolis 500 this year. In other news, former New York Times columnist Robert Lipsyte has been named the new ESPN ombudsman, and ESPN anchor [...]
Last week, the hosts of ESPN's "NFL Kickoff" show decided to try to work in as many references to "The Princess Bride" into one episode as they possibly could. Buzzfeed put together a video featuring several of the references, though host Trey Wingo says they missed a few. Yes, that's Wingo, Mark Schlereth, and Tedy Bruschi running as many references to the classic movie...
ESPN's Trey Wingo, Mark Schlereth, and Teddy Bruschi had some fun on Friday's NFL Kickoff, finding creative ways to incorporate references to the 1987 classic The Princess Bride into their analysis. Here's a compilation of all their Princess Bride allusions: * * * * *The Princess Bride ranked third on MSF's list of the top non-sports movies from the 1980s. The post Video...
Trey Wingo tweeted that Sports is truly the greatest reality show of them all. That can truly be said about what had transpired on Mother's Day. If one thought the drama about the last day of the 2011 baseball regular season was sensational, then Mother's Day could provide even more intensity and drama like nothing [...]
MORE STORIES >>
All Sports News

Delivered to your inbox

You'll also receive Yardbarker's daily Top 10, featuring the best sports stories from around the web. Customize your newsletter to get articles on your favorite sports and teams. And the best part? It's free!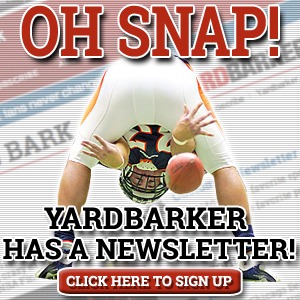 THE HOT 10: Who's Trending