Late on July 9, Grantland's Zach Lowe, noted mascot aficionado, broke some news that made a bunch of Nets fans happy: the BrooklyKnight, the Marvel-created mascot who was most known for looking like a Power Ranger, scaring children, and missing dunks, would not be returning for the 2014-15 season.Actual news: Nets have informed their mascot he will not return next season, may place...
Zach Lowe has a really great interview with David Blatt over at Grantland. It's well worth your time to read the whole thing, but I was pretty surprised to hear just how little Blatt knew about the LeBron James situation before it became official in Lee Jenkins' post at SI's website. For one thing, Blatt tells Lowe that they didn't even use LeBron's name when discussing...
The Brooklyn Nets committed something of a mercy killing on Wednesday when the team announced that its much-maligned, completely ridiculous and absurdly cheesy mascot, BrooklyKnight, will not be returning next season. Grantland's Zach Lowe was the first to break the sobering — but welcome — news on Twitter. Actual news: Nets have informed their mascot […] The post The BrooklyKnight...
A. Zach Lowe of Grantland estimates that the Nets lost $144 million in basketball operations last season.The basketball side of the Nets' business is projected to have lost $144 million over the 2013-14 season, according to a confidential memo the league sent to all 30 teams in early June. (Grantland has reviewed and verified the memo with a half-dozen sources.) If that strikes...
Grantland's Zach Lowe has a comprehensive breakdown of Lance Stephenson's game and potential suitors in free agency. It's no secret that I'm a fan of Stephenson's potential and moxy. Lowe lists Charlotte, Detroit and Indiana as the best possibilities to sign Stephenson. The Nuggets and Pelicans are also in the mix. It's believed he'll get offers approaching $10 million...
Grantland's Zach Lowe is reporting that the New Orleans Pelicans have finally admitted to designing the world's scariest mascot, and thus will be giving Pierre the Pelican a makeover to turn him into something far less scary. The new Pierre will hopefully be ready in time for All-Star Weekend in the Big Easy, which, for small children attending games, can't come soon enough...
According to Zach Lowe of Grantland.com, the New Orleans Pelicans are redesigning mascot Pierre The Pelican's head to make less scary. Pierre has become a hit among internet memes because of his terrifying face, get ready for a laugh and take a look at some of our favorites below. Real mascot news: Hearing Pellies are re-designing Pierre's head to make him "less scary," hopefully...
The day before this past Halloween, the New Orleans Pelicans introduced their new mascot, Pierre, and he may have been the most terrifying mascot ever seen: Introducing your new mascot Pierre the Pelican! pic.twitter.com/CieVTs3sMt — New Orleans Pelicans (@PelicansNBA) October 31, 2013 Pretty much the whole world asked itself "Who could possibly have signed off on that thing...
Zach Lowe of Sports Illustrated will join Grantland on October 1st.
The NBA returns with a star-studded Christmas Day set. From Celtics-Knicks to Clippers-Warriors, Zach Lowe looks at one thing to watch for each team in the five opening day matchups.
MORE STORIES >>
All Sports News

Delivered to your inbox

You'll also receive Yardbarker's daily Top 10, featuring the best sports stories from around the web. Customize your newsletter to get articles on your favorite sports and teams. And the best part? It's free!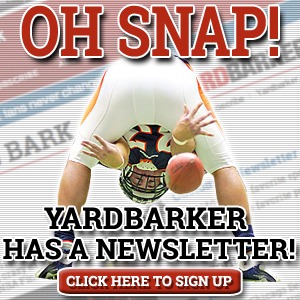 THE HOT 10: Who's Trending