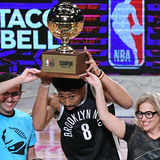 Nets guard Spencer Dinwiddie added to his breakout season Saturday by winning the Skills Challenge, but it's going to be a while before he can cash in on his success. Dinwiddie is making the league minimum of $1,524,305 this season with a team option for next season at the minimum of $1,656,092.As detailed recently by Danny Leroux of Real GM, the three-year contract Dinwiddie signed...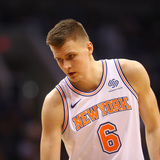 Kristaps Porzingis underwent surgery to repair a torn left ACL on Tuesday, and it didn't take him long to address fans who were worried about him.The Knicks don't really have any other promising talent aside from Porzingis, so fans couldn't help but be interested in the status of the one asset the team currently possesses.Porzingis, who is the leader of the team, obliged, and took...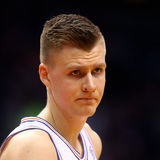 Kristaps Porzingis on Wednesday took to Instagram to share a positive message following surgery Tuesday for a torn ACL.The post includes a photograph of Porzingis departing the hospital in a car with his left leg heavily braced. "First of all I want to thank you for all the love and support," Porzingis writes in the post. "Im (sic) attacking my rehab right away. I truly believe that...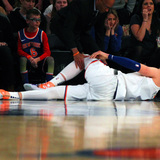 A week after suffering a torn left ACL that will end his 2017/18 season, Knicks big man Kristaps Porzingis has undergone surgery to repair that ACL. The team confirmed today (via Twitter) that Porzingis' procedure, which took place this morning, was a success.While the Knicks' latest update confirmed that Porzingis has undergone surgery and will begin his recovery process, the team...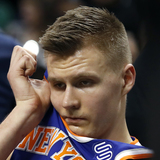 Kristaps Porzingis will have surgery to repair his torn ACL early next week.Earlier this week, Porzingis went to the ground in pain after a dunk and needed to be helped to the locker room. An MRI later confirmed what everyone feared, Porzingis tore the ACL in his left knee.ESPN's Ian Begley reports Porzingis will undergo surgery to repair the ligament on Tuesday, one week after he...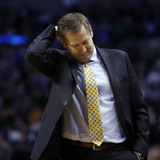 Amid speculation that Jeff Hornacek's job could be jeopardized by what appears to be another lost season, Knicks GM Scott Perry offered a vote of confidence today, writes Adam Zagoria of SNY.tv.Already five games out of a playoff spot, New York suffered a crushing blow Tuesday night when star forward Kristaps Porzingis tore his left ACL. Perry says he understands the situation and...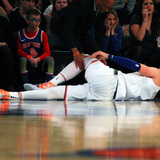 Kristaps Porzingis is set to undergo season-ending surgery after he suffered a torn ACL in Tuesday night's game against the Milwaukee Bucks, and the timetable for his recovery is not yet known. According to one report, it could spill into next season.Dr. David Chao, an orthopedic surgeon and former NFL team doctor, speculates that Porzingis is unlikely to be ready for the start of...
New York Knicks center Kristaps Porzingis exited Tuesday's game against the Milwaukee Bucks with what was obviously a horrible looking lower-body injury. Needless to say, the injury itself didn't look good.Now, according to the Knicks themselves, Porzingis has suffered a torn left ACL. It goes without saying that the unicorn will miss the remainder of the season. Based on the timeline...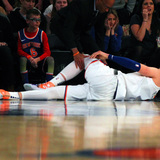 New York Knicks fans' worst fears became true on Tuesday when it was revealed that Kristaps Porzingis suffered a torn ACL in his left knee.Porzingis left Tuesday's game against the Milwaukee Bucks after hurting his knee on a dunk attempt in the second quarter. He had to be helped into the locker room. Porzingis was taken for an MRI, which revealed the torn ACL. The Vertical's Shams...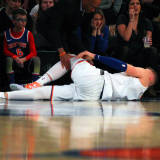 Kristaps Porzingis will undergo an MRI on his left knee after exiting Tuesday's game against the Milwaukee Bucks with an injury.Porzingis went up for a dunk in the second quarter of the New York Knicks' game against Milwaukee and then crumbled to the floor with an injury. He had to be helped into the locker room. ESPN's Adrian Wojnarowski said that Porzingis was going for an MRI...
MORE STORIES >>
Knicks News

Delivered to your inbox

You'll also receive Yardbarker's daily Top 10, featuring the best sports stories from around the web. Customize your newsletter to get articles on your favorite sports and teams. And the best part? It's free!