Found September 13, 2007 on The Sports Agent Blog:
Sports Agent Interview: with Paul Schackman Agent: Justin Schulman Agency: Athletes First Questions/Answers: Paul Schackman: How did you get started in this industry? Justin Schulman: After I received my MBA, I sent a letter to Athletes First, suggesting my wiliness to assist them anyway possible. With my past experience in helping launch the WNBA I was brought onto the Athletes First team handling day to day operations, which led to helping recruit athletes, which finally led to him becoming a certified agent with the NFL. Paul Schackman: Did you attend law school or grad school? If so, which law school or grad school? Justin Schulman: I received an MBA from The Anderson School at UCLA. Paul Schackman: Who was your first client (year, sport), and how did you recruit him? Justin Schulman: My first clients were Brandon Jacobs who was the New York Giants 4th round pick in the 2005 draft, and Mike Goolsby who was an undrafted Free Agent. Paul Schackman: How did you handle your first contract negotiation? Justin Schulman: When it came down to negotiating my first deal I devoted a lot of my time to researching the market to get the most for my clients. Sitting in on negotiations with one of the best in the business (David Dunn) helped me tremendously. There is no better way to learn than to watch the best in the business. Paul Schackman: At what age do you feel an agent will hit his prime/glory years? Why? Justin Schulman: I don't really feel that age has any affect on how an agent performs. An agent is in his prime when he can relate to the players and has the experience and knowledge to get the job done. Paul Schackman: What is your opinion of "larger" agencies with less attention to their clients compared to "smaller" agencies who counsel more with their clients? Justin Schulman: The large vs small agencies is a topic that comes up all the time in the sports agent industry. Many people have very different opinions about the better type of agency. I believe there is no such thing as better or worse. I think that it all depends on what the athlete is looking for. For instance if an athlete is looking for an agency who will do everything from their marketing, accounting, legal issues, contract negotiation then the larger agencies may be best. But if the athlete would like more attention from their agent, or only have an agent handle their contract, then maybe a smaller firm would be better for that athlete. Paul Schackman: Where do you see the athlete representation industry going in 10 years? Justin Schulman: I don't really see any significant changes in the future. I do see more and more smaller agencies being bought out by the larger conglomerates, and more entertainment agencies such as CAA getting into the sports representation business. I also think that more and more of the larger agencies will continue to drop specific sports or sports as a whole (such as IMG dropping team sports representation). Paul Schackman: Take our readers through a typical day in your life. Justin Schulman: While there really is no typical day in this business, everyday consists of reading up on the sporting news, calling clients, and handling clients' needs. For instance, I call my clients accountant and handle whatever problems the client may be having. Paul Schackman: What advice do you have for people looking to break into the industry? Justin Schulman: It is essential to get an internship in the industry, but also to start building contacts early on, before you ever break into the industry. The more people you know and the more you can bring to the table, the better. Paul Schackman: Does your agency provide internships for people looking to break into the industry? Justin Schulman: Athletes First does offer summer internships and they usually accept 2-4 applicants per summer. Paul Schackman: With the advances in technology do you ever see agencies recruiting athletes over the internet? If so, what features do you see the website having to take advantage of a new way of recruiting? Justin Schulman: I definetly see a chance in how the internet has created a new platform to recruit potential clients. With the creations of facebook and myspace it allows agents to contact athletes easier and faster. It helps the agents get their name out to the athletes. More and more agencies will create myspace and facebook pages, which may also help bring in potential clients. Paul Schackman: How do you go about recruiting potential clients, what type of players do you like to represent and how do you determine who to recruit? Justin Schulman: Before I set out on which athletes to recruit, I do a lot of research on those players to see if it is a player that interests me. I also contact the scouts that I have built relationships with so that I have as much information possible when I contact a potential client. Paul Schackman: On behalf of SportsAgentBlog.com and all of our readers, I would like to thank Justin Schulman for sharing his knowledge and experiences with us today. You can check out his website at ATHLETESFIRST.net. Till next time, be safe and act ethically in the business that you love.
Original Story:
http://www.sportsagentblog.com/?p=684
THE BACKYARD
BEST OF MAXIM
NFL News

Delivered to your inbox

You'll also receive Yardbarker's daily Top 10, featuring the best sports stories from around the web. Customize your newsletter to get articles on your favorite sports and teams. And the best part? It's free!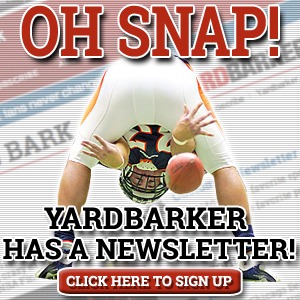 Latest Rumors
The Backyard

Today's Best Stuff

For Bloggers

Join the Yardbarker Network for more promotion, traffic, and money.

Company Info

Help

What is Yardbarker?

Yardbarker is the largest network of sports blogs and pro athlete blogs on the web. This site is the hub of the Yardbarker Network, where our editors and algorithms curate the best sports content from our network and beyond.