Hooray for an event in my time zone~! Coverage wound up being a little spotty, but with a couple of important and, as it happened, richly entertaining matches on the digital airwaves, a full(ish) report seemed in order. The first match of the day finished before I got home from work. Not sure if it was or wasn't webcast. It pitted last week's champions Grzegorz Fijalek and Mariusz...
Sean Rosenthal seemed to cover the whole beach in the FIVB Grand Slam gold medal match in Long Beach on Saturday. Diving digs. Tomahawk digs. Chicken-wing digs. Every time Pablo Herrera Allepuz and Adrian Gavira Collado of Spain were on the verge of swinging the momentum back their way, Rosenthal would hit the sand to keep a rally alive and he or partner Phil Dalhausser would finish...
BUN IN THE OVEN
Kerri Walsh-Jennings revealed she was pregnant during her and Misty May-Treanor's impressive run to a gold medal in London. 
Misty May-Treanr and Kerri Walsh Jennings extended their Olympic winning streak to 21 straight on Wednesday night with a 21-16, 21-16 victory over fellow Americans Jennifer Kessy and April Ross.  May-Treanor and Walsh Jennings are now three-time Olympic beach volleyball gold medalist going unbeaten in Athens, Beijing and now London.  Ross and Kessy won the silver medal in their...
If you've been watching the beach volleyball action at Horse Guards Parade then you know all about the American duo of April Ross and Jen Kessy. Here's some photos and some quick bio information. Jen Kessy  is an American professional beach volleyball player on the Nivea AVP Tour Kessy continued her athletic excellence while attending the University of Southern California...
Birthday girl Misty May-Treanor and Kerry Walsh Jennings are off to a good start in the Summer Olympics… Misty May-Treanor walked off the beach volleyball court at Horse Guards Parade holding a brightly colored cupcake — a gift from partner Kerri Walsh Jennings' mother. Their match, which started late Monday and ran past midnight, ended too late for May-Treanor to blow out...
To be honest, Todd Rogers said, he thought his hit that helped put the Americans one point away from victory was illegal, too. Rogers took a spike off the chest and then popped it up into the air for teammate Phil Dalhausser, who passed it back for Rogers to clear out. Whether that should count as three hits or four - one too many - depends on whom you ask, but in the referee'...
Olympic champions Phil Dalhausser and Todd Rogers defeated Matt Fuerbringer and Nick Lucena 21-17, 21-18 in an all-American final in the season-opening beach volleyball World Tour event Sunday. Dalhausser and Rogers, gold medalists in Beijing, needed 44 minutes to beat their countrymen in the Brazilian capital of Brasilia, earning their third straight title at the event. It was...
WHO WEARS SHORT SHORTS?
The International Volleyball Federation has announced that women volleyball players will be allowed to wear shorts and tops with sleeves at the London Olympics.
MORE STORIES >>
Beach Volleyball News

Delivered to your inbox

You'll also receive Yardbarker's daily Top 10, featuring the best sports stories from around the web. Customize your newsletter to get articles on your favorite sports and teams. And the best part? It's free!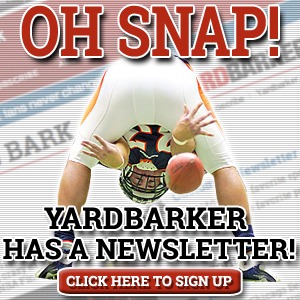 THE BEACH VOLLEYBALL HOT 7