Found September 07, 2012 on Fox Sports:
The war of words between Julio Cesar Chavez, Jr. and Sergio Martinez is most definitely on. The two pugilists, who will meet Saturday, Sept. 15 live on HBO Pay-Per-View (9 p.m. ET/6 p.m. PT), share their thoughts on each other and expose a lack of personal respect that is sure to yield an exciting fight. Julio Cesar Chavez, Jr. "Boxing is a turf war. It's about owning the ring, taking the high ground and keeping it, and the better and most prepared fighter will be the one that dictates and controls the action. Martínez has a difficult style but it is up to me to get him -- to fight my fight, not his, and to do that will require that I assert my power and utilize my advantages in youth, stamina, height and reach and pressure him every minute of every round. I have developed the right strategy not just to beat him but to beat him badly. All I need to do when we finally meet is to remain patient and disciplined and stick to the plan and I will win the fight." "I respect Sergio as a boxer, but not as a person. He has said a lot of things about me that are just not true. He is an ignorant person and a snob; he is underestimating me both as a person and as a boxer and he will pay for it in the ring. It's not distraction for me, but it is a motivation to go in the ring and shut him up once and for all. Who knows if his car was really spray painted during training camp? But I promise he'll be getting a lot of major body work done by me on September 15." Sergio Martinez "I respect Chavez's Jr. as a fighter, as it takes a lot of cojones to enter a boxing ring and fight another fighter in the ring. But I do not respect him as a champion. You have certain duties as a champion. You must defend your title against the best and never take the easy road. I believe that Chavez's Jr. has been avoiding me for the past two years and now he has nowhere to go because if he never fought me, he would lose respect from the Mexican fans. I believe the only reason he received a title fight against Zbik is because of his last name and who his father is, and that belt belongs to me because I never lost it in the ring. Chavez's Jr. was supposed to fight me for two years, but kept avoiding the fight. Is this the proper attitude of someone who says they are the middleweight champion? I think not." "What bothers me is that when someone opens up the record books in twenty years and see Chavez's Jr.'s name after mine, they will assume he beat me because he was next in line because this was Zbik's first defense after he received the title from the WBC. On September 15th it is important for me to take back my title, the WBC middleweight title. This is the same title that many greats have held, like Carlos Monzon, Marvin Haglar, and Sugar Ray Leonard. I feel to keep the integrity of the belt I must defeat Chavez Jr. in spectacular fashion and let him know that this belt is the belt that is to be held by real champions, champions that will not run from fighting the best. I will make sure to leave no doubt in everyone's mind who the real middleweight champion and pound-for-pound one of the best fighters in the world is. And that is Sergio "Maravilla" Martinez." Can't wait until the fight? '24/7 Chavez Jr./Martinez' episode 2 debuts Saturday, Sept. 8 at 12:30 a.m. ET/PT on HBO.
Original Story:
http://msn.foxsports.com/boxing/story...
THE BACKYARD
BEST OF MAXIM
RELATED ARTICLES
If Julio Cesar Chavez Jr. and Sergio "Maravilla" Martinez throw punches as hard on the ring as they've done in their prefight press tour, their middleweight title fight on Sept. 15 will be as explosive as has been advertized. Bob Arum and Top Rank report that all but 900 tickets have been sold for the event in Las Vegas, Nevada for the WBC Middleweight title and the...
Have an extra hour to kill at work today? Then take a seat and check out the full episode videos for Julio Cesar Chavez Jr. vs. Sergio Martinez 24/7 episode 1, and Showtime's All Access Canelo Alvarez vs. Josesito Lopez episode 1. We all know that these two fight cards are competing on Saturday, September 15, well they also have competing preview and documentary series going...
Martinez vows to shatter Chavez 'legend' Sergio Martinez has promised a knockout when he steps into the ring against the reigning WBC middleweight world champion Julio Cesar Chavez Jr. The two are set to clash on Sept 15th at the Thomas & Mack Center in Las Vegas, in what is one of the most eagerly anticipated fights of the year. The build up has been fraught throughout...
(Julio Cesar Chavez, Jr., left; Sergio Martinez, right)There are plenty of people out there, this writer included, who won't believe we will be seeing Julio Cesar Chavez, Jr. fight Sergio Martinez until Michael Buffer makes it official on Sept. 15 with his signature spiel. It is a fight that has been years in the making, has featured more than its fair share of politics and...
The second episode of the Julio Cesar Chavez Jr. vs. Sergio Martinez 24/7 series debuted on Saturday night. The Chavez Jr. vs. Martinez bout takes place on Saturday night, September 15th, from Las Vegas, NV, and the preparations for each team have of course been winding down. Take a look inside both sides right here, as we bring you a complete rundown of the Chavez vs. Martinez...
Haven't had enough Julio Cesar Chavez Jr. and Sergio Martinez in your life recently? That's doubtful, because there's been a huge string of fight preview material for the upcoming HBO PPV bout. Nonetheless, right here we have the video overdose, the motherload of Chavez Jr. vs. Martinez videos. This includes the official HBO fight preview Chavez Jr. vs. Martinez video...
There's a little fight coming up on September 15th between Julio Cesar Chavez Jr. and Sergio Martinez... have you heard of it? Well, either way, the two fighters and their teams recently held a conference call to discuss the fight and talk about how their training has been, what they plan for the fight, and more. Read on to see what everyone had to say. SERGIO MARTÍNEZ:...
Boxing News

Delivered to your inbox

You'll also receive Yardbarker's daily Top 10, featuring the best sports stories from around the web. Customize your newsletter to get articles on your favorite sports and teams. And the best part? It's free!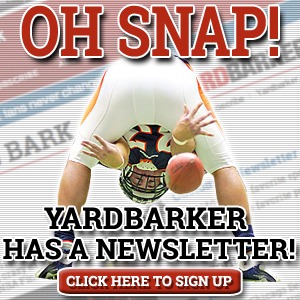 Latest Rumors
The Backyard

Today's Best Stuff

For Bloggers

Join the Yardbarker Network for more promotion, traffic, and money.

Company Info

Help

What is Yardbarker?

Yardbarker is the largest network of sports blogs and pro athlete blogs on the web. This site is the hub of the Yardbarker Network, where our editors and algorithms curate the best sports content from our network and beyond.