Found July 14, 2011 on Los That Sports Blog:
From Los That Sports Blog: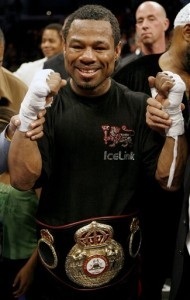 Not only has Shane Mosley been on the losing end of his latest boxing matches, he is also losing the fight in the courtroom as well. Per TMZ Sports, Mosley's ex-wife Jin Mosley will be awarded 3 championship belts as part of their divorce settlement. Ouch. Here are some details:
The settlement provides that ex-wife Jin "shall maintain custody and control of three championship belts for each of the respective parties' three minor children." Each of the kids get a belt when they turn 18.
And Jin will get half of Sugar Shane's cut of profits from videotapes and DVDs of his big fights, including bouts with Oscar De La Hoya, Miguel Cotto and Fernando Vargas.
Since the divorce was filed in California and community property rules apply, Jin gets half of Sugar Shane's fight purses during their marriage.
Shane Mosley won't have to split the $3mil he pocketed for his sparring match fight with Manny Pacquiao as the fight took place after the 2009 split, so there's a small silver lining to an overall disappointing judgement. Not to mention the 21-year-old bombshell Bella Gonzalez that Shane has bagged, so I think Shane is sleeping well. Or not at all, depending on how you look at it.
Also from Los That Sports Blog
Famous boxer getting statue at Ripley's Believe It or Not
NBA player producing movie about Tupac
Video: Soccer player introduced to media wearing lion's mask
Original Story:
http://losthatsportsblog.com/2011/07/...
THE BACKYARD
RUMORS & GOSSIP
MOB SCENE
Campus police, working with Louisville police, reportedly used tear gas on celebratory fans early Tuesday morning in an effort to "calm disturbances."
Via
Rumors and Rants
2 hours ago |
BACK TO SCHOOL
Chris Webber, who has shied away from the University of Michigan since a scandal involving him rocked the program, arrived in Atlanta to support the school in their title tilt with Louisville.
Via
Next Impulse Sports
12 hours ago |
FIND MY WAY
It looks like the new Indians skipper is still getting used to his surroundings in Cleveland.
Via
BlackSportsOnline
18 hours ago |
GAYS IN THE NFL
Gay rights activist Chris Kluwe says closeted players may be reluctant to out themselves because they think it could negatively affect the teams they play on.
Via
Larry Brown Sports
1 day ago |
(DON'T) JUST DO IT
On Friday, Knicks player Iman Shumpert debuted a new hairstyle embellishment -- the Adidas logo shaved into the back of his head -- but the NBA made him get rid of it.
Via
Next Impulse Sports
23 hours ago |
FOR A GOOD TIME...
A toll free phone number previously used by the New York Yankees box office now connects callers to an adult chat line.
Via
Los That Sports Blog
1 day ago |
NO BULL
Chicago Bulls point guard Derrick Rose doesn't know when he'll return to the court but is keeping his options "open" and said he will do so "whenever I'm ready to play."
Via
NBA Injury News
1 day ago |
NO ANGEL
Albert Pujols reportedly said he could walk away from the game before he fulfills his 10-year contract if he felt that he could not compete at a high level.
Via
STLSportsMinute
1 day ago |
MAKE A DECISION
The Buccaneers reportedly are "growing impatient" over the delays in the potential trade between the team and the Jets for Darrelle Revis.
Via
The Bay Cave
1 day ago |
WE'RE NOT IMPRESSED
The son and grandson of Johnny Unitas are not happy about the casting of Joe Flacco as their father in an upcoming biopic.
Via
Gamedayr
1 day ago |
Latest Rumors
The Backyard

Today's Best Stuff

For Bloggers

Join the Yardbarker Network for more promotion, traffic, and money.

Company Info

Help

What is Yardbarker?

Yardbarker is the largest network of sports blogs and pro athlete blogs on the web. This site is the hub of the Yardbarker Network, where our editors and algorithms curate the best sports content from our network and beyond.