Michael Carter-Williams (photo syracuse.edu) Michael Carter-Williams (#1) Sophomore guard – Syracuse Orange Hamilton, MA October 12, 1991 (21 years old) Ht/Wt/Ws: 6'6″ / 185 pounds / 6'6″ 2012-2013 Season Statistics 11.9 PPG –  4.9 RPG –  7.3 APG –  0.5 BPG –  2.8 SPG  35.2 MPG  .393 FG %   –   .694 FT %   This section of QCS will feature college basketball reporter Johnathan Snyder highlighting 20 NBA Draft prospects in 20 days, starting on May 31, and ending on June 19. ESPN's Chad Ford has said that NBA scouts either love or hate Michael Carter-Williams.  There is no in-between.  Carter-Williams has the frame and athleticism that NBA teams only dream about.  At 6'6″ the point guard position is an ideal position for Carter-Williams with his tremendous length and court vision. In his freshman year at Syracuse, Carter-Williams struggled to find playing time behind Scoop Jardine and rarely say minutes during any meaningful games.  During his sophomore year, he was heavily relied upon and made a huge jump forward with his game and his maturity level.  Playing nearly 36 minutes per game, he was head coach Jim Boeheim's work-horse for most of the year.  Although Carter-Williams doesn't have the offensive scoring game that most at the next level would like, he can be described as "raw" and quite frankly may not even have a ceiling.   Strengths 1. Athleticism: Carter-Williams can blow you away with his athletic abilities.  His quickness, combined with his ability to penetrate and get to the rim with ease makes him an attractive player to put at the point guard position.  He can jump out of the gym and his ability to rebound as a guard is above average. 2. Court vision: Carter-Williams at one time this season averaged nearly 11 assists per game.  Do not look too much into that as his average finished at 7.3 when he got into Big East competition and that was still among the tops in the NCAA.  Carter-Williams can see plays before they happen and often times creates them himself after he reads and sees what a defense is giving him. 3. Passing ability: Carter-Williams can get his teammates the ball when they are open.  Very simply put, he is a shooter's best friend.  He consistently found James Southerland open for threes as well as fed it into the post and to Brandon Triche on the wing.  His driving ability adds to his arsenal because he creates open shooters when defenses collapse on him. 4. Finishing ability: Although most of his offensive scoring game struggles, Carter-Williams is great at getting to the rim and finishing with dunks and lay-ups.  He can finish through contact too and he can create open looks for others. 5. Defense: Carter-Williams' size and length was a huge part in the Syracuse 2-3 zone last year.  Unfortunately for Carter-Williams, they don't play 2-3 zones in the NBA but he will be able to adjust to playing a man-to-man or matchup zone defense.  He is quick enough and definitely long enough to guard either the one or the two spot on the floor.  He has good hands and his ability to create turnovers is an added bonus.   Weaknesses 1. Shooting, Shooting, & Shooting: Michael Carter-Williams cannot shoot.  It's very simple.  As talented as he is, he simply cannot shoot a jump shot outside of 15 feet.  He has very poor form where he pushes the ball from a very low angle.  His shot is very flat with little rotation.  He shoots under 40 percent from the floor and 29 percent from beyond the arch.  He will HAVE to improve on his ability to make jump shots in the NBA to reach his highest potential. 2. Decision Making: Even though he has great court vision, his ability to make smart, quick, and accurate decisions sometimes disappears.  He sometimes tries to do too much and often times picks up his dribble or leaves his feet without an intended result in mind. 3. Scoring: Like I said about Nerlens Noel, it's better to have to teach scoring in the NBA than teach defense and Carter-Williams can defend and do most things on offense except score.  He forces too many things and often times misses badly on shot attempts.  He is known for making the clutch shot at times and being able to give the other team a "dagger" but in the NBA, he will have to shoot better than 3.9-9.9 on average like he did this past season.   Check out Johnathan's 2013 NBA Draft "Big Board" being released June 22nd, and his final mock draft, June 24th. The post "20 in 20″ – NBA Draft Prospect: Michael Carter-Williams appeared first on Queen City Sports.
Original Story:
http://queencitysports.net/20-in-20-n...
MORE FROM YARDBARKER
Orange News

Delivered to your inbox

You'll also receive Yardbarker's daily Top 10, featuring the best sports stories from around the web. Customize your newsletter to get articles on your favorite sports and teams. And the best part? It's free!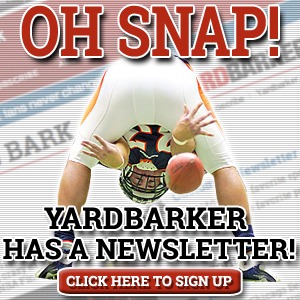 Latest Rumors
Best of Yardbarker

Today's Best Stuff

For Bloggers

Join the Yardbarker Network for more promotion, traffic, and money.

Company Info

Help

What is Yardbarker?

Yardbarker is the largest network of sports blogs and pro athlete blogs on the web. This site is the hub of the Yardbarker Network, where our editors and algorithms curate the best sports content from our network and beyond.