Found October 24, 2012 on Fox Sports Wisconsin:
MADISON, Wis. Perhaps there was no greater snapshot of Wisconsin's basketball season a year ago than the final sequence of the team's final game in the NCAA tournament.Badgers senior point guard Jordan Taylor, a preseason all-American and the heart of his team, held the ball in the waning seconds with the fate of Wisconsin in his hands. He passed to teammate Rob Wilson, who immediately passed back to Taylor. Taylor, in turn, fired a contested 3-pointer that fell short with three seconds left, and the Badgers' season ended in heartbreak, a 64-63 loss to top-seeded Syracuse in the Sweet 16.In the most difficult of situations, Taylor was called upon to carry Wisconsin. And through no fault of his own, it appeared sometimes to happen to the detriment of the team, which stood around and watched."Last year, everyone kind of knew that at the end of the shot clock, the ball was most likely going to Jordan's hands and he was going to end up making a play for us," Badgers center Jared Berggren said Tuesday during the team's media day. "I think at times we got a little bit predictable or sometimes guys got a little bit reliant with 'I'm not going to make a play because there's 15 seconds left and we're going to give the ball to Jordan. He's going to go do his thing like he always does.' "The question is: Can this year's team be even better without Taylor?Maybe it's considered nearly blasphemous in some circles to suggest such a thing given Taylor's enormous accomplishments, which included the best assists-to-turnovers ratio in NCAA history (3.01). But the Badgers appear ready to move on without Taylor, although it certainly won't be easy."You're not going to single-handedly replace Jordan Taylor," Badgers guard Josh Gasser said. "He's that special of a player. Our roles will be elevated, so it's going to be a collective group effort to fill that."Gasser, a junior, is among the likely candidates to slide over and play some point guard. A year ago,Gasser averaged 7.6 points, 4.2 rebounds and 1.9 assists per game as the team's shooting guard. He also ranks fifth in school history with a 1.95 assists-to-turnovers ratio."I think he'll be a scoring threat," Wisconsin coach Bo Ryan said. "By him being better as a scoring threat, that's going to help the other guys on the floor. He's handling the ball well. The couple hours we had in the summer were tremendous."Gasser and redshirt freshman George Marshall are expected to share duties at point guard. Marshall, a tough, quick player from Chicago, earned praise from Taylor last season while serving as the Badgers' scout team point guard. Marshall possesses a knack for exploding to the rim or creating his own shot off the dribble."I think this year we have a lot more established options," Marshall said. "So just relying on one person to make something happen at the end of the shot clock, I don't think teams can focus in on that this year. We have a few guys who can make something happen. I definitely feel like that's a good thing."Sophomore Traevon Jackson, who appeared in 17 games, also could see playing time at point guard.Bo Ryan said he wasn't exactly looking for a player to do what Taylor did for the team the past few seasons. Last year, Taylor led the Badgers in scoring (14.8 points) and assists per game (4.1). "You know the stats," Ryan said. "The last two years with Jordan pretty much controlling the offense, (we had) 51 wins."A lot of things he did with the ball, there's a lot of guys who aren't as effective with the ball and doing that. But I'm not asking the next person that plays that position to be the other person that they're replacing."Wisconsin's scoring should be plenty balanced in Taylor's absence. The Badgers bring back four starters, including the entire frontcourt of forward Mike Bruesewitz, forward Ryan Evans and Berggren, the team's center. Bruesewitz is out four to six weeks with a lacerated right leg but is expected to be ready to play in mid-November.Junior guard Ben Brust, the team's sixth man a year ago, averaged 7.3 points and twice tied the school record for 3-pointers in a game with seven. The Badgers also will add five-star freshman forward Sam Dekker to the mix.Wisconsin returns 70.6 percent of its scoring, 84.4 percent of its rebounding and 60.5 percent of its assists. For all those reasons, the Badgers are ranked No. 21 in the preseason coaches poll.The key for Wisconsin's players will be finding the confidence to know they can score in crucial situations, even without Taylor."What you hope for is a team where you're so well blended that they can't zero in on one or two players," Ryan said. "And that's what I like about this mix right now."Follow Jesse Temple on Twitter.
Original Story:
http://www.foxsportswisconsin.com/10/...
THE BACKYARD
BEST OF MAXIM
RELATED ARTICLES
MADISON, Wis. Forty stitches hold together skin that sliced apart during a freak injury to Mike Bruesewitz's right leg and nearly cost him a basketball career. Half an inch one way, and nerve damage was a very real possibility. Given the alternative for Bruesewitz, a senior forward at the University of Wisconsin, missing a few weeks of the early season isn't the end of the...
Coming into a new season many look from the outside in to the Badgers program and assume everything must go through the senior trio of Ryan Evans, Mike Bruesewitz and Jared Berggren, but you know what they say about assuming, right? Instead this team enters the first week of organized fall practice searching for it's own identity. At least that's what head coach Bo Ryan thinks...
Usually the Big Ten media day can be rather bland, but if you expected that out of Bo Ryan you don't know him very well. He made a huge announcement, but perhaps one most saw coming to start the season, naming Josh Gasser as his starting point guard out of the gate in 2012-13. "Thank goodness for the new rule," Coach Ryan said. "We had a chance to see Josh...
Our countdown to Wisconsin Hoops continues today as we're less then 3 weeks away from opening night against Southeastern Louisiana. Today we'll look at #21, junior shooting guard Josh Gasser.  *4.0 Gasser averaged 4 assists a game per season, ranking second behind Jordan Taylor. Gasser had a 1.6 assist to turnover ratio, also behind Jordan Taylor (the most efficient...
Originally posted at the Hockey Writers Combine The University of Wisconsin Badgers fan base got some great news today, as they found out that their highly touted incoming freshman forward Nic Kerdiles will be staying at the University of Wisconsin and will not be bolting for the Kelowna Rockets of the Western Hockey League, who own his rights. If Kerdiles had decided...
ROSEMONT, Ill. When Wisconsin coach Bo Ryan discussed his team Thursday morning during the Big Ten basketball media day, he casually slipped in that Josh Gasser would take over the starting point guard role for graduated senior Jordan Taylor this season. If media members and college basketball fans are interested to see how the transition works, so are Big Ten players themselves...
ROSEMONT, Ill. When Wisconsin coach Bo Ryan discussed his team Thursday morning during the Big Ten basketball media day, he casually slipped in that Josh Gasser would take over the starting point guard role for graduated senior Jordan Taylor this season. If media members and college basketball fans are interested to see how the transition works, so are Big Ten players themselves...
MADISON, Wis. All the conditioning drills, practices, lengthy film study meetings and early-morning weight lifting sessions took a toll on Wisconsin offensive lineman Robert Burge in a way he never could have envisioned. For four years, Burge sacrificed for the good of the team. No scholarship. Little playing time. And by the end of last season, little fun. He decided, before...
MADISON, Wis. What's in a name? When it comes to Wisconsin running back Montee Ball, one is a Heisman Trophy candidate. Apparently, the other is not.Ball revealed following Saturday's victory against Minnesota that he is fine once again with being called Mon-TEE rather than Mon-TAY. "The coaches have been calling me Mon-TEE now," Ball said. "They said, Mon...
After rattling off another 150 yard or more performance many in Badger Nation have been saying that it's nice to see the old Montee Ball back, as it turns out it's more than just his on the field performance that's back as well.  Gone is the Mon-TAY Ball we knew for such a short time as he's confirmed he's back to being Montee again and perhaps that's...
Thanks to cohesion on the offensive line, putting in extra work and another name change, senior tailback Montee Ball is hitting his Heisman stride just as Wisconsin prepares for the tough defense of Michigan State.
Badgers News

Delivered to your inbox

You'll also receive Yardbarker's daily Top 10, featuring the best sports stories from around the web. Customize your newsletter to get articles on your favorite sports and teams. And the best part? It's free!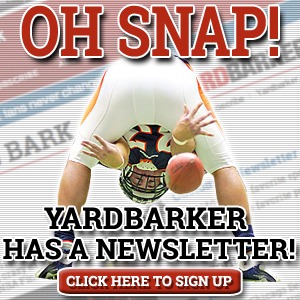 Latest Rumors
The Backyard

Today's Best Stuff

For Bloggers

Join the Yardbarker Network for more promotion, traffic, and money.

Company Info

Help

What is Yardbarker?

Yardbarker is the largest network of sports blogs and pro athlete blogs on the web. This site is the hub of the Yardbarker Network, where our editors and algorithms curate the best sports content from our network and beyond.