Found January 14, 2013 on Fox Sports Kansas City:
They can kill you slowly. Or quickly. Your choice. Hey, they're nice like that. Bill Self is nothing if not polite. They can pound you like bread dough. They can chop you with little Ginsu knifes, the kind that never get dull or break. They can go big. They can go small. They can cha-cha. They can waltz. Pick the record, Kansas will find a way to dance to it. That, and bash your skull in. Metaphorically speaking, of course. Value City Arena? Tough crowd. Previously unbeaten Michigan just fell there, by three, this past weekend to a salty Ohio State squad. Kansas played there on December 22. And won by eight. Colorado? The team that thought it had 15-1 Arizona beat in Tucson, save for that slightly controversial replay review? The Buffs visited the Jayhawks in Lawrence back on December 8. Kansas clubbed em. By 36. But when it comes the question of who should be No. 1 in the land now that Duke and Michigan are no longer among the ranks of the unbeaten don't take our word for it. We'll turn the microphone over to Temple coach Fran Dunphy, whose Owls scared the ever-living pants off of Kansas before falling, 69-62, last Sunday at Allen Fieldhouse. A reporter asked Dunphy, who's seen it all, whose kids took out mighty Syracuse, if he noticed any weaknesses in this particular bunch of Jayhawks. "Well, I don't see any weaknesses," Dunphy replied. "I think they have a really good basketball team I think they're a legitimate top program in the country." And there you go. Now that all the big boys have at least one loss each, it's a fleeting consensus but a beautiful debate. There are lots of ways to go at this, and none of them look, it's only mid-January could be considered wrong. Duke is still No. 1 in terms of RPI; Ken Pomeroy's computer rankings have Florida at the top. Louisville was the highest-ranked team in the polls this not to lose this past week. Arizona can claim five wins against the unofficial RPI Top 50, as many as Duke. Indiana looked jaw-droppingly brilliant for a half against Minnesota, and then well, not so brilliant. The Hooisers also lost to Butler, which lost to Xavier, which lost to Wofford, which lost to Applachian State, which lost to High Point, which lost to Radford, which look, you get the point. Meanwhile, circling around the rest of the carnage, there's Kansas. Lurking. You want numbers? The Jayhawks go into tonight's Big Monday showdown with Baylor with a 14-1 record, and all the computer plaudits to match: No. 3 in RPI, No. 5 in Strength Of Schedule, No. 7 on KenPom.com, 4-1 versus the RPI Top 50. You want momentum? Self's men are riding a 13-game winning streak, having dropped a squeaker to Michigan State back on November 13 in Atlanta. They've shifted it up about six gears ever since. Even when the Jayhawks aren't in form and they haven't been in form for a week or so, barely surviving Temple and Iowa State at home and sleepwalking at Texas Tech their ceiling remains ridiculous. You want stars? No one in college basketball changes shots, and game plans, the way center Jeff Withey, a 7-footer with the wingspan of a pterodactyl, does in the paint. Because of Withey, who's averaging 4.8 blocks per contest, one of the more sensible ways to try and attack Kansas, on paper, is to try and run at the Jayhawks before they can set up defensively in the half-court. That or shoot the lights out from the perimeter, the way the Cyclones did for 39-minutes-and-change before freshman guard Ben McLemore decided to bank in a 3-pointer and rip their collective guts out. And Temple tried to run at the Jayhawks, for a while. But once it turned into a half-court contest over the final four minutes or so, the Owls were cooked. "You can't practice against that," Dunphy said, "how dominant (Withey) is inside there." The Jayhawks are a fascinating mix of old and young; a blend of studs, transfers and kids; of five-stars and the star-crossed. Teams have tried to grind them. Teams have tried to gas them. Teams have tried to bludgeon them silly. Nothing's worked. Not completely, anyway. Not yet. Think about it for a second. Withey in the post. Senior ballhawk Travis Releford patrolling one wing, the high-flying McLemore at the other. Self on the sidelines, pointing fingers and pushing buttons. You want a piece of that? Really? "I think there (are) probably 10 schools that can come out of this fight in (the) NCAA (tourney) this year and be right there at the end," Dunphy said of the Jayhawks. "And I would count (Kansas) among them." They're real. More than that, they're spectactular. You can follow Sean Keeler on Twitter @seankeeler or email him at seanmkeeler@gmail.com
Original Story:
http://www.foxsportskansascity.com/01...
THE BACKYARD
BEST OF MAXIM
RELATED ARTICLES
IRVING, Texas -- Kansas redshirt freshman guard Ben McLemore has been named the Phillips 66 Big 12 Mens Basketball Player of the Week for games the week of January 7-13 in a vote by a media panel which covers the conference, the league announced Monday. McLemore averaged 21.5 points and 3.5 rebounds as Kansas won its first two games in Big 12 play with a 97-89 overtime win over...
Ben McLemore scored 17 points before leaving in the final minutes with a right ankle injury, and fourth-ranked Kansas rolled to a 61-44 victory over Baylor on Monday night. McLemore hit a 3-pointer and then scored an alley-oop dunk off a feed from Elijah Johnson to make it 61-42 with 2:44 remaining. The Jayhawks were back on offense when the freshman appeared to turn his ankle,...
OKLAHOMA CITY - Kansas men's basketball coach Bill Self is one of seven individuals in the 2013 induction class for the Oklahoma Sports Hall of Fame, Oklahoma Lieutenant Governor Todd Lamb announced Tuesday. Self will be inducted August 5, 2013, at the National Cowboy and Western Heritage Museum in Oklahoma City along with Wayne Baughman (University of Oklahoma wrestling), Clay...
As the clock ticked under three minutes and the final media timeout approached, all seemed well for the Kansas Jayhawks. High flying guard Ben McLemore had just flushed a dunk off of an Elijah Johnson lob. Soon, he'd be leaving to an ovation and his night's work would be done. But, with one cut and roll of the ankle, all had changed.
You had to expect Kansas guard Ben McLemore was going to be recognized after a superb week.
The Bears travel north to face the nationally ranked Kansas Jayhawks looking for a marquee win on the season. What will they need to do to leave Lawrence with a win?
One of the Big 12 road venues that has been an enigma of sorts for the Kansas Jayhawks has to be Lubbock's United Spirit Arena, home of the Texas Tech Red Raiders.
LAWRENCE, Kan. If this is the second best the Big 12 has to offer (and that's up for debate), then it's high time we put a bow on this bad boy, once and for all, and wrap that puppy up tight. Here you go, Bill Self. League Title No. 9. You're going to need a bigger shelf, buddy. Then again, maybe we're giving too much credit. Too much credit to Baylor, anyway...
(AP) -- Kansas has opened Big 12 play with a pair of wins, but coach Bill Self's team hasn't exactly looked like a squad going for a ninth straight regular-season league title. The sixth-ranked Jayhawks understand they'll need to play better with Baylor up next. Kansas will try to extend its longest winning streak in two seasons to 14 on Monday night when a first win...
Kansas has opened Big 12 play with a pair of wins, but coach Bill Self's team hasn't exactly looked like a squad going for a ninth straight regular-season league title. The sixth-ranked Jayhawks understand they'll need to play better with Baylor up next. Kansas will try to extend its longest winning streak in two seasons to 14 on Monday night when a first win by the...
Jayhawks News

Delivered to your inbox

You'll also receive Yardbarker's daily Top 10, featuring the best sports stories from around the web. Customize your newsletter to get articles on your favorite sports and teams. And the best part? It's free!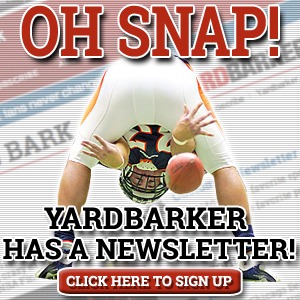 Latest Rumors
The Backyard

Today's Best Stuff

For Bloggers

Join the Yardbarker Network for more promotion, traffic, and money.

Company Info

Help

What is Yardbarker?

Yardbarker is the largest network of sports blogs and pro athlete blogs on the web. This site is the hub of the Yardbarker Network, where our editors and algorithms curate the best sports content from our network and beyond.