Found February 01, 2013 on Fox Sports Midwest:
ST. LOUIS Butler coach Brad Stevens watched from the sidelines as the lead continued to grow, the crowd continued to get louder and the game continued to get more and more out of hand. But for a change the 9th-ranked Bulldogs were on the wrong end of this laugher. Using a swarming pressure defense that forced 23 turnovers and completely took the visitors out of their comfort zone, the Saint Louis Billikens picked up the signature win that their NCAA resume badly needed with a dominant 75-58 win over No. 9 Butler Thursday night. The crowd stormed the court as the buzzer sounded on the Billikens' biggest win ever over a ranked team at Chaifetz Arena. And Stevens was left to sing their praises afterwards. "They were great the whole night, every one of them," Stevens said of SLU. "They were great. They made the right passes. They made the extra pass. I absolutely loved the way they moved the ball. It was an absolute joy to watch one team play. The problem was it wasn't the team I was coaching. "I think it was really obvious. They had their way with us. They were clearly the best team. They absolutely deserved to win. They are a really good basketball team." It was just 12 days prior that Butler beat No. 8 Gonzaga on a last-second shot at the same time the Billikens lost an overtime game to lowly Rhode Island, who still has just one A-10 win. But things couldn't have been more opposite Thursday. It was Saint Louis and not Butler that looked like the top-10 team throughout, forcing 16 first-half turnovers and using a stunning 26-4 run to go up 31-14 late in the first half. At one point Butler went 12 possessions without a basket. SLU stretched the lead to as many as 20 points in the second half as the record-setting sellout crowd - all dressed in white t-shirts for a Billiken Blizzard promotion only got louder and louder. Despite SLU finishing as a 3-point favorite in Las Vegas, it was a result that not many around the college basketball scene would have expected. The Billikens, losers to Rhode Island and Santa Clara at home, dominating the ninth ranked team in the country from start to finish. And the result was Saint Louis now sitting just a half-game out of first place in the Atlantic 10 Conference. "It's a great feeling," said forward Rob Loe, who finished with 12 points and five rebounds. "We're happy and emotional. We came into this game ready but we've got to be ready for Dayton on Saturday. "We heard before the game that Butler really hadn't been pressured much and we wanted to get them out of their comfort zone." Jordair Jett led the Billikens with 19 points and Dwayne Evans added 15 points and five rebounds. It was the balanced scoring attack and dominating defensive effort that had some thinking they were the favorites to win the league before the season started. And they looked every bit like possible league champions Thursday night. Butler entered with wins over three ranked teams including previously top-ranked and undefeated Indiana, but you would have had a tough time believing that as the night unfolded. SLU forced Butler into 16 turnovers in the first 16 minutes of the game. Bulldogs point guard Rotnei Clarke finished with a career-worst six turnovers. The Billikens had 14 steals and turned them into a 19-2 edge in fast-break points. It was a dominating effort in every sense of the phrase. "They played great defense," Stevens said. "They were very active. They were on to the next play on almost every pass. They were terrific. They were terrific tonight. No question. They are great. They do a great job. "This was going to be a really hard place to win if we played well and we knew that. The disappointing thing is they made us not play well. Certainly it's hard to win on the road in any league and certainly against one of the teams that is one of the more accomplished more experienced teams in the league." But despite orchestrating one of the biggest wins in recent SLU history, Billikens coach Jim Crews wasn't quite ready to give it the extra significance it deserves. Crews has preached all season about each conference game being just 116th of a championship. And a loss or win, no matter how big, is worth just 116th of the final goal. And he reminded the media of that again Thursday. "We beat a very good team," said Saint Louis coach Jim Crews. "It's a big win, but as I said going into the week, if you win it's a big win and if you lose you're disappointed but it's not the everything. It's one game in the league. Everyone gets excited because it's Butler and rightfully so, but it's one game and only one game. We got another one Saturday. "It gives us 116th of a championship. I mean seriously, that's all. It's one game. It's not the everything. It's one game. It's an important game, yeah, but last weeks game was important. Our Rhode Island game was important and we didn't win that game. They are all 116th." But never before has SLU beaten a ranked team by the margin it did Thursday and never before has the crowd rushed the floor at the Chaifetz Arena. With four winnable games on their schedule leading up to a Feb. 19 tilt vs. VCU, the Billikens appear to be on the verge of making a run. The Billikens improved to 15-5 overall and 4-2 in the Atlantic 10 Conference, where seven teams are now tied with two losses. Instead of falling two games behind Butler, SLU is now right in the hunt. The win was huge. And pressed further, the SLU coach finally gave in to what had happened. A little. "It gets you closer to what you want to do," Crews said. "We're trying to win a championship. Unfortunately there are a lot of other teams trying too, but that's what we're trying to do. It's one step closer and obviously Butler is one of those teams that (could win the league), so certainly from that standpoint, it's real nice. "It was a great win. But tomorrow the sun will come up and the snow will snow and we have to watch film and get ready for practice." Crews and the Billikens may not be putting much stock into the magnitude of Thursday's win. But they should. And the rest of college basketball should too. SLU made a statement. They are contenders.
Original Story:
http://www.foxsportsmidwest.com/02/01...
THE BACKYARD
BEST OF MAXIM
RELATED ARTICLES
ST. LOUIS Butler coach Brad Stevens watched from the sidelines as the lead continued to grow, the crowd continued to get louder and the game continued to get more and more out of hand. But for a change the 9th-ranked Bulldogs were on the wrong end of this laugher. Using a swarming pressure defense that forced 23 turnovers and completely took the visitors out of their comfort zone...
The Saint Louis Billikens' ugly overtime loss to Rhode Island apparently hasn't changed the mind of Butler coach Brad Stevens. The 9th-ranked Bulldogs will travel to St. Louis for a highly anticipated matchup with SLU on Thursday night. Despite a recent bad loss to Rhode Island, Stevens expects the Billikens to be a formidable foe. "It's a really hard game for...
As SLU prepares to host No. 9 Butler tonight at Chaifetz Arena, enjoy this time lapse of the athletics department setting up the Billiken Blizzard.It should be a hostile environment for Brad Stevens and the Bulldogs and remember, wear white.
10,612 Saint Louis U fans, the largest crowd at ever Chaifetz Arena saw their Billikens ambush ninth ranked Butler 75-58. "We pretty much got punked," Butler guard Rotnei Clarke said. "End of story. There's not really much to say about it. We got outclassed and we got punked." Witness for yourself how Butler got punked.  (Thanks SaintLouisBillikens...
Bulldogs News

Delivered to your inbox

You'll also receive Yardbarker's daily Top 10, featuring the best sports stories from around the web. Customize your newsletter to get articles on your favorite sports and teams. And the best part? It's free!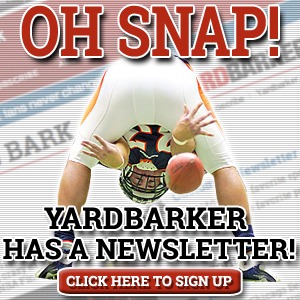 Latest Rumors
The Backyard

Today's Best Stuff

For Bloggers

Join the Yardbarker Network for more promotion, traffic, and money.

Company Info

Help

What is Yardbarker?

Yardbarker is the largest network of sports blogs and pro athlete blogs on the web. This site is the hub of the Yardbarker Network, where our editors and algorithms curate the best sports content from our network and beyond.