Posted April 08, 2013 on AP on Fox
(Eds: With AP Photos.) By JIM LITKE AP Sports Columnist As coaches go, Michigan's John Beilein is easy to miss. He isn't a flashy dresser. He doesn't do commercials. He won't prance up and down the sideline, even late in close games, when everybody else in the arena is up on their feet. His pedigree won't knock you out, either. Syracuse coach Jim Boeheim helped Beilein get several of the seven jobs he had before landing at Michigan, and he returned the favor by losing every time they met - nine straight, right up until Saturday night's national semifinal. Somehow, sitting on a stage little more than 24 hours before his young Wolverines faced Louisville for the national championship, Beilein found a way to make even that last result sound like an accident. ''When I came out last night, I gave the speech - 10-foot baskets, 94-foot court. You don't need to look up in the stands and see what's there,'' he recalled. ''Then I gave in, took a little peek. I might have said something I shouldn't say on TV, like `Holy Cow.''' The interview sessions on the day before the biggest game of the college basketball season resemble nothing so much as a mutual admiration society. This time, there was no need to fake it. Beilein and Louisville's Rick Pitino got into coaching around the same time, though only one of them rocketed straight to the top. Both are regarded inside the business as virtuosos with differing philosophies of the game - offensive and defensive, respectively - but only one of them shelled out his own money to watch the other work. ''Bought his tapes back in the day,'' Beilein said, without a hint of embarrassment, ''back when he was first putting out all those great tapes.'' Pitino won't have to pay to watch Beilein's schemes, but he'll spend a lot of time studying them. ''Probably the toughest prep day we'll ever have,'' he said, ''with how many things they run.'' That's the funny thing about Beilein, a coach's coach if there ever was one. He's got one of the youngest squads in the game - ranked 342nd in terms of experience, among the 347 teams in Division I - but he'd already had plenty of experience facing Boeheim and Syracuse's vaunted 2-3 zone during his previous stops. So in the week between tournament games, he installed a dozen or more new plays for his offense to deal with it. Yet if you watched the game, especially the final few minutes - or any Michigan game, for that matter - you'd come away with the impression that the Wolverines make every important decision on the fly. And in an odd way, you'd be right. ''He tells you, `Play within the system, but don't be mechanical, or robotic. Be a player,''' said point guard Trey Burke, who learned to balance those demands well enough to win AP player of the year honors. ''That's important for this team, because we have the type of guys that can make plays. But at the same time, we run an offense that definitely gets us good looks.'' A coach has to be confident to put his fate in the hands of his kids when a game is on the line. Even harder, as several of his peers will attest, is coaching the son of an NBA star, and Beilein has two: Tim Hardaway Jr., and Glenn Robinson III. It goes back to preparation, something nearly every coach pours countless hours into. Yet precious few still feel secure enough to let their players take the actual exam without issuing minute-by-minute instructions, as though it were an open-book test. ''During the recruiting process, Coach B ... didn't give me the car-salesman pitch like every other coach did. They didn't tell me what I wanted to hear,'' Hardaway recalled. ''They told me I'd have to earn everything when I get there.'' That kind of pitch came easy for Beilein, who grew up outside of Buffalo as the eighth of nine children of a millworker. Two of his uncles, Tom and Joe Niland, were lifelong basketball coaches in western New York. Tom, who was the athletic director at LeMoyne College, a Division II school in Syracuse, hired his nephew in 1983 after stints at Erie Community College and Nazareth. When Beilein complained about the lack of talent on the squad, Niland shot back sarcastically that maybe LeMoyne should just scrap the team altogether. Then Niland sat Beilein down at a table, pulled out some small wooden pieces, and taught him the fundamentals of the two-guard, constant motion offense that the nephew keeps refining to this day. That was far from the most lasting lesson he learned from his mother's side of the family. Five Niland boys, Tom among them, enlisted in World War II and their story made up a prominent part of the 1992 best-seller, ''Band of Brothers.'' Six year later, filmmaker Steven Spielberg released a movie loosely based on those same experiences called ''Saving Private Ryan.'' ''I grew up with that story and didn't think much of it until I watched the movie and had children of my own,'' Beilein recalled, his voice low. ''They had so much tragedy in their life. They were so resilient, but we didn't talk about it.'' So Beilein comes by that humility honestly. And his patience. All those days he toiled at one small school after another - 24 years in all - tinkering with his system and trusting the kids he taught to learn at their own pace, there was no great ambition, no grand plan. ''I never even thought about it, really,'' he said. ''So much in mind with the task at hand. I've always worried about the next game and the next game came. I think I dreamed of getting teams and rebuilding teams to get in the NCAA tournament. ''I always thought if we just did our job, we would need breaks to go our way to get to this point. Breaks have gone our way. I have some of the greatest young talent and players I've ever been associated with. ''That,'' Beilein said finally, ''has helped more than all the breaks and all the coaching.'' --- Jim Litke is a national sports columnist for The Associated Press. Write to him at jlitke(at)ap.org and follow him at Twitter.com/Jim Litke.
Original Story:
http://msn.foxsports.com/cbk/story/Co...
THE BACKYARD
BEST OF MAXIM
RELATED ARTICLES
John Beilein and Bacari Alexander were available at Michigan's locker room after the Wolverines lost to Louisville in the championship game on Monday evening. Watch Michigan's head coach and his assistant discuss the loss in the embedded media players below. Alexander after the jump.
After Michigan 82-76 defeat to the Louisville Cardinals in the national championship game, John Beilein made his way back to the locker room to address the media. The Wolverines headman discussed his team's performance, what this year's journey means for the program moving forward, the presence of the Fab Five in the stands, and more.
Dustin Johnston ATLANTA – During the final seconds of regulation against Kansas, Trey Burke dribbled up court, crossed the half-court line, pulled up soon after and heaved a 3-pointer that was well beyond NBA range. The shot went in, Michigan fans lost their collective mind. The Wolverines won in overtime. But was it the shot John Beilein wanted? It's inconsequential to ask that...
The college basketball national championship game is tonight. Here is what the players and coaches on Louisville and Michigan are saying about the game. -"A lot of teams when you watch them, you get nervous a little bit because they do so many things well," Pitino said Sunday. "You have fun watching Michigan play basketball. The way they pass, cut, shoot, it's a John Beilein...
Michigan played and excelled in the Big Ten, considered the toughest conference in college basketball this season. The Wolverines spent five weeks at No. 2 in the Associated Press poll and were ranked No. 1 the week of Jan. 28. Louisville will be favored in Monday night's national championship game at the Georgia Dome, but to say Michigan has no chance would be absolutely foolish...
Dustin Johnston John Beilein, Trey Burke, Tim Hardaway Jr. and Spike Albrecht were on the podium for Michigan after its championship game loss to Louisville. Read comments from Beilein and his players in the transcript below. COACH BEILEIN:  I've had a lot of really good teams over the years, some emotional locker rooms.  That one was as emotional, or most emotional we've ever...
After falling just short of a national title in a loss to Louisville, Trey Burke was asked about his relationship with Michigan coach John Beilein. ''The respect I have for Coach Beilein is at an all-time high and it will always be,'' Burke said. ''Throughout my college career, throughout whatever my opportunities are after college, he's just the guy...
Watch Michigan's press conference after its five point win over Syracuse on Saturday night as John Beilein, Trey Burke, Tim Hardaway Jr. and Mitch McGary face the media on the podium. Read the full transcript here.
College Basketball News

Delivered to your inbox

You'll also receive Yardbarker's daily Top 10, featuring the best sports stories from around the web. Customize your newsletter to get articles on your favorite sports and teams. And the best part? It's free!
THE COLLEGE BASKETBALL HOT 10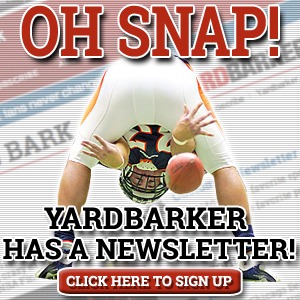 Latest Rumors
The Backyard

Today's Best Stuff

For Bloggers

Join the Yardbarker Network for more promotion, traffic, and money.

Company Info

Help

What is Yardbarker?

Yardbarker is the largest network of sports blogs and pro athlete blogs on the web. This site is the hub of the Yardbarker Network, where our editors and algorithms curate the best sports content from our network and beyond.