Found April 07, 2013 on Midwest Sports Fans:
The recent developments at Rutgers have been a stain on what should be the most exciting time of the year in college basketball. A superb March Madness has set up what has proven to be an incredibly entertaining Final Four, filled with rich storylines. Unfortunately, the Final Four has been overshadowed at times by the recent events that led to Mike Rice and AD Tim Pernetti being ousted at Rutgers. Rice's behavior was 100% unacceptable and has no place in college basketball or society as a whole. This was a shameful incident, and every broadcaster on every network across the nation condemned Rice's actions and applauded his firing. Right? Sadly, that's not quite the case. Former Rutgers coach Mike Rice (Image credit: Jim O'Connor, USA TODAY Sports) "The Wussificaton of American men" Two programs on the Fox News network featured at least one of their pundits coming to defend the indefensible. First up was Eric Bolling on The Five, where he stated: "We're in the midst of political co...
Original Story:
http://www.midwestsportsfans.com/2013...
THE BACKYARD
BEST OF MAXIM
RELATED ARTICLES
'Saturday Night Live' took on Rutgers' basketball coach Mike Rice, Tim Pernetti, and the whole crew exposed by ESPN's 'Outside the Lines' program. Melissa McCarthy as Sheila Kelly, head coach of... Full story at Bob's Blitz ~ http://www.bobsblitz.com
Rutgers University's athletics director and another top administrator resigned Friday in the scandal over basketball coach Mike Rice's abusive treatment of players, including the spewing of gay slurs. The administration had chosen to discipline the coach last December and try to ''rehabilitate'' him. But he was fired this week after video of his conduct was...
Exactly what was Tim Pernetti punishment, for allowing Mike Rice to stay on as coach after, he viewed the video of Rice's bullying players? Yes, he got fired (they want you to believe he resigned), but check out what he gets as a parting gift. $1.2 Million $12,000 a year car allowance Full health benefits School issued iPad and laptop Gets paid his $1.2 million even if he takes...
More details continue to emerge from 249 University Avenue. On Monday, ESPN's Outside the Lines reported on a video of former Rutgers coach Mike Rice swearing at players, throwing basketballs at them and violently grabbing and pushing them. New details have come up stating that former director of basketball operations Eric Murdock is being investigated for extortion of the...
Rutgers University is pledging to get to the bottom of how a basketball coach who kicked and shoved players and used gay slurs as he yelled at them was allowed to stay on the job - and to make sure the same thing isn't happening in other sports. The university said Monday that the school's Board of Governors would meet Thursday to discuss hiring an adviser to report on what...
A former Rutgers University employee who made public the video that led to the basketball coach's dismissal and athletic director's resignation has filed a whistleblower lawsuit against the university. Eric Murdock filed the lawsuit Friday in state court, claiming the university violated the state's employee protection act and his contract. Murdock said he wrote to...
Former Rutgers Athletic Director Tim Pernetti is getting $1.2 million in salary, plus an iPad, car allowance and more than two years of health insurance coverage under a settlement agreement. The Associated Press obtained details of the settlement Monday through an open records request with Rutgers. The Star-Ledger had previously reported some details. Pernetti resigned last week...
Rutgers University Athletic director Tim Pernetti resigned for basically acting to slow on the firing of Mike Rice. Once the video crossed his desk there was no way that Rice should have been allowed to blow another whistle at practice for the University ever again. Maybe Pernetti was hoping this would go away on its own but once the media got a hold of the footage and it became...
If anyone could find the humor in a college basketball coach pushing players, throwing basketballs at their heads and throwing around offensive slurs, it's Saturday Night Live. SNL mocked the Mike Rice player-abuse video with their own terrible coach, Sheila Kelly of Division III's Middle Delaware State, played by Melissa McCarthy. Kelly kicks players, shoots t-shirt guns at...
Eric LeGrand and Ray Rice were among the notable former Rutgers athletes who expressed their support of athletic director Tim Pernetti (pictured), who resigned Friday amid the scandal over fired basketball coach Mike Rice. Rice was suspended three games by the school in December after school officials saw video of him physically and verbally abusing his players in practice. Once...
For one night the NCAA got what it needed the focus wasn't on the Rutgers basketball program and it's now former coach Mike Rice. Instead the focus was on the game itself. The National title game, Louisville Cardinals and the Michigan Wolverines. And the game didn't disappoint. Michigan came out firing in the first half of the game at one point they shot 62 percent and couldn't...
The Chicago Bears made a simple but very important public relations move yesterday. Had the Chicago Bears not acted swiftly on this, it would have been a PR DISASTER! If the Chicago Bears had willingly supported the National Organization for Marriage's (NOM) anti-gay agenda, then the organization would find themselves squarely on the wrong side of history. These days everyone is...
Scarlet Knights News

Delivered to your inbox

You'll also receive Yardbarker's daily Top 10, featuring the best sports stories from around the web. Customize your newsletter to get articles on your favorite sports and teams. And the best part? It's free!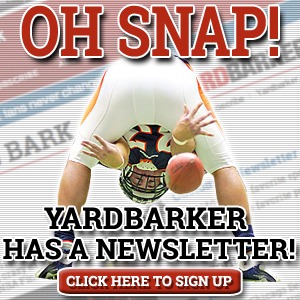 Latest Rumors
Best of Yardbarker

Today's Best Stuff

For Bloggers

Join the Yardbarker Network for more promotion, traffic, and money.

Company Info

Help

What is Yardbarker?

Yardbarker is the largest network of sports blogs and pro athlete blogs on the web. This site is the hub of the Yardbarker Network, where our editors and algorithms curate the best sports content from our network and beyond.