Found March 19, 2012 on SCACC Hoops:
There have already been some articles and blog posts written about how Duke maybe slipping after its first round loss to Lehigh.  It is understandable to think that and many fans are thinking and saying it and it is easy to see why. Just look at recent history and you will see that the Blue Devil's recent history in the NCAA Tournament has not included much success in terms of deep runs.
Since 2005 Duke has been past the Sweet 16 one time and that was the National Champion season in 2010. Prior to that the Blue Devils had been to 10 Final Fours between 1986-2004 so obviously you can use that data to possibly make the claim that there has been a drop off.

But there are some legitimate reasons why such a drop off has taken place. But even if it has that drop off has occurred mostly in the NCAA Tournament. During the regular season Duke is still averaging 29 wins, has won three ACC Regular Season Titles, five ACC Tournament Titles and been to five Sweet 16s and one Final Four with one National Title all in the eight season period.

If that is slipping, I'm sure there are countless other programs that hope to be slipping like that very soon.

But aside from the obvious success in the regular season and conference tournament and lack of success in the NCAA Tournament there is admittedly something off about Duke right now, especially this year. It isn't as much a slip as I think it is the result of the change in Mike Krzyzewski's recruiting philosophy trying to take hold.

Until recently Krzyzewski has been reticent to recruit known one and done players and focus on four year guys. But the days of the best players being four-year players is over. It is my guess that Krzyzewski realizes this and has been more active in the recruitment of the top talent who will most likely be one and done.

But his effort isn't like John Calipari who appears to be seeking predominantly one and done type talent. Krzyzewski is seeking one or two of those types of players but he also is looking to get very good to solid four-year types to build the team around.

Think the 2010-2011 team that featured two great four year players in Nolan Smith and Kyle Singer along with one great one and done talent in Kyrie Irving. The first year of my purely hypothetical recruiting philosophy may have turned into a great success had Irving not gotten hurt.

That team did a miraculous job reinventing itself but in the tournament the return of Irving, arguably upset the chemistry and Duke was blown out in the Sweet 16.

This year Duke had a one and done talent in Rivers who didn't mesh with an inexperienced group. The lone senior, Miles Plumlee was not vocal and while he always gave great effort, was not a great player.

At times Rivers would be the focal point of opposing teams and his own team. At times it was Rivers dribbling and nine other guys watching him. That is not a recipe for offensive success.

The fault for this season's short comings aren't so much on Krzyzewski's inability to recruit or Rivers' inability to be a team player (though at times that may have been an issue).

Realistically Duke needed more time to develop the talent around Rivers. There were no great players on Duke's team but they needed some of the very good players to play great, but that never happened consistently.

This inability to get a consistent support cast for Rivers caused the whole season to be full of inconsistent play. Rivers could not afford to have an off game but when he did there never seemed to be someone ready to step up and fill the void.

Defensively the team was not up to Mike Krzyzewski's standards and opponents shot a ridiculously high percentage against them.

This team will get older and better. If the team retains Mason Plumlee and Rivers they will be better. Though some want Rivers gone, I'm willing to give him another year. I see him making a similar jump in maturation that you saw with Bobby Hurley. Or at least I hope.

But all this talk about slipping just doesn't make sense to me. I look at a program like NC State or UCLA and those are two program who have slipped both in regular season and post season performance from the years where they were at the top of the college basketball world.

Duke's struggles this season merely represent a hiccup in the progression of one group of players and one team to another. They will be better next year and I fully expect they will win 25 games or more again.

And if that is slipping than that is fine with me, let them slip.
 
Be sure to follow us on Twitter @DukeSportsMKline and visit our Facebook page- Duke Sports Blog. Questions e-mail us at dukesportsblogmkline@gmail.com
This article was originally published at
http://DukeSportsBlog.com
. If you are interested in sharing your website's content with
SCACCHoops.com
,
Contact Us
.
Original Story:
http://www.scacchoops.com/tt_NewsBrea...
THE BACKYARD
BEST OF MAXIM
RELATED ARTICLES
Duke is out of the NCAA tournament. They were out before the tournament's first weekend even started. After Friday's embarrassing loss to Lehigh, you have to wonder is Duke basketball slipping? This seems like a strange to question for a team went 27-7 that is only 2 years removed from National Title, but since 2004-2005 season the Blue Devils have advanced past the sweet 16 just...
Duke forward Ryan Kelly will be out for 6-8 weeks after having surgery on his right foot. Team officials said Kelly had the procedure Tuesday at the Duke Ambulatory Surgery Center. The school has said Kelly sprained his foot March 6 during a practice before the Atlantic Coast Conference tournament. He missed the Blue Devils' three postseason games, including an upset loss to...
Duke forward Ryan Kelly will be out for 6-8 weeks after having surgery on his right foot. Team officials said Kelly had the procedure Tuesday at the Duke Ambulatory Surgery Center. The school has said Kelly sprained his foot March 6 during a practice before the Atlantic Coast Conference tournament. He missed the Blue Devils' three postseason games, including an upset loss to...
CLEVER VANDALISM
Typically, the type of antics that you see in the photo above are reserved for Tobacco Road. Between the big North Carolina basketball schools like UNC, NC State, Duke, and Wake Forest, fans and students are always pulling pranks on one another. However, the NCAA tournament has a way of bringing out the best in all fans. Now that Duke has fallen at the hands of a No. 15 seed and...
When Pete Gillen is right, he's right, but in this case he's wrong. I just looked and sure enough, Leave It To Beaver reruns are on way more than Duke this week. YDUNK74THMD
The Duke Blue Devils simply weren't the same Duke that fans have seen over Coach K's career in Durham.
Duke Blue Devils head coach Mike Krzyzewski.Okay Eye On Sports March Madness junkies, the second-seeded Duke Blue Devils – and identical No. 2 Missouri Tigers – both got bounced out of the 2012 NCAA Tournament in a big way on Friday.Thanks to the a fantastic 30-point effort from 6-3 combo guard C.J. McCollum, the two-time Patriot League Player of the Year, the Lehigh Mountain...
Blue Devils News

Delivered to your inbox

You'll also receive Yardbarker's daily Top 10, featuring the best sports stories from around the web. Customize your newsletter to get articles on your favorite sports and teams. And the best part? It's free!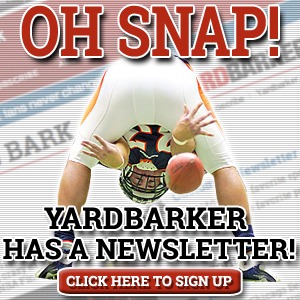 Latest Rumors
The Backyard

Today's Best Stuff

For Bloggers

Join the Yardbarker Network for more promotion, traffic, and money.

Company Info

Help

What is Yardbarker?

Yardbarker is the largest network of sports blogs and pro athlete blogs on the web. This site is the hub of the Yardbarker Network, where our editors and algorithms curate the best sports content from our network and beyond.