Found December 05, 2012 on SCACC Hoops:
PLAYERS:
Aaron Thomas
,
Michael Snaer
,
Okaro White
,
Terrance Shannon
,
Montay Brandon
,
Ian Miller
,
Devon Bookert
,
Kiel Turpin
,
Boris Bojanovsky
,
Michael Ojo
,
Robert Gilchrist
,
Joey Moreau
,
Rafael Portuondo
,
Joell Hopkins
,
Terry Whisnant II
TEAMS:
Florida Gators
,
Florida State Seminoles
Florida at FSU Date 12/5/2012 7:00:00 PMLive StatsLinkTV ESPN2 Team Stats Embed This Chart On Your WebsitePence's Quick Thoughts Hey FSU, if you can't beat Mercer at home, good luck with Florida.  The reality is that FSU has enough talent but they're missing an offensive spark.  Is it likely that they'll find it tonight against the #2 Pomeroy ranked Florida Gators? Doubtful. For FSU, It starts with defensive rebounding.  Currenlty ranked 295th in defensive rebound % FSU will take on a Florida Gator team that ranks 7th in offensive rebounding %.  Regardless of how well FSU defends, if you can't grab a defensive rebound, it doesn't matter. Of course rebounding isn't the whole story, the Gators will be a massive test with their defense.  FSU needs to do a better job of using their most efficient players the most.  Aaron Thomas has their highest usage % at an astronomical 30% but has an offensive rating of just 80.  Snaer, Shannon, and White are the next most used FSU players and those guys make a little more sense with offensive ratings above 100.  Hard to see FSU winning this one, but stranger things have happened in the ACC. ****** TALLAHASSEE, Fla. (seminoles.com) - Florida State, which has won four of its last six games since a November 12 win over Buffalo, plays host to No. 5/6 Florida in the annual meeting of in-state rivals on Wednesday, December 5 at 7:00 at the Donald L. Tucker Center in Tallahassee. The Seminoles and Gators have combined for seven NCAA Tournament appearances in the last four years (Seminoles with four / Gators with three) and the Seminoles have won three of the last four games against the Gators in games played in Tallahassee. Following Wednesday's game against Florida, the Seminoles will continue their six game homestand as Maine comes to town on December 9 at 4:00 p.m. The final game of the homestand comes against Louisiana Monroe on December 17 at 7:00 p.m. Florida State and Florida will be in the same arena as both teams play in the Metro PCS Orange Bowl Classic on December 29 at the BB&T Center in Sunrise, Fla. Florida State plays Tulsa at 2:00 followed by the Gators playing Air Force. More from Seminoles.com Dominating opponents on the defense end, Florida is looking more and more like one of the best teams in the country. The same can't be said for a Florida State program coming off one of its more embarrassing results in recent memory. The No. 6 Gators try for a fourth consecutive victory over the rival Seminoles, who hope to avoid losing three straight at home for the first time in five seasons. Second nationally with 48.5 points allowed per game, Florida has outscored foes by an average of 25.3 during its 6-0 start - its best since opening 8-0 in 2009-10. With an impressive 74-56 win over then-No. 22 Wisconsin already under their belts, the Gators made another big statement Thursday against Marquette, limiting the Golden Eagles to a season-low 41.2 percent shooting in an 82-49 rout. More from CBSSports.comFSUNameGPMinsPtsAstsRbdsStlsBlksTOsFG%3P%FT%Off Eff Michael Snaer 7 30.6 14.1 2.1 5.6 0.6 0.3 3.1 38.8 41.9 85.0 66.0 Okaro White 7 26.3 13.4 0.6 5.3 1.3 0.9 2.0 60.8 58.3 73.5 62.8 Terrance Shannon 7 23.0 10.7 1.0 6.9 1.9 0.4 2.3 53.6 0.0 71.4 56.7 Terry Whisnant II 7 20.6 7.1 1.0 1.3 0.7 0.1 0.6 51.5 47.6 100.0 77.7 Montay Brandon 7 23.3 6.0 2.0 2.7 0.1 0.6 2.0 42.4 27.3 64.7 75.3 Ian Miller 6 24.0 7.0 3.0 1.5 1.5 0.0 1.2 36.6 31.6 40.0 78.5 Aaron Thomas 7 12.3 5.0 0.7 1.9 0.3 0.0 2.0 41.9 0.0 69.2 53.1 Devon Bookert 7 13.9 4.3 2.1 1.3 0.4 0.1 1.1 50.0 62.5 87.5 115.6 Kiel Turpin 7 12.9 4.6 0.4 2.4 0.6 0.7 0.6 45.2 0.0 40.0 51.7 Boris Bojanovsky 7 11.3 2.9 0.6 2.3 0.3 0.9 0.7 70.0 0.0 75.0 88.6 Michael Ojo 5 4.0 0.4 0.2 0.6 0.2 0.0 0.4 50.0 0.0 0.0 54.1 Robert Gilchrist 3 4.7 0.7 0.3 0.0 0.3 0.3 0.3 50.0 0.0 0.0 72.1 Joey Moreau 1 2.0 3.0 0.0 0.0 0.0 0.0 0.0 100.0 100.0 0.0 44.9 Rafael Portuondo 1 2.0 0.0 0.0 0.0 0.0 0.0 0.0 0.0 0.0 0.0 0.0 Joell Hopkins00.00.00.00.00.00.00.00.00.00.00.0
Original Story:
http://www.scacchoops.com/Game_Previe...
THE BACKYARD
BEST OF MAXIM
RELATED ARTICLES
The Florida Gators had arguably one of the more feared defensive lines in college football in 2012. That line looks to be a whole lot different in 2013. Graduation and NFL attrition will take its toll on the defensive front, but the Gators will have some answers. Here is a look at what to expect and what the Gators need when the clock strikes 12 on the Sugar Bowl game on Jan 2.
GAINESVILLE, Fla. Winning six games by an average of 25.4 points to open the season is one way to get attention. Defeating a team you faced in the Sweet 16 a year ago by 33 points is another way. The Gators have done both, their 6-0 start good enough to climb to No. 6 in the latest AP Top 25 and to No. 5 in the USA Today Coaches Poll. That is Floridas highest ranking in the polls...
No. 6 Florida scored its third fewest points this season, but it didn't matter. The Gators still won 72-47. In its first true road test of the season, Florida went to Tallahassee and came away with its fourth straight win over the Seminoles in a game that wasn't close from the opening tipoff. The 25-point margin was the largest for any team in the rivalry for games played in Tallahassee.
Kenny Boynton and Mike Rosario both scored 14 points Wednesday night and No. 6 Florida romped to a 72-47 victory over defending Atlantic Coast Conference champion Florida State. Boynton's layup with 8:57 left gave the Gators their largest lead, 62-25. Florida (7-0) has held five opponents to less than 50 points this season while taking its fourth straight win over the Seminoles...
Head coach Will Muschamp has the Florida Gators ready for Sugar in only his second season. The Gators capped off a remarkable run in 2012 with a lopsided victory on the road over Florida State. The Gators ended the season 11-1 and the only team in America with wins over four of the top twelve teams in the BCS.
The Gators took a leap to their 11-1 record this season because of experienced players, but there were still multiple freshmen that got on the field. They were rewarded on Thursday when the SEC announced the All-Freshman team and Florida placed Jonathan Bullard, Dante Fowler, D.J. Humphries and Antonio Morrison on the list.
I wonder if the Sugar Bowl will sell out? When the Florida Gators play the Louisville Cardinals, the Gator fans better show up to fill up the New Orleans Superdome. To common sense fans, Oklahoma would be the right team to play the Gators.The Orange Bowl has a real treat. Florida State will have fun in blowing out Northern Illinois. I think they should give the Alabama and Notre...
Florida coach Billy Donovan knows what his team will see from Florida State, regardless of the program's record or talent level. The tough defense Seminoles head coach Leonard Hamilton brought to Tallahassee has been a staple of the team and a key factor in the program's first ACC championship last season. The 4-3 Seminoles are coming off back-to-back losses as they welcome No. 5 Florida.
Seminoles News

Delivered to your inbox

You'll also receive Yardbarker's daily Top 10, featuring the best sports stories from around the web. Customize your newsletter to get articles on your favorite sports and teams. And the best part? It's free!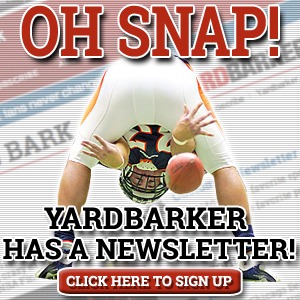 Latest Rumors
Best of Yardbarker

Today's Best Stuff

For Bloggers

Join the Yardbarker Network for more promotion, traffic, and money.

Company Info

Help

What is Yardbarker?

Yardbarker is the largest network of sports blogs and pro athlete blogs on the web. This site is the hub of the Yardbarker Network, where our editors and algorithms curate the best sports content from our network and beyond.