Found October 10, 2013 on SCACC Hoops:
PLAYERS:
Mfon Udofia
,
Brandon Reed
,
Julian Royal
,
Trae Golden
,
Corey Heyward
,
Chris Bolden
,
Marcus Georges-Hunt
,
Robert Carter
,
Daniel Miller
,
Jason Morris
,
Kammeon Holsey
,
Solomon Poole
,
Stacey Poole
,
Brooks Doyle
,
Brian Gregory
,
Pierre Jordan
TEAMS:
Georgia Tech Yellow Jackets
,
Boston College Eagles
,
Tennessee Volunteers
,
Notre Dame Fighting Irish
Our ACC basketball previews with a team moving in the right direction.  Georgia Tech returns a solid roster and waits to hear from the NCAA on a player that will be a difference maker. ACC Season Previews Boston College |  Clemson |  Duke |  FSU |  Georgia Tech Georgia Tech Season Preview Record Last Season 16 - 15, 6 - 12 ACC Players Lost Mfon Udofia, Brandon Reed, Julian Royal  New Players Trae Golden, Corey Heyward, Ron Warner, Travis Jorgenson, Quinton Stephens, Rand Rowland Projected Lineup Trae Golden*, Chris Bolden, Marcus Georges-Hunt, Robert Carter, Daniel Miller  Schedule Highlights 11/15 @ Georgia, 11/29 @ Ole Miss, 12/3 vs Illinois, 12/21 @ Vanderbilt, 12/29 @ Charlotte Georgia Tech Schedule Georgia Tech Scouting Report Projected Statistics (Returning Players Only) Explanation of Statistic Projections   Name Pts Asts Rbds Stls Blks TOs % Correct  Marcus Georges-Hunt 11.4 2.1 5.0 1.2 0.6 2.0 85  Robert Carter 10.8 1.2 6.2 0.9 1.1 2.0 85  Daniel Miller 10.6 1.6 7.2 0.9 0.9 1.9 62  Chris Bolden 9.6 2.1 2.7 1.0 0.2 1.9 92  Jason Morris 9.4 1.3 4.0 0.8 0.5 1.3 84  Kammeon Holsey 8.3 1.0 5.3 0.7 0.5 1.6 75  Solomon Poole 4.2 1.6 1.5 0.4 0.1 1.2 94  Stacey Poole, Jr. 2.0 0.2 1.8 0.2 0.1 0.3 97  Brooks Doyle 1.8 0.2 0.8 0.2 0.1 0.3 97 Things to Watch Brian Gregory's third year at the helm of Georgia Tech Yellow Jackets should continue the progress made in the 2012-2013 season by a young team.  The Jackets rode a talented freshman class to a 16-15 (6-12) season and will look to parlay that valuable experience into a postseason experience.  Tech lost two starting guards to graduation, but their additions should more than make up for the attrition.  With plenty of size and good guard play, Georgia Tech could be looking at postseason play for the first time since 2009-2010.  Backcourt Georgia Tech should be able to recover from the losses of Mfon Udofia and Brandon Reed with their new additions and growth from their returning guards.  If senior transfer Trae Golden is ruled immediately eligible (Georgia Tech is still waiting for the NCAA's decision) after coming over from Tennessee, then the Yellow Jackets will likely be set at point guard.  Golden was a two year starter in Knoxville and averaged 12.1 points and 3.9 assists during his junior season.  If Golden is not granted eligibility, then the point guard position will likely be manned by a committee of young players.  Sophomore Solomon Poole was highly touted out of high school and joined the team midway through the season after graduating high school early.  He saw limited minutes in 21 games, but should see an increase this year.  Redshirt freshman Corey Heyward and incoming frosh Travis Jorgensen will see minor minutes at the guard spots if Golden is able to play.  The two wing positions are much more settled for Gregory and staff.  Sophomore Marcus Georges-Hunt began to star as a freshman and will likely be the focal point of the offense from the start.  Georges-Hunt averaged 10.8 points in just under 30 minutes per game.  He is also an exceptional rebounder for his position due to his strong frame, with 4.9 per game.  At shooting guard, Chris Bolden has the position locked down despite a three game suspension to start the season.  As a freshman, Bolden went for 7.3 points per game, but needs to improve his free throw and perimeter shooting percentages.  Upperclassmen Stacey Poole and Jason Morris provide depth on the wings.  Frontcourt Tech has talent, but is lacking depth in the post.  Sophomore power forward Robert Carter could be the star of frontcourt.  In 26 minutes per game as a freshman, Carter averaged 9.9 points and 6.7 rebounds.  His increasing shooting range will make him a mismatch for other forwards in the ACC.  Seven-footer Daniel Miller has become a solid center over the last three years.  In addition to his 8.4 points and 6.6 rebounds per game, Miller averaged over 2 assists, good for second on the team in 2012-2013.  Senior Kammeon Holsey is a valuable asset off the bench.  Holsey managed 8.8 points and 4.7 rebounds as a junior despite not starting a game.  These three will form one of the better frontcourt rotations in the conference.  Freshman forward Quinton Stephens is underweight for post play in the ACC, but may see some minutes out of necessity.    Schedule The non-conference schedule for Georgia Tech is rather uneventful.  Road trips to Georgia, Ole Miss, and Vanderbilt as well as home dates with Dayton and Illinois highlight the early season.  In conference play, the Jackets will see Boston College, Clemson, Duke, and Notre Dame twice.  Prediction As stated earlier, Georgia Tech will likely improve on their winning record last season.  They are likely still an NIT team, at best, but could hit the 20 win mark.  Bolden, Carter, and Georges-Hunt will all take steps towards becoming all-conference players and average double digit points.  Tech will upset a team or two (Duke, Notre Dame, UNC, and Virginia all travel to Atlanta) and have a few disappointing games, but will improve overall.  Brian Gregory will look to build towards anNCAA Tournament run next season and aim for 8 or 9 conference wins this year.  by Matt Purdy @UMWolfpack87 Fantasy Player to Watch As tempting as it was to put Robert Carter, Marcus Georges-Hunt's rebounding for his position was just too much to leave off.  With slightly improved shooting numbers, the sophomore could surpass the 13 point mark per game.  That, combined with roughly 5 rebounds and 2 assists, would make for a solid fantasy season. Last Year's Player Statistics Georgia Tech Name GP Mins Pts Asts Rbds Stls Blks TOs FG% 3P% FT%  Marcus Georges-Hunt  31  28.9  10.8  1.5  4.9  0.8  0.1  1.1  42.6  33.3  62.9  Robert Carter  31  26.4  9.9  1.0  6.7  0.7  1.0  1.6  44.6  28.1  62.2  Mfon Udofia  31  29.5  8.3  2.9  2.7  0.8  0.0  1.7  37.7  34.5  64.2  Kammeon Holsey  31  19.3  8.8  1.0  4.7  0.4  0.3  1.9  55.8  0.0  61.4  Daniel Miller  31  28.5  8.4  2.2  6.6  0.9  2.1  1.5  51.2  0.0  72.9  Chris Bolden  31  23.9  7.3  1.3  2.1  0.8  0.1  1.3  36.2  30.4  62.9  Brandon Reed  30  16.6  5.2  1.2  2.6  0.4  0.1  0.8  35.9  38.4  60.7  Jason Morris  18  12.1  3.7  0.6  2.2  0.5  0.2  0.9  35.7  41.9  50.0  Julian Royal  24  6.6  1.7  0.1  1.3  0.3  0.3  0.5  34.7  14.3  83.3  Solomon Poole  21  9.0  1.8  1.0  0.7  0.3  0.0  1.6  30.4  25.0  40.0  Pierre Jordan  21  8.0  0.3  0.6  1.0  0.5  0.1  0.6  21.4  0.0  0.0  Stacey Poole, Jr.  16  7.4  1.5  0.4  1.6  0.2  0.1  0.4  22.9  0.0  61.5 Team Stats Widgets Add these Widgets to YOUR Site
Original Story:
http://www.scacchoops.com/tt_NewsBrea...
THE BACKYARD
BEST OF MAXIM
RELATED ARTICLES
On Monday the Georgia Tech frat by now known as the rapebait guy, saw his mass email to his fraternity bro made public; and then go viral. It was insanely and disgustingly titled Luring your rapebait. It even closed with forever in rapebait. Lots of online voices, including my own, rightfully ripped this kid, Ga Tech Phi Kappa Tau Social Chair Matthew Peterson a new one for "rape...
The Matchup: This Saturday night BYU meets Georgia Tech in an intriguing matchup at Lavell Edwards Stadium. On paper these teams seem evenly matched. Both teams enter the game with a record of 3-2. Both teams have top national rushing attacks with BYU coming in at 13th with 279 yards per game and GT at 7th with 300 yards per game. The defenses are also closely matched as GT is 20th...
BYU fans expect a pure triple-option attack when the Georgia Tech Yellow Jackets come to Provo to take on the Cougars, but that might not be the case come game day. While the Yellow Jacket offense still runs the triple option, there are tweaks and new facets incorporated.
Last year BYU out-passed and out-ran the Yellow Jackets en route to a 41-17 victory on the road. Georgia Tech vows to not let that happen this time around in LaVell Edwards Stadium, but has yet to face the new, sped-up BYU offense under the direction of quarterback Taysom Hill. Fox Sports Georgia Tech beat writer Jonathan Leifheit gives BYU fans an inside look at the Yellow Jacket defense.
College Basketball News

Delivered to your inbox

You'll also receive Yardbarker's daily Top 10, featuring the best sports stories from around the web. Customize your newsletter to get articles on your favorite sports and teams. And the best part? It's free!
THE COLLEGE BASKETBALL HOT 10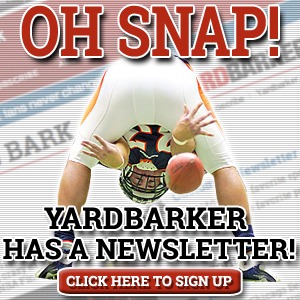 Latest Rumors
The Backyard

Today's Best Stuff

For Bloggers

Join the Yardbarker Network for more promotion, traffic, and money.

Company Info

Help

What is Yardbarker?

Yardbarker is the largest network of sports blogs and pro athlete blogs on the web. This site is the hub of the Yardbarker Network, where our editors and algorithms curate the best sports content from our network and beyond.