Found March 25, 2013 on StraitPinkie.com:
If you haven't heard enough about this guy, you will just need to do internet research for now. Marshall Henderson and his Ole Miss Rebels fell in the last seconds to Lasalle in the NCAA Tournament. The #13 Explorers move on to the Sweet 16 to face #9 seed Wichita State. The Shockers ousted #1 seed Gonzaga on their way to the Sweet 16. Unfortunately, the bigger story is always about Marshall Henderson. Why? Because he's the villain, and he loves it. After Lasalle had beat the buzzer and sealed the Rebels fate, Henderson turns around to the Kansas City crowd and threw up both middle fingers. The reason why? Henderson said someone yelled something about his sister being a ***** and then something about cocaine. He explained he is always going to react, especially after a loss and in a moment like that. This instance is the tipping point for me, and thank goodness he's 'getting tired of not getting paid for this". I've seen his play, and he has a lot of ability as a basketball player. The problem is all the extra drama Henderson needs to put the spotlight on himself. Popping the jersey at Auburn fans, doing the Gator chop, hitting up a bar after a win, and his unrestricted Twitter antics are enough. In a way, I was okay with these antics. When I saw young children at the SEC Tournament copying his "land-shark" motion and his tongue wagging, I was immediately alarmed and in disgust. We cannot have children imitate, duplicate, or emulate a guy like Marshall Henderson. Now, for him to throw up his middle fingers because someone yelled at him? Does he really think he's going to go far in the NBA if someone yells at him? Give me a break. I'm done talking about this guy, and I'm glad he's finally out of the NCAA Tournament and off of my television. I don't care if he lives his life, going to the bar after a win, and doing his land-shark faces in the mirror. All that's his business, and I could care less. Normally, this is the point where I wish someone the best in their endeavors. While I don't wish harm upon Henderson, I hope he uses his basketball abilities more than his antics to make the headlines. Some Lasalle fans took exception to Henderson's middle fingers and made some edits to his Wikipedia page:
Original Story:
http://www.straitpinkie.com/sports/he...
THE BACKYARD
BEST OF MAXIM
RELATED ARTICLES
ANGRY BIRDS
Because anything less would have been civilized. But did the crowd provoke him?
BIRD IS THE WORD
Marshall Henderson capped off his highly-publicized 2012-2013 season on Sunday the way most of us probably expected him to — by flipping off the fans. After Ole Miss lost to La Salle in the second round of the NCAA Tournament, Henderson gave some of the fans above the tunnel the double middle finger. He confirmed that he made the gesture after the game, telling reporters that a...
Ole Miss' Marshall Henderson has become known for basically doing whatever he feels like, on and off the court. Tonight, after his Rebels lost to La Salle on a last-second shot with a spot in the Sweet 16 on the line, Henderson reportedly gave the crowd two middle fingers on his way to the locker room.  Whether or not there will be repercussions remains to be seen. Marshall Henderson...
If Mississippi's Marshall Henderson starts piling up points in the first half Sunday, La Salle could be in for a long night. The gregarious shooting guard is making a habit of saving his best for last. Coach Andy Kennedy has searched for ways to settle the excitable Henderson down and get him going from the opening tip. But nothing seems to work. So he says he'll just keep...
Well, it was a fun weekend of following Marshall Henderson, the trolling guard for the Mississippi Rebels. With La Salle sending him and the Rebels home, and dreams of a Sweet 16 dashed, Henderson gave a double middle finger salute to the crowd as he exited the floor in Kansas City. Via BSO: Marshall Henderson just gave the KC crowd double middle fingers. Classy. — RockChalkBlog...
TWITTER BUDDIES
The internet nearly exploded when Johnny Football reached out to Marshall Henderson over Twitter.
All of you haters can finally breath a sigh of relief. Marshall Henderson and his Ole Miss Rebels have been eliminated from the tournament after yesterday's 76-74 loss against LaSalle. Henderson didn't handle the loss well and reportedly flipped the crowd the double bird: People were even more harsh on Twitter. There were death threats, assumptions of drug use and just all around...
Marshall Henderson was the face of Mississippi basketball this season as the Rebels advanced to the NCAA tournament for the first time since 2002. But the flamboyant, high-scoring guard had plenty of help from seniors Murphy Holloway and Reginald Buckner, two bruising and experienced forwards who did most of the dirty work in the paint while Henderson scored most of the points and...
Marshall Henderson says if Mississippi fans want to take it out on anybody, they can take it out on him. Mississippi's swaggering shooting guard, who draws about as much attention as anyone else in college basketball, said he's to blame for La Salle's 76-74 victory in the third round of the NCAA tournament on Sunday. ''We should still be playing. I'm not...
No. 13 seeds and No. 12 seeds are not supposed to meet in the tournament. Having one upset its opening round competition is not unusual, but both? As Vizzini from the Princess Bride would say-- Both did win their opening games, La Salle upsetting Kansas State and Ole Miss upsetting Wisconsin, but after Sunday only one underdog could move on. Both teams had solid...
Here are three things we learned from LaSalle's 76-74 victory over 12th-seeded Mississippi on Sunday night (West region): 1. Think the good people at VCU are worrying about their school's claim to fame? In 2011, the inaugural year for the NCAA tournament's First Four round where eight teams vie for four spots in the 64-team NCAA field, through a two-pack of TuesdayWednesday...
Rebels News

Delivered to your inbox

You'll also receive Yardbarker's daily Top 10, featuring the best sports stories from around the web. Customize your newsletter to get articles on your favorite sports and teams. And the best part? It's free!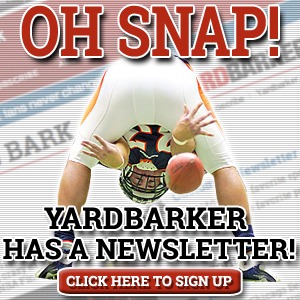 Latest Rumors
Best of Yardbarker

Today's Best Stuff

For Bloggers

Join the Yardbarker Network for more promotion, traffic, and money.

Company Info

Help

What is Yardbarker?

Yardbarker is the largest network of sports blogs and pro athlete blogs on the web. This site is the hub of the Yardbarker Network, where our editors and algorithms curate the best sports content from our network and beyond.